8 Essential Premier League Stats
© PA
With the Premier League season lasting 38 games, it offers gamblers plenty of opportunities to find a theme that can help them beat the bookies more often than not.
When carried out responsibly, betting can add a thrill to games and wagers can be placed on practically every eventuality possible in a match – either in-play or pre-match – which can make watching a match a more exciting experience.
If you are new to football betting, studying the hundreds of markets available can be daunting. But these eight essential Premier League stats, which are based on the last five full EPL seasons, could help you turn your bets into winning returns.
---
---
The most common final score in the previous five full seasons has been 1-0. It's a result that has landed in 306 (16.1%) of the 1,900 games played as teams battling for the title or to stay in the league seem happy to defend for the majority of the game and hope to nick a goal on the break or from a set piece. Crystal Palace have been involved in the most fixtures (41) ending 1-0, winning 14 but losing 27.
The second and third most common scorelines over the last five full seasons are 2-1 (15.1%) and 2-0 (13.3%) respectively. The number of 2-1 wins has increased year after year from 53 in the 2015/16 season to 62 in the last two completed campaigns, which is worth bearing in mind when betting on the total goals market. In terms of draws, 1-1 (10.8%) is the most common score while under 2.5 total goals lands 47.2% of the time.
Most Common Premier League Final Score Over The Last 5 Full Seasons:
1-0 - 306 (16.1%)
2-1 - 287 (15.1%)
2-0 - 252 (13.3%)
1-1 - 205 (10.78%)
3-1 - 149 (7.84%)
---
| Brand | In-Play Sports | Cash Out - In-Play | In-Play Parlays | Mobile Live Streaming | Visit Site |
| --- | --- | --- | --- | --- | --- |
| | 35 | Yes | Yes | Yes | Play Now |
| | 34 | Yes | Yes | No | Play Now |
| | 34 | Yes | Yes | Yes | Play Now |
During the 2015/16 season, the most common score at half-time was 0-0 which occurred four times more (120) than a 1-0 scoreline (116). However, since then, the next four seasons up to the end of last season have seen a swap with 1-0 being the most common half-time score in Premier League games.
Last season, 144 of the 380 matches played produced a single goal in the first half compared to the 103 goalless first halves. Goalless first halves have fallen from 126 from the 2017/18 season to 103 last season which is a decrease of 18.2 per cent.
The majority of goals often come in the second half with 55.9 per cent of the 5,214 total goals scored in the last five completed campaigns coming after the interval. There are plenty of reasons why more goals follow half-time, namely teams making adjustments at the interval to break their opposition down as well as the fact more red cards are shown in the second half which presents more space for teams to exploit. A 1-1 draw at half-time has happened 33 times in each of the last three seasons.
Most Common Half Time Score Over The Last 5 Full Seasons:
1-0 - 660 (34.7%)
0-0 - 571 (30.1%)
2-0 - 263 (13.8%)
1-1 - 184 (9.7%)
2-1 - 107 (5.6%)
---
| Brand | Total Sports | Cash Out | Bet Builder | Free Bet Value | Visit Site |
| --- | --- | --- | --- | --- | --- |
| | 26 | Yes | Yes | 50 | Play Now |
| | 31 | Yes | Yes | 100 | Play Now |
| | 34 | Yes | Yes | 300 | Play Now |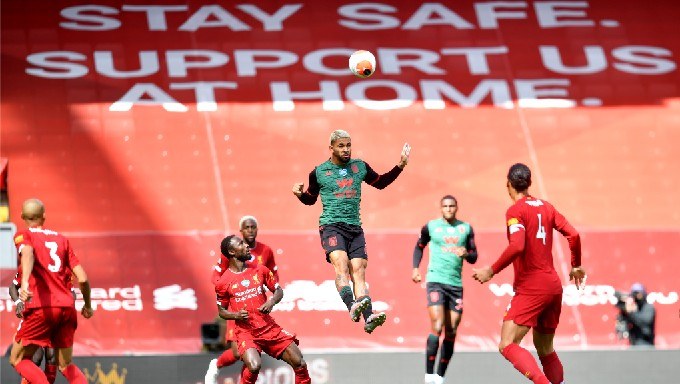 All football pitches are roughly the same size – around 105m by 68m. But footballers generally prefer to play on their own pitch. They tend to enjoy a routine of spending as much time at home as possible and the thought of travelling the day before a fixture, spending a night in a hotel and arriving home in the late hours following a game is one of the downsides of being a professional footballer.
The trend over the last five seasons has seen home wins fluctuate like a yo-yo. There were 12 more home wins in 2018/19 compared to the previous season and a second successive increase was on the cards last season before Covid-19 struck. Since then, home advantage has been largely wiped out as visiting teams no longer have to deal with thousands of supporters cheering on the home side.
Until turnstiles are allowed to fully reopen and spectators are allowed back inside grounds, then home advantage may continue to be a non-issue. Over the course of the last five completed seasons, the home side has emerged victorious 45.78 per cent of the time compared to 30.3 per cent of away wins.
Manchester City made the Etihad Stadium their new home in 2003 and in the five seasons from 2015/16, City have won three quarters (72) of their 95 home games played at the Etihad which is more than any other side. Across the city, Old Trafford used to be a fortress under Sir Alex Ferguson, but in the last five full seasons, Manchester United have won 52 of their 95 home fixtures (54.7 per cent), which might be worth bearing in mind then compiling an accumulator.
Home Wins Percentages in Last 5 EPL Seasons:
2015/16 - 157 (41.3%)
2016/17 - 187 (49.2%)
2017/18 - 173 (45.4%)
2018/19 - 181 (47.6%)
2019/20 - 172 (45.3%)
---
| Brand | Time Out Option | Profit/Loss Totaliser | Deposit Limits | Stake Limits | Visit Site |
| --- | --- | --- | --- | --- | --- |
| | Yes | Yes | Yes | No | Play Now |
| | Yes | Yes | Yes | Yes | Play Now |
| | Yes | Yes | Yes | Yes | Play Now |
If you want to bet on the card markets, it's worth paying attention to the Premier League's bad boys who pick up cards on a regular basis. Each team seems to have at least one repeat offender and it can pay to keep an eye on them especially if they have grudges with certain players built up over a number of seasons. It's difficult enough to win a Premier League game with a full quota of players on the pitch without trying to do so with 10 men or less.
One such serial offender is Crystal Palace midfielder Luka Milivojevic who was booked 30 times in the previous three campaigns. Over the last five seasons, Watford picked up the most yellow cards (373) and 19 red cards and they eventually lost their fight to stay in the league and they were relegated at the end of last season.
Liverpool have been praised for playing football the right way under Jurgen Klopp and that is reflected in the stats with 235 yellow cards and seven red cards since the start of the 2015/16 season to the end of last season.
Each Premier League fixture averages 3.3 yellow cards over the last five full seasons with an average of just over one red card per round of fixtures. Defenders and midfielders are the most at risk of being booked as they are the ones making the most tackles. And with so many cameras covering every blade of grass, players are unlikely to get away with the off-the-ball incidents that they might have in previous seasons. Yellow cards have been on the rise for the last two seasons while red cards have decreased from the 2018/19 season to the following season.
Cards Per Season (Averages Per Game):
2015/16: 1,188 yellow cards, 59 red cards (3.12/0.15)
2016/17: 1,315 yellow cards, 41 red cards (3.46/0.10)
2017/18: 1,177 yellow cards, 39 red cards (3.09/0.10)
2018/19: 1,222 yellow cards, 47 red cards (3.21/0.12)
2019/20: 1,281 yellow cards, 44 red cards (3.37/0.11)
---
Brand
Free Bet Value
Minimum Deposit
Matched Deposit?
Sports Bonus includes Casino?
Visit Site

300

10

Yes

No

Play Now

100

10

Yes

Yes

Play Now
19+. T&C Apply

100

10

No

No

Play Now
Manchester City have been the greatest entertainers over the last five full seasons during which time they've been crowned champions twice. Their fixtures over that period have averaged 3.26 goals a game. During the 2019/20 season in which they finished runners-up to Liverpool, their 38 matches produced a total of 137 goals at an average of 3.61 per game.
Pep Guardiola's side scored 102 of those goals as they played free-flowing attacking football and scored four or more goals 11 times in the league. Thirteen clubs have featured in five previous football seasons and of those teams, Manchester United's matches have averaged the fewest goals with 2.55 goals per game.
Since the start of the 2015/16 campaign to the end of last season, the average goals per game has climbed one year and decreased the next. During the 2018/19 season, the average rose from 2.68 to 2.82, but last season saw a fall to 2.72 goals per game perhaps because of the empty stadiums as the league dealt with Covid-19.
Goals Per Game Over The Last 5 Full Seasons:
2015/16: 2.70
2016/17: 2.80
2017/18: 2.68
2018/19: 2.82
2019/20: 2.72
---
Brand
Sports with Cash Out
Acca Insurance
Bet Builder
In-Play Sports
Visit Site

34

Yes

No

34

Play Now

31

Yes

Yes

30

Play Now
19+. T&C Apply

26

No

Yes

13

Play Now
One of the best feelings for a footballer or supporter is to wake up on January 1 knowing their team is top of the Premier League. It means the first half of the season has gone according to plan and as long as the team doesn't do anything stupid, they should be able to see the job through to become champions.
The challenge for those teams in the chasing pack is to strengthen their squads in the transfer window and find that 'final piece of their jigsaw'. Since the start of the Premier League, the team that has been top of the table before the New Year's Day fixtures has gone on to win the title 16 times.
In three of the last seven seasons, the leaders on the first day of the new year have been caught with Liverpool being the most recent team to be leapfrogged at the end of the 2018/19 season. Manchester City were seven points behind the Reds on the morning of January 1, but they secured the title by putting together a remarkable run of 14 wins from their final 14 games to take the title by a point.
A standout moment in that run was Vincent Kompany's wonder-strike against Leicester in their penultimate game to keep their hopes alive. The biggest deficit overturned in the second half of the season came in the 1997/98 campaign when Manchester United enjoyed a nine-point lead on the first day of 1998. But Arsenal chased them down by losing just two of their final 18 games to finish one point ahead of United in another dramatic finale to a Premier League season.
Last 5 Teams To Blow A New Year's Day Advantage:
Liverpool (2019/20)
Arsenal (2015/16)
Arsenal (2013/14)
Liverpool (2008/09)
Arsenal (2007/08)
---
Brand
Cash Out Sports
Cash Out In-Play
Cash Out - Auto
Cash Out - Partial
Visit Site

31

Yes

Yes

Yes

Play Now
19+. T&C Apply

34

Yes

Yes

No

Play Now

32

Yes

Yes

Yes

Play Now
Outright bets, or future bets as they're called in the US, are becoming a more popular form of betting as they provide a longer lifespan because they are often made before the season begins and can last for the duration of the campaign. Popular outright bets include league winners and who will finish the season as the leading scorer.
The race to win the Golden Boot award can be an exciting one to watch and the bet can come down to the final day of the season as it has in previous seasons. At the end of the 2018/19 season, the Golden Boot was shared between three players – Pierre-Emerick Aubameyang (Arsenal), Sadio Mane and Mohamed Salah (both Liverpool).
Last season, Aubameyang was in the mix again going into the final round of fixtures along with Southampton's Danny Ings and Jamie Vardy of Leicester. Vardy failed to add to his total on the final day but Aubameyang's two goals and Ings' penalty left them both one goal short of the Foxes' forward.
British-born players dominated the early award with 10 of the first 12 names on the trophy home grown players. Since Chelsea's Jimmy Floyd Hasselbaink won the award at the end of the 2000/01 season, foreign players have had their name engraved on the trophy 20 times with Harry Kane (twice) and Vardy the only English players to win or share the award. The Golden Boot has been shared four times and has 35 names on it and 25 of those players played in teams that finished in the top four.
Last 5 EPL Golden Boot Winners:
2015/16: Harry Kane (Tottenham)
2016/17: Harry Kane (Tottenham)
2017/18: Mohamed Salah (Liverpool)
2018/19: Pierre-Emerick Aubameyang (Arsenal), Sadio Mane (Liverpool), Mohamed Salah (Liverpool)
2019/20: Jamie Vardy (Leicester)
---
Brand
Live Streamed Sports
Live Streaming Soccer
Live Streaming Tennis
Live Streaming Racing
Visit Site

34

Yes

Yes

Yes

Play Now

7

Yes

Yes

Yes

Play Now
19+. T&C Apply

7

Yes

Yes

No

Play Now
A lot of bets are won on the spur of the moment which makes in-play betting one of the most thrilling ways to watch live matches. Bettors can get a feel for a game by watching the first few minutes and discover how teams have been set up. Teams at the top of the table are expected to beat the basement sides and an early goal helps to settle any nerves.
But teams fighting to stay in the league often 'park the bus' against teams at the top in order to frustrate them. Some teams are quick out of the blocks like Liverpool in their title-winning season when they scored eight times in the opening 10 minutes. Bets can be taken on goals being scored in each 10-minute spell. It's worth noting that the first 10 minutes produces the fewest number of goals over the previous five seasons with just 7.6% of the 5,214 goals scored in that period.
With the increased use of VAR, more and more time is being added on at the end of each half. Some second halves have lasted close to 55 minutes which gives bettors a bonus of 10 extra minutes when betting on a goal being scored between the 81st minute and the end of the game. During their 20-year domination of the Premier League, Manchester United were the kings of late goals and because of the frequency they scored in the 90th minute or later, that part of the game was called 'Fergie Time'.
However, their noisy neighbours City have taken that mantle in recent seasons with 74 goals in the final 10 minutes of their matches over the last five campaigns.
Time of Goal Trends Over The Last 5 Full Seasons (5,214 Goals):
0-10: 7.6%
11-20: 9.3%
21-30: 9.7%
31-40: 9.2%
41-50: 13.0%
51-60: 11.4%
61-70: 11.5%
71-80: 11.2%
81-90: 17.1%
---
Recommended Betting Sites

Secure

Trusted

Verified

Advertiser Disclosure
Stay In The Loop With Free Bets, Insider Tips & More!
Live Betting. Sports Promos. Sent Weekly.
Betting Strategy Articles