11 Most Popular Online Slots Games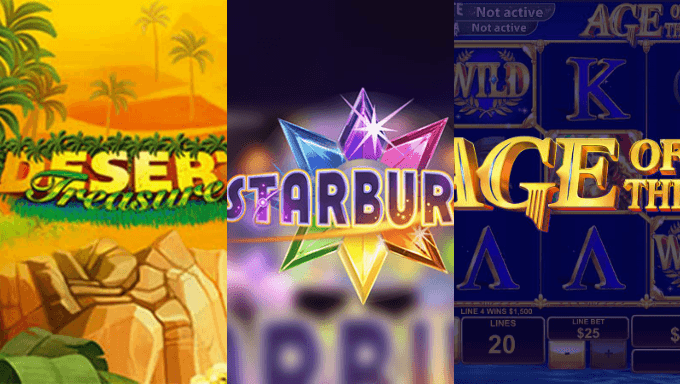 The clinking coins, the lights, the buzz, the ringing, the jackpot! Slots are the go-to game at most online casinos. They show just how far online games have come. The days of 3 white reels and some faintly blinking lights are gone.
Today, machines have 3D graphics and sound effects, interactive bonus rounds, and movie franchise themes have taken the playing experience to new heights.
You may have seen other top slot games lists, but we are taking it to the next level. Hold on to your hats slot-fans, it's the rundown of the "11 Most Popular Online Slots Games" on the market.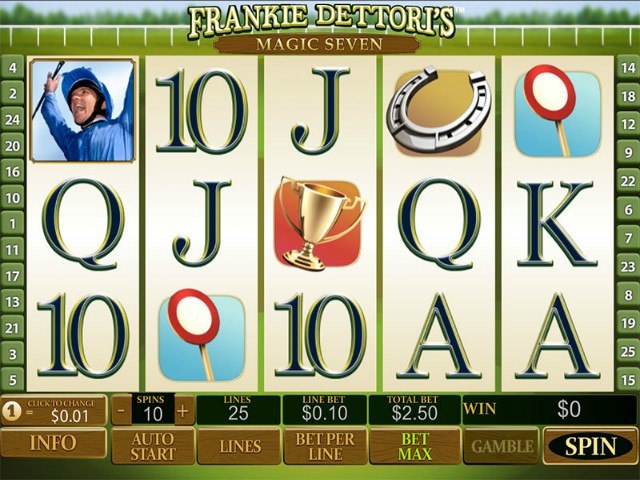 ---
An online slot sure to be enjoyed by horse racing fans, Frankie Dettori's Magic Seven from Playtech is the first entry in our Top 11 Online Slots list. Getting its name from the famous day in 1996 when jockey Frankie Dettori won all seven races on the card at Ascot, this slot gives players the chance to win as much money as they could have done if they had backed his rides that fateful day.
With a top prize of 7,777x the stake as well as wilds, bonus rounds and free spins, it's no wonder this game has proven to a popular online game with slot fans and racing fans alike. To saddle up and play Dettori's Magic Seven, visit Videoslots now!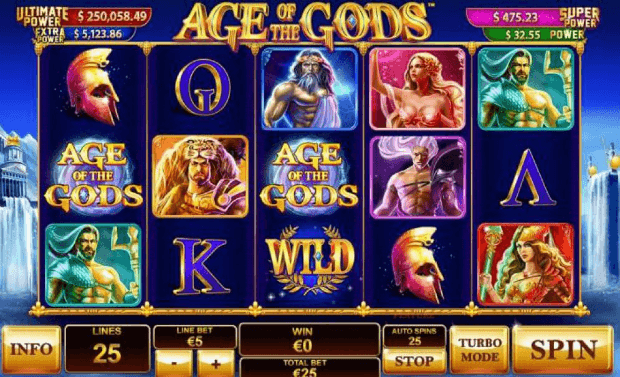 ---
Age of the Gods was the first in a long range of slots from Playtech which draws inspiration from Greek mythology. With the Age of the Gods series now consisting of over 10 games, the first in the series is still one of the most popular online games today. Players need to try and line up a combination known as the Pantheon of Power, with five different Gods. This will result in a payout of 200x the stake.
By lining up three of the same God, players will trigger different bonus features. The Bonus scatter symbol also triggers the free spins feature. Line up five wilds to win the big prize of 10,000x the stake. Still being as popular as it is after all this time is a testament to this game deserving its spot on our list. See what the gods can do for you and head over to Mansion Casino!
---
Deal Or No Deal is an interactive slot game by Gamesys. Everyone knows Deal Or No Deal as a TV show and has secretly always wanted that banker offer to be for them. This game gives you that chance. A relatively straightforward game that should appeal to beginners, players can choose to "Deal" and take the offer during a spin, or "No Deal", rejecting it.
By choosing the first option, players will win a certain amount of money. By choosing the second option, they will take whatever lands on the reels. The addition of a progressive jackpot earns this game a spot on our Top 11 Slots list. To enjoy the thrill of the TV show while spinning the wheels, visit Ireland's heralded Paddy Power Casino today!
---
The second game from Playtech's Age of the Gods series to make the list, Age of the Gods: Fate Sisters is based on the Moirai. These three sisters were responsible for controlling a thread, which represented a person's life span.
Fate Sisters offers players three bonus rounds they can choose from, each one with unique features. From free spins to frozen wild symbols, there's a chance to rack up huge wins in this online slot. Sisters also has a progressive jackpot feature, which given the bonus features the game offers, makes it a sure-fire entry in our Top 11 Online Slots list. To enjoy this and other Age of the Gods slots, sign up at Ladbrokes today!
---
Life really is a beach. Not everyone is lucky enough to have year-round sunshine or golden sand, but Playtech has tried its best to give it to us with the Beach Life online slot. With summery symbols like the sun and sandcastles as well bonus rounds with instant prizes and a 100,000x maximum prize by lining up five Wilds, it's easy to see why Beach Life is so popular among online slot players.
But that's not all, as Beach Life also has a progressive jackpot. If players land the Wild combination while spinning on a maximum bet, they will win the mega prize. To be the next big winner on Beach Life, starting spinning with Paddy Power Casino today!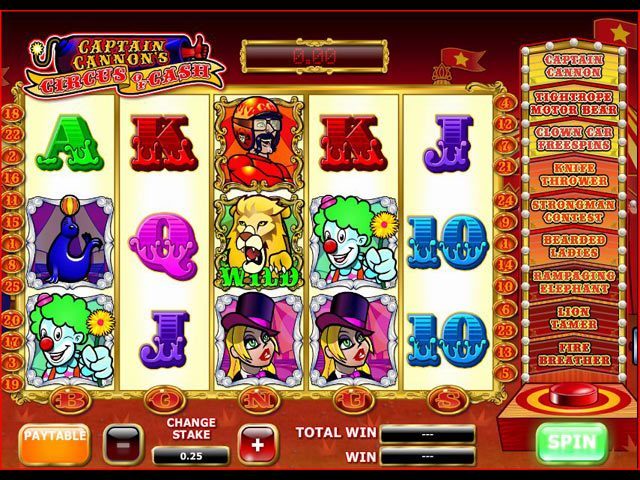 ---
Some players are just looking for online slots with bonus games. If you're one of them, then Playtech's Circus of Cash might just be the game for you. Not everyone is a fan of the circus, but with a staggering 9 bonus games on offer, this game is a must. Bonus games range from the Tightrope Motor Bear to the Knife Thrower and the Lion Tamer, giving you all the fun of the circus plus the chance to win the game's top prize of 5,000x your stake.
The game's music is fun and exactly what you'd imagine it to be. If all of the bonus features weren't enough, there's also a progressive jackpot up for grabs. No wonder Circus of Cash is thought of as one of the most popular online slot games. To join in the all the circus fun, visit Gala Casino today!
---
Age of the Gods: Furious 4 is the most popular game from Playtech's Age of the Gods series. In the game, the main symbols are four deities from Ancient Greece - Apollo, Prometheus, Pandora and Atlas. Each one of the Gods will trigger a different game feature, making this one of the more interactive slots available.
With a 10,000x maximum payout, there's plenty for seasoned and novice slot players to sink their teeth into. The slot's Golden Throne scatter gives out 12 free games when three or more are lined up. Age of the Gods: Furious 4 also comes with a progressive jackpot. This round is triggered at random, meaning that any spin has a chance at winning a life changing prize. You won't be so furious after giving this game a try, so, visit Slots Heaven now!
---
Thunderstruck II by Microgaming is the sequel to highly-successful slot Thunderstruck, one of the most popular online games of all time. This five-reel slot has an impressive 243 payline combinations.
Mjölnir, Thor's legendary hammer, acts as the Scatter. Landing three or more of it will trigger the bonus rounds, which have four different levels. Players can progress through them according to the number of times the bonus feature gets triggered.
Keep an eye out for the Wildstorm symbol – lining up five of them triggers the games 7,000x jackpot. The original Thunderstruck was so popular it was difficult for the sequel to out-do it. Thunderstruck II is certainly regarded as better than its predecessor and is truly deserving of a place in our most popular online slots list. To create your own legend, start playing today with Betsafe Casino!
---
A Night Out is an interactive online slot developed by Playtech. As the name suggests, A Night Out is a party-themed slot and like any good party, it's a lot of fun with the Barman Bonus, the Dancing Ladies Scatter and the Frothy Beer Wild all adding to the overall experience. To trigger the bonus round, line up the Barman on reels 1 and 5.
The bonus game will reward you with a multiplier and free spins. Five of the Dancing Ladies Scatter will win 50x your stake, while five of the Wild symbols will win the 10,000x jackpot. A Night Out also comes with a progressive jackpot, which runs simultaneously as a lottery. Players can pay $1 to enter the draw. If the player's five numbers combination matches the ones drawn, they win the big prize. Begin your night on the town, visit Coral Casino today!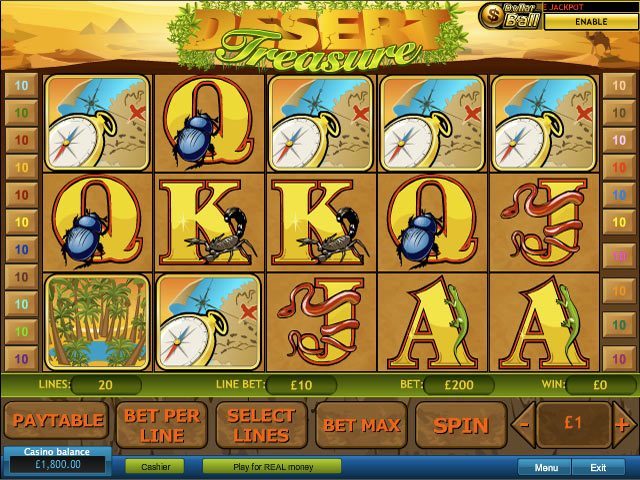 ---
Playtech's most popular slot game, Desert Treasure, also makes it on our list. Players can scoop the treasure by lining up the various Bonus, Scatter and Wild symbols. The Oasis bonus symbol triggers the interactive bonus feature. During this round, players get to choose different prizes, matching the number of bonus symbols. Line up five of the Golden Cobra Wil to win the 5,000x jackpot.
Desert Treasure also has a progressive jackpot Dollar Ball feature. It runs as a side-game, Players get to pick five out of 49 numbers. If their combination matches the one drawn by the machine, they win the progressive jackpot, which takes a small portion from every bet placed on the game. The interactive bonus features solidify Desert Treasure near the top of our most popular online slots list, but it just misses out on number 1. To begin spinning for your life-changing treasure, visit Gala's excellent online casino offering today!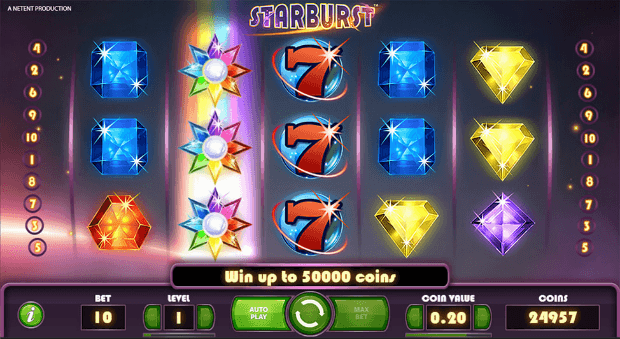 ---
It should come as no surprise that NetEnt's Starburst comes in as the most popular online slot game. On the face of it, Starburst isn't revolutionary and it doesn't take much figuring out and doesn't have much to it. Maybe that's why it's so universally adored. It takes everything a slot game should be and does it perfectly.
With a top prize of 50,000x the stake up for grabs as well as two different bonus features, Starburst is a 5-reel 10-payline slot that offers big prizes for experienced players while also being straightforward enough for beginners to feel at home. That ease of play and how sleek the game is, particularly on mobile, will make it very difficult for any game to knock Starburst off top spot. To enjoy this slots classic, visit Casimba today!
---
WATCH: Can Online Casinos Rig Slot Machines?
Recommended Casino Sites

Secure

Trusted

Verified
Stay In The Loop With New Casino Sites & Offers!
Free Spins. Exclusive Bonuses. Sent Weekly.
Casino Strategy Articles