NFL Week 4 Four-Team Parlay You Should Consider Betting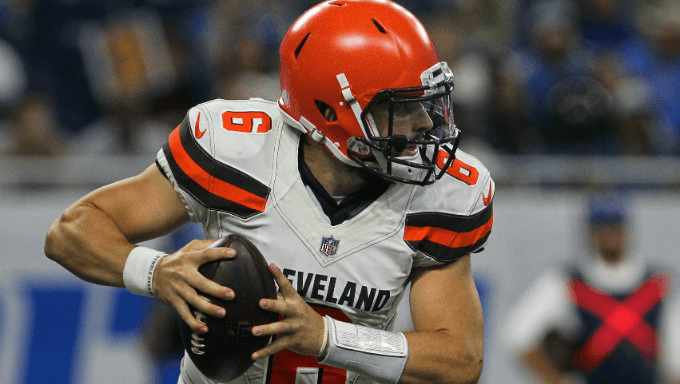 Quick Tips:
---
As we move into the final Sunday of September, we're all still confused about who is who in the NFL. This week will be crucial for teams like the Tampa Bay Buccaneers, Chicago Bears and division leaders -- such as the Tennessee Titans, Miami Dolphins and Kansas City Chiefs -- who want to prove that they're in fact playoff contenders.
Win this week and they'll all have a leg up for a playoff run. Lose and NFL betting fans will be more inclined to believe that some of those teams have been more lucky than good this September.
As we get set for the start of Week 4, here's a look at our parlay of the week:
Pick #1: Seattle Seahawks (-187) at Arizona Cardinals
The Cardinals have made the switch at quarterback, benching veteran Sam Bradford while turning to rookie Josh Rosen. While Rosen was viewed as the most NFL-ready rookie quarterback, he's actually the last of the five passers selected in the first round to get on the field.
While the UCLA product is probably an upgrade over Bradford, the Cardinals problems are far greater than just the passer. This is a team that's averaging 190.3 yards of offense per game and 6.7 points per contest – by far the worst mark in the NFL.
It's possible Bradford has completely fallen off, but what we know about him is that he'll make things work – for the most part – if he's protected and has decent weapons around him. That's why switching to Rosen probably doesn't change a whole lot for this team.
They still won't have a good offensive line, they still won't have a decent receiving corps, but now they'll have a rookie orchestrating everything.
The Seahawks confidence should be revived after last week's win. They aren't the team they used to be, but beating a rookie quarterback and a struggling team on the road is doable. Take the Seahawks at -180 with Karamba.
Pick #2: Cleveland Browns (+3)at Oakland Raiders
A lot of people feel that this is the Raiders best chance to earn a win in the next few weeks, as next week they're at the Los Angeles Chargers before going to London to face the Seattle Seahawks.
However, the Browns are no longer an easy W. With Tyrod Taylor, the Browns nearly upset the Pittsburgh Steelers and New Orleans Saints. Taylor was serviceable but not much more than that. Baker Mayfield came in and gave the team a shot in the arm, leading them back from a 14-0 deficit against the New York Jets last week.
The problem with Taylor is that while he's mobile, he takes a lot of sacks (13 this season), doesn't have a good completion percentage (48.8%) and often throws short (5.5 yards per pass).
Mayfield can help the Browns improve in all of those areas and more importantly, gives the team a shot of motivation. He's a much fierier catalyst than Taylor.
The Raiders are a mess and things won't be easy for them against the Browns defense, which is 11th in points allowed this season. They're allowing just 3.7 yards per carry and if the Raiders can't run effectively to take the pressure off of Derek Carr, it's likely to lead to another loss.
Take the Browns and the three points with Karamba.
Pick #3: San Francisco 49ers at Los Angeles Chargers (-10)
This is a fairly straightforward play. There's no Jimmy Garoppolo for the 49ers, as he's now out for the season. It's a big punch in the gut to a team that really struggled without him last season. And even with him this year, they didn't look that great (losing two of their first three). This is a big change to overcome in just one week.
After playing a Super Bowl contender like the Los Angeles Rams last week, facing the 49ers should feel easy for the Chargers. They'll take care of business here with a double-digit win. Bet the Chargers -10 with Karamba.
Pick #4: Detroit Lions at Dallas Cowboys (-170)
A lot of people will pile in on the Lions this week but I'll be on the opposite side. We know that the Cowboys tend to succeed or fail based on one thing: their running game. When they run it well, they tend to get ahead, control the ball and give their defense more time to rest.
When they don't run it well, they rely too much on their lousy passing game and strand their defense on the field far too long.
The Cowboys lead the NFL in yards per carry (6.0), while the Lions have the NFL's worst run defense (5.4 yards per carry, 149.3 per game). It's just one aspect of the game but it's a big one. That's why I like the Cowboys to win on Sunday and will take Dallas at -170 with Karamba.
Play the Parlay
Play the four-team parlay of Seahawks (-180) & Browns (+3) & Chargers (-10) & Cowboys (-170) at +781 with Karamba.
Recommended Betting Sites

Secure

Trusted

Verified
100% Matched Free Bet Up to $300 on your first bet

19+ New Customers opt in, deposit and bet up to $300 at odds of 2.00 or greater within 7 days of registration, excludes cashed out bets. Matched bonus paid in free bets; 7 day expiry. Geo Restrictions. T&Cs Apply See Below. Please Gamble Responsibly.
Stay In The Loop With Free Bets, Insider Tips & More!
Live Betting. Sports Promos. Sent Weekly.
Betting Strategy Articles