Sports Betting Strategy: Spread Betting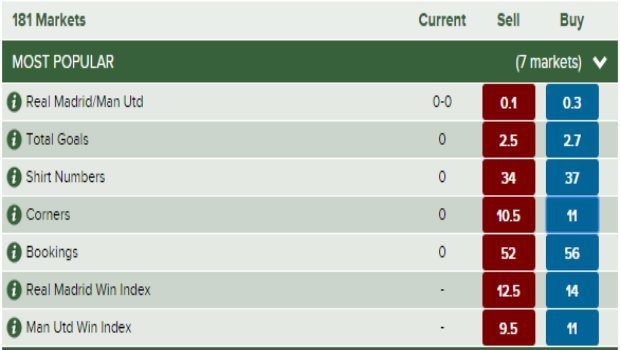 By using their expertise to analyse spread betting markets, experienced gamblers can access a multitude of new markets, and maybe even come across a possible gem that others have overlooked.
Spread betting offers the chance of a reward for punters who successfully bet higher or lower than a value that has been set by a bookmaker's site. Knowing when to go over or under on goals, points or various other values can yield superior odds compared to picking a winner. This guide will explore how spread betting works.
Spread Betting Explained
Spread betting is when a punter chooses to bet higher or lower than a set range (or 'spread') of outcomes chosen by a bookie. They might, for example, choose to bet over or under 2.5 goals in 90 minutes. The more advanced option, however, would be to bet on each goal over or under that 2.5 value. Sports betting sites also offer spread betting on markets such as yellow cards and corner kicks.
This betting strategy is well-suited to those more experienced punters who take the time to identify when teams are most likely to score, commit fouls or give away corners. These punters will understand the three key terms associated with spread betting:
Spread – the variation between the buy and sell values; for example, 2.5 goals is the spread in an over/under bet
Buy – betting higher than the spread; this means backing over 2.5 goals in the above example
Sell – betting lower than the spread; this means backing under 2.5 goals
While, historically, football spread betting hasn't been widely popular in mainstream gambling, the rise of online operators has provided the infrastructure for punters to place bets on hundreds of different markets.
American Football Spread Betting
Meanwhile, spread betting has been popular in American football for many years. It's widespread in the National Football League (NFL) because it allows for punters to make more complex bets on games where the result is rarely a draw. Therefore, it can be more lucrative to bet on whether or not a team can beat the spread chosen by a bookie. US sports sites still refer to the 27-point spread in 1976 for the Pittsburgh Steelers to beat the Tampa Bay Buccaneers. The Steelers won the game 42-0 and everyone who opted to buy was rewarded with a winning bet.
Football Spread Betting
Football results have a lot less room for variation, as these games feature single goals as opposed to large sums of points. Nevertheless, spread betting can be very rewarding if a punter is able to identify possible outcomes that others haven't.
For instance, handicap betting can help to boost odds when a team is heavily favoured. An ideal example of this would be Real Madrid to win away at 1.50 odds against La Liga minnows Real Betis; an opportunistic punter could take Real Madrid to win with a -2 handicap and obtain higher odds.
There are also spread betting sites that let punters assign a point value. This could involve buying £1 per corner on eight corners for the Real Madrid versus Real Betis match. Punters would receive £1 for every corner above the spread, and lose £1 for each corner beneath the spread.
Useful Spread Betting Tips
Here's a few other useful tips to keep in mind when betting the spread:
Bet on Knowledge | there are spread betting markets for football, rugby, cricket, horse racing and various American sports. Punters should always focus on the sports that they know intimately. Spread betting can already be fairly involved and complex, so it's best not to take risks on unfamiliar sports.
Handicap Betting | Don't forget that football handicap betting allows for unfavoured teams to have a cushion. Quite often, the heavy favourites will scrape a win with a single goal. Finding these opportunities and giving the underdog a positive handicap could result in a winning bet.
Point Betting | Cricket lets punters bet per run above or below the spread. For example, betting £1 per run on a 250 spread would result in £50 worth of winnings if the final score were 300. However, this could actually mean a £50 loss if the final score were 200. Cricket spread betting is also possible on individual players.
Calculate Losses | Punters who bet on points should calculate their potential losses before placing the bet. This will help them see how much they might lose. Point betting can result in losses that are much larger than a normal bet, so it's essential to understand the full scale of the risk.
Spread betting can be extremely rewarding – it just takes a little bit of extra research and effort to get it right. Visit Coral Sports today to start exploring the spread betting markets.
Terms and Conditions apply for all bonuses. Must be 18+ to participate.