Winter is Coming and So Are the Game of Thrones Prop Bets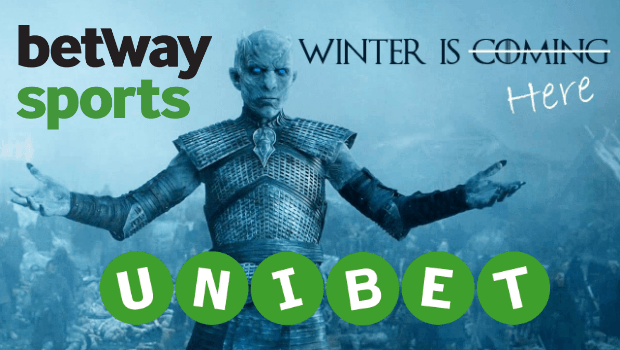 The TV event of the decade is slowly drawing to a close, with the penultimate season of Game of Thrones premiering on Sunday 16th July. Unlike the previous six seasons which had 10 episodes each, the seventh season will only have seven episodes, although the last two will have an extra 10 and 20 minutes respectively.
Despite the shorter season, showrunners David Benioff and D.B. Weiss have promised that events are now moving at an unstoppable pace. Who will live? Who will die? And who will reign on the Iron Throne? If you think you know the answers to the questions George R. R. Martin has expertly crafted, check out this betting preview to see if your theory is worth a punt!
Who Will Survive?
The biggest, and now the most worrying question on most fans lips, is who will meet their grim demise in a show that's not afraid to cut down its cast. Spoilers ahead, but Sean Bean did not even make it until the end of the first season, and several of the Stark children have already been dispatched – while those still alive have often suffered a far worse fate.
So who do the top bookie sites think will be alive when the eighth and final season airs? Unibet, in particular, has a massive GoT market; they believe fan-favourite Arya Stark will survive, probably with the help of Needle, offering odds of 1/9 that she remains alive. However, it would be tempting to go the other way, with 4/1 odds she dies. Her one-time companion Sandor Clegane aka The Hound also has a brighter future after his redemption, with odds of surviving at 1/7.
If you think he will die, possibly at the hands of his bigger, badder brother, you could get odds of 7/2. The two pretenders to the throne, Jon Snow and Daenerys Targaryen, have the best odds of survival at 1/50, although considering Jon technically died once already, it's unlikely he'll not be around until the bitter cold end of winter.
However, the fate of the woman who brought him back, Melisandre, is a bit gloomier, ironic given that she worships the Lord of Light. Unibet is only offering 7/2 that she's alive by the end of the season, and 1/9 that she perishes before the final credits crawl. There's also the fate of the Mother of Dragons' three 'pets' to wager upon.
Drogon, Rhaegal, and Viserion have all been glimpsed in the trailer for the new season, swooping above Daenerys Stormborn. Will some keen warrior manage to take one down? Unibet is offering odds of 17/10 that the scaly trio will survive, but if one was to perish, the odds are sitting at 2/5.
Who Will Needle Claim First?
Arya Stark's pointy little friend has bested several warriors so far, but now she's developed a taste for it, who's next to be scored off her kill list? Betway has you covered with this market; Petyr Baelish could be a strong contender, with Betway offering 33/100 on this, although you can also get 4/1 odds that he will marry Arya's sister Sansa this season.
Arya's other potential victims include Thoros of Myr and his fiery sword at 2/1, as well as Melisandre at 4/1. Longer odds that could be worth looking at include both Ilyn Payne and the power-hungry Cersei Lannister, both attracting odds of 10/1. Outside bets would include The Hound and his brother, The Mountain, both at 25/1.
Love is in the Air
As well as the potential nuptials between Sansa Stark and her mother's admirer Petyr Baelish, love may blossom in other parts of Westeros. One of the most pleasing romances to come from the TV show is that between Wildling Tormund and the giant Brienne of Tarth. Although the smouldering looks from him (and looks of disgust from her) were improvised by the actors, fans are now clamouring to see this happen. If they do share even a kiss, most top bookmakers are offering 2/1 odds on.
Game of Pawns
Game of Thrones has so many characters it can be hard to keep track of them all. Bran Stark disappeared for an entire season, only to re-emerge as a powerful warg, capable of taking over the minds of animals. Bookies are wondering whether or not he's going to have the opportunity to take control of one of Daenerys' dragons. At 2/1 for and 33/100 against with most, it could go either way.
Both Bran and Jon Snow have laid eyes on the infamous Night King, leader of the White Walkers. Up until last season, he'd only been glimpsed, but his army of the undead are marching ever closer towards the Wall. Will this be the season that his cold fury is finally unleashed upon Westeros? There's a high chance, as Unibet is offering Evens that he will.
But if you think he'll be kept at bay by the remnants of the Night's Watch, you can currently get odds of 18/25. If you think you can judge the fates of the characters and the unfolding events in this fantastic fictional world, why not visit Betway now? If you join today, the betting site is offering a mythic First Deposit Bonus. And don't forget – Betway and Unibet always pays their debts!
Terms and Conditions apply for all bonuses. Must be 18+ to participate.