Top 10 Celebrities Addicted to Poker
In the luxurious sport known as poker, anyone can enjoy a constructive game. The game can be enjoyed anywhere from your friend's garage to the luxurious estates of Las Vegas. Since the 1980's, Texas Hold'em Poker has been considered a game of luxury, unlike Craps and other table games. Texas Hold'Em Poker normally has a reserved room in the back, specifically for the most important gamblers.
A quick glance around one of these reserved rooms of important gamblers and one might notice a few familiar faces. Many celebrities find themselves throwing their well-earned wealth at alternative hobbies as they advance to the highest ranks of their industry and are looking for a new challenge. Famous athletes try acting, actors try singing, and it doesn't stop there as a celebrities have begun trying their hand at (and quickly becoming obsessed with) gambling, more specifically, poker tournaments. Here is a list of the top ten celebrities addicted to the thrill of the poker table:
10. Shannon Elizabeth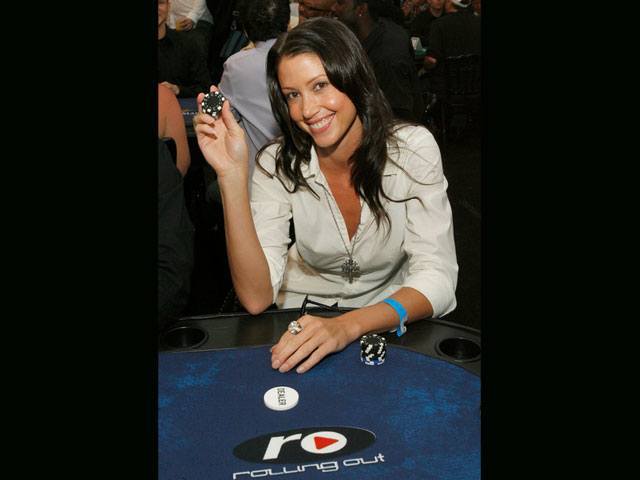 You know it's your lucky day when Shannon Elizabeth is sitting at your table. The former fashion model and current actress not only looks good, but has proved that she can play well too. She has been called one of the leading celebrity poker players, and is frequently in the Las Vegas tournament circuit. She has cashed four times in the World Seris of Poker (WSOP). She placed second and third in the Ante Up for Africa Charity Poker Tournament and The NBC National Heads-Up Poker Championship. In 2005, she chose to enter the WSOP main event under the guidance of the great Daniel Negreanu, but unfortunately did not have much success.
9. Brad Garrett
Having a bad day? I guarantee it won't be bad after an encounter with Brad Garrett on the table. Having trouble spotting him in the crowd? Standing over 2 meters tall, Garrett stands above the crowd with the poker skills to match his height. If you don't recognise his name then maybe Robert Barone on Everyone Loves Raymond will sound familiar, it's the guy everyone hates to love. He might not have too many tournament cashes, but you can be sure that you don't want him on your cash game.
8. Sam Simon
If you were born between the late 80's and early 90's, then Sam Simon has probably played an important role in your upbringing. He is the creator of The Simpsons, one of the longest running shows on TV today. You might be impressed to find out that he is not only an active poker player, but also a heavy weight boxing manager. Simon frequently enjoys playing at his local cash games. He isn't one to shy away from tournaments, which would explain his 6 cashes in the WSOP.
7. Ray Romano
What's going on behind the scenes of Everyone Loves Raymond? I, for one, would love to know since the main actor and co-writer of the show, Ray Romano, is also a successful poker player. He has been playing the WSOP every summer since 2007. Although he hasn't found much success, he is always one of the most entertaining characters. He is always willing to take a picture and sign an autograph.
6. Tobey Maguire
Next time you compete in a Vegas tournament, Spider-Man might actually be sitting on your table. You won't recognise him because he only plays as his alter ego, Tobey Maguire. One of the most recognisable celebrities today, thanks to the blockbuster success of Spider-Man, Maguire has the money to spend and the ambition to learn. You might think he is a rookie, but he's been playing since 2004. He has several successful wins in live and online poker.
5. Matt Damon
Matt Damon is a great guy, and his acting skills have inspired many to become professional poker players. He is the main actor in Rounder's, which probably is the best and most crucial movie about poker ever made. He took that role very seriously. In order to prepare for Rounder's, he spent $25,000 to get some experience about handling himself on the poker table. Since then he enjoys playing poker here and there, and has done quite well for himself in the 2008 and 2010 Series.
4. Jean Robert Bellande
He might not have been able to survive the TV show Survivor: China to win the $1,000,000 cash prize, but he has done pretty well in the poker field. He came into the spotlight in 2005, after finishing 3rd in a WSOP circuit event. Jean Robert Bellande also came close to winning his first bracelet in 2008 after finishing runner-up in a Limit Hold'em game. In his lifetime, he has amassed more than $1,100,000 in tournament earnings. That's more than most of the people on this list can say.
3. Ben Affleck
The most recognisable name on this list is Ben Affleck. Affleck is a successful actor and script writer, and has done quite well for himself whilst perusing his favourite hobby. He has been tutored by professional poker players Annie Duke and Amir Vahedi. He has about $500,000 in face-to-face tournament cashes, and has been known to regularly play in high stakes cash games. His greatest win was taking down the 2004 California State Poker Championship.
2. Jason Alexander
If you follow the WSOP main event episodes on TV or stream them online, then Jason Alexander is for sure a name that will be stuck in your head. Alexander has been at it for years. He is one of the most passionate poker player/celebrities around. He is definitely one of those people you do not want to face at your table. You might be surprised to know that he is also an avid online poker player, and a regular at Holiday Poker (part of the OnGame Network). He never misses a chance to play on TV and luckily for us, what comes out of his mouth is worth its weight in gold. Alexander is one of the funniest poker players out there.
1. Jennifer Tilly
At the top of the Celebrity Poker Players list is the magnificent Jennifer Tilly. With the looks to seduce any man, the mind to outsmart any person, and the perfect husband to help with the coaching, Jennifer Tilly seems to have it all. Who would not love to be in Phil Laak's shoes! Tilly is the only person on this list to have won a WSOP bracelet, and to exceed $750,000 in winnings. She is familiar with most variations of the game. Even though she looks innocent, just remember to take care if you ever happen to be on the felt with her.
Terms and Conditions apply for all bonuses. Must be 18+ to participate.