888sport Goes All-In on Rio Offering Over 2000 Betting Options on the 2016 Olympics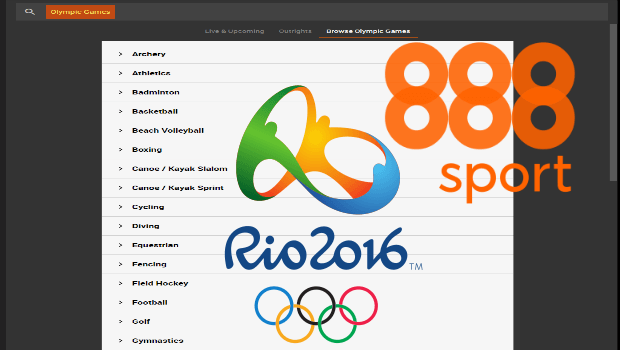 The 2016 Rio Olympics is set to capture the world's attention when the action gets underway on 5th August. Featuring elite athletes from the four corners of the globe, this year's Olympic Games will provide a myriad of ways for punters to immerse themselves in the action with a selection of juicy bets.
To ensure you don't miss a beat, we've had ongoing coverage of the best bets and offers throughout the Rio Olympics. You'll find a microscope over 888sport's smorgasbord of 2,000+ betting options.
Drilling down into the operator's latest odds and options, this guide will give you an outline of everything you need to know about betting on the Olympics at 888sport.
The Opening Event
If you're looking to start the Rio 2016 Olympics with a bang (quite literally), then you should take a punt on the women's 10 metre air rifle event. Although this event won't attract the attention of the masses like the men's 100 metres, this is where the first gold medal of the Games will be contested.
This time around, the woman to beat is 2004 Olympic gold medallist Olena Kostevych. Despite a blip in 2008, Kostevych medalled again in 2012 (winning bronze) and her form heading into the Games suggests she's almost a lock for the title at 43/20.
However, if you're looking for some value, 4/5 on Tien Chia Chen to make the top three (she won silver at the 2012 International Shooting Sport Federation Final Competition) offers superb value.
The Main Event
Away from the more obscure events, the 100 metres men's final is the event to watch and bet on this summer. Even before the qualifying rounds have taken place, 888sport is offering 1/2 on Usain Bolt to take the title.
While it's hard to bet against the fastest man to ever live, 7/4 on Justin Gatlin can't be ignored. The American may have been pipped to the line by Bolt in the 2015 World Championship final, but he'll certainly be a threat in Rio.
Indeed, one of Gatlin's strengths is his speed in the qualifiers. If Bolt struggles to find his form after returning from an injury, Gatlin could head into the final as the favourite. With this in mind, 7/4 at this stage could be an extremely profitable bet.
The Odd Event
For something a little off the beaten track, archery will once again make an appearance at the Olympics. This summer, South Korea will be the overwhelming favourites. Although value bets are often the way to turn a small stake into a large return, it's important not to overlook the athletes that dominate.
Indeed, betting on the Olympics is all about locking up a profit and if there's one athlete or team that's virtually guaranteed to win then you can't ignore them. Yes, your returns won't be as large when you bet on a favourite, but the counter argument to this is that you'll have the greater chance of seeing a return on your investment.
For an event where the outcome is almost determined before the start, you have to look to the women's archery event. The South Korean team was dominant in 2012 when it took gold and this year they're going to be hard to beat. As it stands, the South Korean women are 33/100, which is markedly shorter than their closest rivals, Chinese Taipei at 5/1.
The Added Extra
If you're a new customer at 888sport then you'll be able to take advantage of a welcome offer that includes treble odds on your first bet. Once you sign up and wager between £5 and £10, the odds on your pick will be multiplied by three.
So, if you think Chinese Taipei could upset the odds in the women's archery event, then you could get odds of 15/1 on them to win. Now, it's worth pointing out that any returns over the original odds will be returned in the form of free bets. So, in this instance, you'd receive a cash payout based on your stake and odds of 5/1, while the rest would be returned in free bets.
Regardless of how you get it, this offer gives you more for less. The best way to use this offer is to beef up the odds of the favourites. So, if you're not yet a 888sport customer then make sure you follow this link and check out the following favourites:
Women's 100 Metres = Dafne Schippers at 6/4
Men's Basketball = USA at 1/13
Men's Football = Brazil at 17/20
Men's Cycling Elite Road = Alejandro Valverde at 17/4
Whichever nation you support and whoever you fancy to clinch a gold medal at this year's Olympic Games, 888sport has plenty of bets to cover them all. Visit 888sport today, where you'll find 2,000 Rio Olympic betting options for you to sink your teeth into!