BetBright Integrates Metric Gaming's Golf Pricing Solution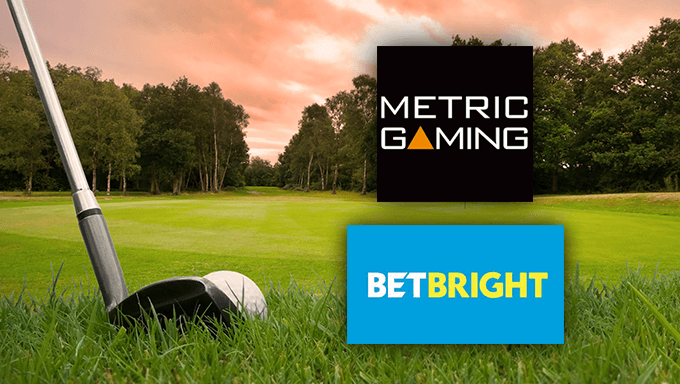 Metric Gaming, a sports betting techology, software and services company has struck a deal to provide its standalone Golf pricing solution to BetBright, a premium digital entertainment and sports betting operator. Golf fans who place bets with BetBright will now have access to the industry's largest selection of pre-game and in-play betting options across outrights and other 72-hole, 18-hole and hole-by-hole markets according to a press release from Metric Gaming.
Big Deal for BetBright Bettors
Metric Gaming's service allows operators to provide golf betting fans with the opportunity to test out their expertise on major PGA and European Tour events throughout the golf calendar year, clearly a finction Betbright saw value in. Product Manager at BetBright Owen Duffy commented on the deal:
"We are delighted to have integrated Metric Gaming's golf solution. We see Golf as an important element of our overall customer proposition and we look forward to a successful partnership with Metric into the future."
Metric's Golf service is designed to allow operators the chance to differentiate themselves from others in a saturated and competitive space. The company's golf and racing products are available on a standalone basis through Metric's Modulus Platform, giving customers cost-effective access to customisable products comparable with those of the most recognisable industry brands.
The golf product in particular has been successful for Metric's customers, delivering a significant margin on turnover and increasing customer engagement. Chief Operating Officer for Metric Gaming Jim Supple said:
"We are delighted to partner with another fast-growing and forward-thinking brand like BetBright. Metric's cutting-edge Golf product will complement BetBright's existing product range and support the impressive momentum the company has achieved to date."
Busy Week for BetBright
The deal with Metric Gaming isn't the only reason BetBright are stirring up headlines this week. On Tuesday the operator announced a partnership with Betradar through its Managed Trading Services division. The agreement between the two will see Betradar "engage in selective trading on specific sports for the Dublin-based operator."
For BetBright Co-Founder and CEO Marcus Brennan the deal with Betradar is a natural one, considering that BetBright's vision for its business centres on technology built around its own proprietary platform. He spoke highly of the agreement:
"We have worked closely with Sportradar through data provision and their reputation in the industry speaks volumes. But we saw an opportunity through MTS that would enable us to increase our offering and trade on selected sports where Sportradar's expertise was proven. This enables Betbright to free up resource and focus on areas where we are particularly strong. Selective trading through MTS we feel will become a more integral part of our strategy going forward and certainly as we expand into new territories with our first foreign markets planned for 2019."
Betradar is a part of Sportradar, a company which is a "global leader in understanding and leveraging the power of sports data and digital content for its clients around the world". Its operating activities include the collection, processing, monitoring and commercialisation of sports data.
The heaviest concentration for the company revolves around virtual sports betting. The company also provides the necessary services to run a bookmaker such as pre-match odds services, live odds and live data services, risk and liability management services, betting stimulation tools and eSports betting services (specifically LoL).