Donald Trump Level With Joe Biden in Florida Election Odds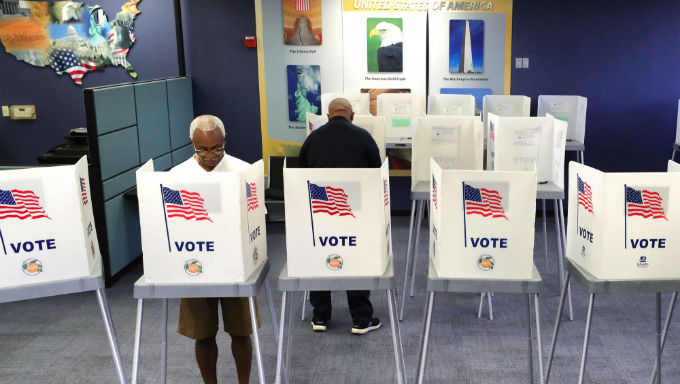 © PA
Donald Trump is trailing his US election rival Joe Biden by as much as five points in Florida but the advantage isn't being felt in the betting markets.
The latest poll from Monmouth has Trump slumping to just 45% in the state he won against Hilary Clinton four years ago.
Biden is currently polling at 50% and is roughly in line with where Clinton was on a key demographic: Latino voters.
Yet the most recent 2020 Election odds suggest the current president is by no means out of the race to win Florida's 29 electoral college votes.
Florida Election Betting Locked
UK bookmakers Ladbrokes have Trump neck-and-neck with Biden to claim the state on November 3. Both candidates are locked at 10/11 to capture Florida, which would be a major coup for whoever succeeds.
There are a number of swing states at play in this election but none come as close as Florida, which harbours a wide range of demographics.
Trump is understood to be narrowly leading the polls for voters over the age of 65, while he is ahead by 56-39 percent among white voters.
But Biden has a 27-point margin over his rival when it comes to the Hispanic vote — a dramatic swing considering Trump has polled well among that demographic ever since he came to office.
Polls vs Odds Discrepancy
The reason for the discrepancy between the recent state-wide poll and the latest politics betting markets is likely to do with Trump himself.
The businessman was way behind Clinton in the national polls for the 2016 US Election before winning by a margin of 304 electoral college votes to 227.
Florida voted for Trump in 2016 by a margin of just 1.2% — the closest state during that election.
And politics bettors are evidently sensing that Trump could capture Florida again, despite the recent polls.
This has driven the incumbent's price down and provides an arguably incorrect picture of how Floridians will vote.
However, the polls aren't always correct either, with 2016 a case in point. Clinton was given a 55.1% chance of winning The Sunshine State four years ago but Trump supporters came out in force to vote for the businessman.
Punters evidently sense the same could happen this time and have snapped at the chance to back Trump.
Biden Leading Other Swing States
So far, Biden has successfully built leads in other swing states such as North Carolina (49-46), Wisconsin (52-42), and Minnesota (48-44).
However, things could all change when the first US election debate gets underway at the end of the month.
Trump is hoping to use the debates to swing the race in his favour and has branded Biden "grossly incompetent" in one-on-one showdowns.