Inspired Rolls Out Virtual Football Across Coral's UK Betting Shops Just in Time for Euro 2016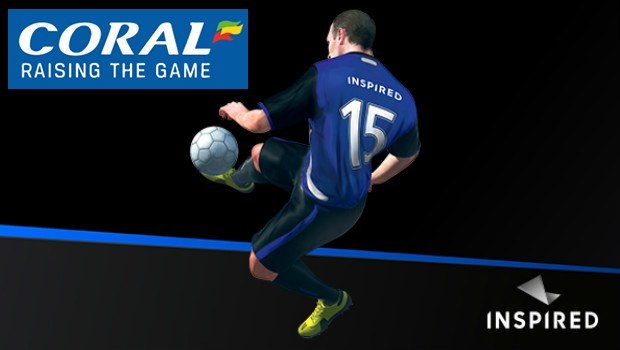 As Euro 2016 commences, most major bookmakers are looking to grab the attention of the millions of punters waiting to place their bets on this year's largest international football tournament. The tournament is expected to bring in billions worth of wagers across the globe and the biggest bookies on the planet are ready to capitalize anyway they can.
One major bookie thinking outside the box has decided to bring a little of the online gambling world into the brick-and-mortar realm in order to gain an edge on the Euro 2016 punters. Coral has announced their launch of 'Rush Football 2' - a virtual sports game - across 1,800+ UK betting shops just in time for the start of Euro 2016.
Coral Looking to Gain an Edge
With the amount of attention the European Championships receive each year, most bookies offer extremely generous welcome bonuses to attract the newest punters simply interested in the tournament, while also providing lucrative betting markets to entice the veterans looking to hit it big.
Massive marketing campaigns are launched as well, including celebrity ambassadors and endless adverts. But this year it isn't just welcome bonuses, generous markets and familiar faces bookies are using as technology introduces a whole new way to embrace international football betting with virtual sports betting.
The budding virtual sports market, once only popular among online bookies, has finally reached the brick-and-mortar realm as Coral launched Inspired's 'Rush Football 2' across 1,800+ UK betting shops. The launch of such a unique offering just in time for Euro 2016 falls right in line with Coral's overall goals for capitalizing on the tournament:
"The European Championships promise to be a real growth driver for our UK LBOs, and launching Inspired's market leading multi-match virtual football product ties in perfectly with our retail strategy for the Euros and beyond." - Matt Kemp, Gala Coral Gaming Director,
Virtual Sports Continue Rise
Virtual sports betting has been taking the online gambling world by storm as it provides an opportunity to enjoy the fun and excitement of betting sports without the hassle of waiting for a real life event to kick off. Most major bookies are offering the market via their online bookmakers but now it seems the market is making its brick-and-mortar debut.
The market was initially met with some criticism due to its lack of a 'real-life' event counterpart, meaning people felt there would be no interest if punters weren't actually betting on a live event. But thanks to secure and trusted Random Number Generator (RNG) technology, simulated sporting events centered around actual sporting events can create an exciting betting atmosphere even when the event isn't live.
Thanks to an explosion in availability across all the major online bookmakers, Coral feels they can capitalize on the budding market right along with Euro 2016. Hoping to attract players any way they can, Coral is hoping 24/7 Euro betting through 'Rush Football 2' will give them the edge they need over rival bookies.
Inspired Leads the Charge
Inspired Gaming, the team behind 'Rush Football 2', is hoping this new, unique Coral offering will shed light on the advantages of virtual sports betting. That should come as no surprise as Inspired is by far the world-leader in virtual sports betting solutions, having signed deals to offer the market with most, if not all major online bookmakers.
Inspired believes the ability to bet simulated football matches during the downtime of no matches has revolutionised online football betting and will do the same for brick-and-mortar football betting. So many punters look to join in the betting but live in different time zones or aren't free to bet during the opportune times.
Inspired's CCO of Digital Games, Steve Rogers, agrees these advantages now on display in those betting shops during Euro 2016 should only continue the rise virtual sports betting has embraced through introducing a new world to the market:
"As the nation becomes gripped by football fever with the home nations gearing up for the Euros, we have the perfect opportunity to engage more players than ever with Rush Football 2 Matchday; the most realistic and premium football betting product on the market."
Offering this opportunity during Euro 2016 from actual betting shops should simply help inform non-online punters of the immense advantages of virtual sports. Like the online betting world has, Coral and Inspired are hoping the "offline" world of betting is just as primed to receive the budding market.
To see what 'Rush Football 2' is all about before you head to your local shop, head over to Coral's virtual sports portal today!