Joshua vs Wilder Heavyweight Unification Bout on the Ropes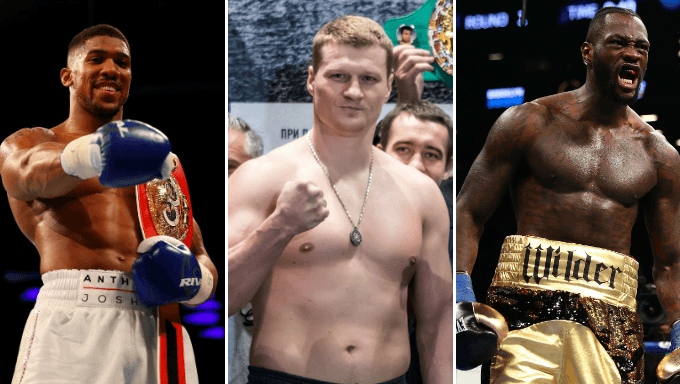 The long awaited mega fight between IBF, WBA and WBO heavyweight champion Anthony Joshua (21-0, 20 KOs) and WBC heavyweight title holder Deontay Wilder (40-0, 39 KOs) appears to be on the ropes.
While previous reports suggested a deal between the two camps was nearly done for a proposed unification bout in the UK this fall, a report by BBC.com suggests Joshua's most likely next opponent is now mandatory challenger Alexander Povetkin.
It's About Keeping All Three Title Belts
The reason Joshua would fight Povetkin instead of Wilder is so he can keep his WBA heavyweight title belt. Boxing's four major sanctioning bodies are the WBA, IBF, WBC and WBO. These organizations determine mandatory challengers for their versions of world titles and it's up to the champions, in this case Joshua, to fight the necessary opponents to keep their status as division champion.
In a statement released to Sportsmail, WBA president Gilberto Mendoza said:
"Today the WBA requested an answer from Anthony Joshua's team regarding his fight with the mandatory challenger Alexander Povetkin. The WBA have allowed over a month extension to negotiations with Povetkin and also ongoing discussions with Deontay Wilder. It appears the Wilder team have not returned the contract for the fight and therefore we are requesting a date for the Joshua-Povetkin fight with immediate effect."
A Joshua-Povetkin bout would push the Joshua-Wilder unification fight to early 2019 at the soonest and possibly longer depending on the schedules for each fighter.
However, the Joshua-Povetkin bout would keep the WBA from stripping Joshua of his title and keep both Joshua and Wilder on track to unify all four major heavyweight title belts whenever the face each other. The winner would be the first undisputed heavyweight champion since Lennox Lewis in 2000.
Both Sides are Blaming Each Other
Both teams are pointing the finger at the other in regards to why the fight seems to have fallen through. Joshua's promoter, Eddie Hearn, told Sky Sports he's frustrated with the slowness of Wilder's team regarding contract proposals for the bout sent over to them more than a week ago:
"We sent the contract nearly nine days ago now. We're not even necessarily expecting a signed contract back. We just want your comments. If my fighter wanted a fight, and we received a contract, I would be back with the comments within 24 hours."
Meanwhile, Wilder's co-manager and advisor, Shelly Finkel, told World Boxing News it's clear from the way negotiations have taken place over the last few weeks that Hearn and company never wanted Joshua-Wilder to take place this year and were angling to push the bout to 2019 the whole time.
"I never said to Eddie Hearn I would be sending back comments, I wrote to him saying I'm sending back the contract. And he knows the contract would have been signed. That's why today, and all of a sudden, the WBA have turned around and given 24 hours."
Regardless of each camp's position, both fighters and their camps are to blame for one of the biggest fights in boxing being in serious jeopardy for 2018. Moreover, there appears to be a growing amount of distrust between the two camps, and none of the back and forth tirades against each other through the media does anything to help the fight come to fruition.
Joshua-Povetkin isn't a Bad Consolation Prize
While boxing betting fans will be miffed at missing out on Joshua-Wilder, the proposed bout between Joshua and Povetkin isn't a bad substitute as far as heavyweight title bouts go. Povetkin has built a reputation over the course of his career of being one of the top heavyweight boxers in the world.
His lone loss was a 2013 decision to then champion Wladimir Klitschko, and he's reeled off eight straight wins over the five years since to position himself for another heavyweight title shot.
According to the Transnational Boxing Rankings Board, Povetkin is the sixth rated heavyweight in the division. He secured the mandatory WBA title challenger position by knocking out David Price in March, and should provide a stern test to Joshua. He's a powerful boxer-puncher with a world class pedigree.
It is probably the last chance for Povetkin, age 38, to secure a fight of this magnitude. While he has competed for and won minor heavyweight titles in the past, he has never secured a legitimate heavyweight championship.
As for Joshua, a sensational performance against Povetkin could make the potential Joshua-Wilder bout even bigger should it occur soon after. Joshua is considered by most boxing experts to be the best heavyweight in the world, leading a solid group that includes former champion Tyson Fury and WBC champ Wilder.
So long as all three heavyweights start fighting each other next year, boxing fans should be in for a real treat relatively soon.
Stay In The Loop With Free Bets, Insider Tips & More!
Live Betting. Sports Promos. Sent Weekly.
Betting News Articles