Manish Bhasin: 2019/20 Season - My Premier League XI So Far

Sadio Mane made the cut in Manish's 2019/20 team of the season so far (© PA Images)
---
So as 2019 draws to a close, this week I'm going to don my tin hat and choose my Premier League team of the season so far. Yes, it's a thankless task, but here goes...
---
Leicester and Liverpool dominate the starting XI
---
Goalkeeper - Kasper Schmeichel
The last line of defence in the stingiest rearguard this season so far, Kasper Schmeichel has gone about his business with quiet efficiency. While the likes of N'Golo Kante, Riyad Mahrez and Harry Maguire have left for pastures new, Schmeichel is in his 8th year at the King Power Stadium and has rarely let his team down.
It wasn't that long ago when Everton were reportedly interested in him. It seems he made the right decision judging by what's happened to both sides over the last few years. On another note, he seems less bulky than last season - a decision that may well have enhanced his agility.
---
Schmeichel has been really solid between the sticks for Leicester this season (© PA Images)
---
Right Back - Trent Alexander-Arnold
Trent may have won the Champions League, entered the Guinness Book of Records for most assists by a defender in a Premier League season and become the youngest ever player to appear in consecutive Champions League finals - but the 21-year-old is hungry for even more judging by his performances this season. Alexander-Arnold is a playmaker operating at right-back.
His ability to switch play with a long floated ball to a teammate is fast becoming the norm. The England international simply doesn't get overawed. His part in Liverpool's second goal in the 3-1 win against Manchester City in November was a thing of beauty.
---
Liverpool right-back Alexander-Arnold has become an assist specialist for the Reds (© PA Images)
---
Centre Back - Caglar Soyuncu
The £18m signing has replaced the outgoing £80m Harry Maguire with relative ease. I've been astonished by Soyuncu's progress especially after the Turkish international made just six league appearances last season.
Earlier this campaign, it was his fractionally late challenge on Marcus Rashford that handed Manchester United a penalty in what turned out to be a narrow defeat at Old Trafford. Since then though, under Brendan Rodgers, he's been largely faultless. He's played every minute of the Foxes' league campaign at the heart of a defence that's conceded just 11 goals in 17 games.
He is so comfortable on the ball too. No wonder there are reports that Soyuncu is soon to sign a new contract at the King Power Stadium, to ward off interest from Manchester City and Arsenal.
---
Soyuncu was tasked with replacing former Foxes captain Harry Maguire (© PA Images)
---
Centre Back - Virgil van Dijk
Clean sheets might be a rarity for Liverpool but despite playing alongside three central defensive partners in Joel Matip, Joe Gomez and Dejan Lovren, Virgil van Dijk continues to ooze confidence and authority. Even the loss of goalkeeper Alisson for Adrian didn't put him off his stride.
I heard an interview from Jose Mourinho recently where he said natural leaders are like a gift that coaches can only cherish. Van Dijk provides that and much more. Fellow Dutchman Nathan Ake revealed how Van Dijk is always trying to help him to improve his game.
He's so driven yet laid back, I doubt he'll lose much sleep over coming second in the Ballon d'Or to a certain Argentinian.
---
Virgil was one of three nominated for the 2019 Ballon d'Or (© PA Images)
---
Left Back - Andrew Robertson
Like his partner in crime on the opposite flank, Robertson has picked up where he left off last season. Four assists and one goal isn't a bad return heading into the busy festive fixture list. He's constantly on the move down Liverpool's left, with the quality of his crosses manna from heaven for the forwards.
However, as Liverpool's only specialist left-back, there is a heavy reliance on him. And having been a regular for club and country for the last two seasons, early indications suggest it might be catching up with him after he suffered a niggling ankle injury against Manchester City in November.
---
Like Alexander-Arnold, Roberton offers as much going forward as he does in defence (© PA Images)
---
Defensive Midfielder - Fabinho
With Fernandinho being asked to put out fires at the heart of Manchester City's defence, another Brazillian has excelled as a number six in the Premier League so far. It's such a shame that he now faces around six weeks on the sidelines after suffering an ankle injury against Napoli late last month.
Fabinho has shown displays of real quality as a defensive screen in front of Liverpool's back four. This after enduring a pretty underwhelming first season at Anfield following a £43.7million move from Monaco in 2018. Hopefully, he'll return from injury to be just as effective. Many were talking him up as being better than his predecessors Javier Mascherano, Dietmar Hamann and Xabi Alonso.
---
Before his injury, Fabinho was excelling in midfield for the Anfield outfit (© PA Images)
---
Midfielder - Kevin De Bruyne
Any concerns that Kevin De Bruyne might not be the same player after last season's injuries have been emphatically dismissed so far. The Belgian already has four goals and nine assists and is arguably in the best form of his career.
His pass to David Silva between goalkeeper Ben Foster and three Watford defenders was simply sublime. He sees things others can't. I've asked both De Bruyne and his national manager, Roberto Martinez, if it's something he works on in training. They both denied it, saying it can only be replicated in match situations. However, De Bruyne's vision off the pitch does need fine-tuning.
When I asked him if there was a chance that compatriot Youri Tielemans would remain at Leicester after an encouraging loan spell, De Bruyne said unlikely, as he's destined to be at a top-four club. On the other hand, he was right!
---
De Bruyne recently delivered a masterfull performance against Arsenal (© PA Images)
---
Midfielder - James Maddison
Maddison is Leicester's main creative outlet. He's notched five goals and three assists in the Premier League so far this season. Nothing seems to faze him and he's taken to the top flight like a "Me duck" to water (a Leicester reference), with his quick feet and set-piece prowess.
There's also a sense of humility about him that I discovered in a recent interview. When Leicester played out a thoroughly entertaining 2-2 draw at Chelsea, earlier in the season, late in the second half Maddison waltzed into the Chelsea box looking for the winner, before blazing over the bar from close range.
He was almost too embarrassed to talk about it when gently prodded by Ian Wright and Alan Shearer - it was refreshing to see.
---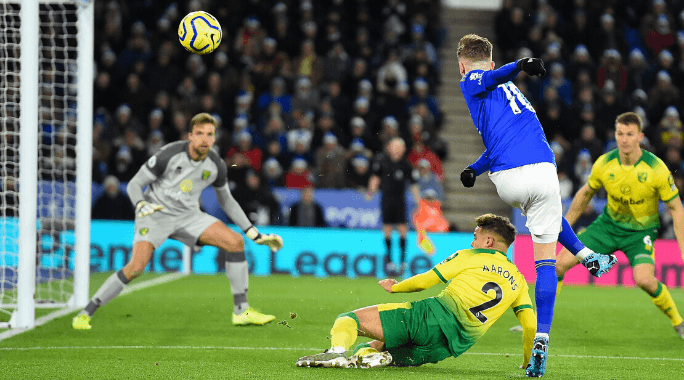 James Maddison's performances for Leicester have earned him his first cap for England (© PA Images)
---
Forward Right - Raheem Sterling
Manchester City might be off the pace in the title race but the same can't be said of Raheem Sterling. He continues to showcase his much-improved ability to either set up his team-mates or take his chance on goal with an assist and eight goals.
He's still some way off to replicating last season's incredible benchmark of 17 goals and 10 assists. Away from the field, Sterling has been widely praised for his public fight to kick racism out of football. Not surprised to see him nominated for the BBC's Sports Personality of the Year award for 2019.
---
Sterling has carried his fine form from last season into this new campaign (© PA Images)
---
Centre Forward - Jamie Vardy
Forget the vodka, Vardy is a fine wine, getting better with age. Scoring in eight consecutive Premier League games is no mean feat - and his conversion shot rate of 39% is frightening. As I've mentioned before - Vardy is quicker now over the first 15 yards than he was during the title-winning season and may well be benefitting from his self imposed international break.
He's leading the race for Premier League top scorer with 16 goals, along with three assists. He looks reborn under manager Brendan Rodgers who prefers to have him positioned centrally and on the shoulder of the last defender, helping to conserve his energy for when it's needed. It's crazy to think he's only been a professional footballer for seven years.
---
At the mid-way point in the season Vardy tops the scoring charts (© PA Images)
---
Forward Left - Sadio Mane
The scorer of 13 goals so far, Mane has been without doubt Liverpool's main man in this campaign to date. It appears that Liverpool's front three almost take it in turns to be the in-form forward. If it's not Firmino, it's Salah, if it's not either of them, it's the Senegalese international.
This season he's come into his own. His finishing has become deadly. He's been so good in the last 12 months that he even received Lionel Messi's vote for the 2019 Ballon d'Or.
---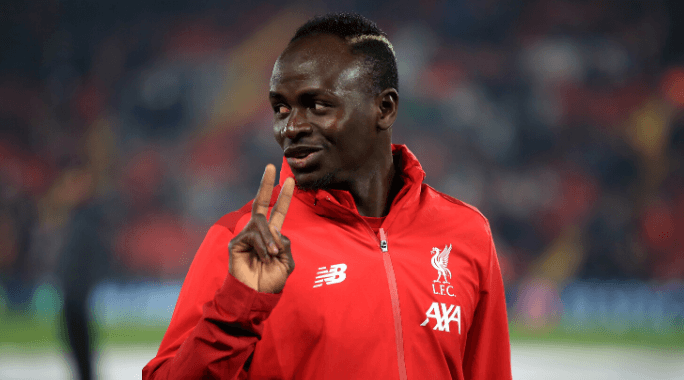 Mane has been in scintilating form for Liverpool (© PA Images)
---
Substitutes
Tammy Abraham
Ricardo Pereira
John Lundstram
Roberto Firmino
Jorginho
---
Previous Manish Bhasin Columns
Stay In The Loop With Free Bets, Insider Tips & More!
Live Betting. Sports Promos. Sent Weekly.
Betting News Articles