NetEnt and Playtech Shoot for the Stars with New Space-Themed Slots 'When Pigs Fly' and 'Space Invaders'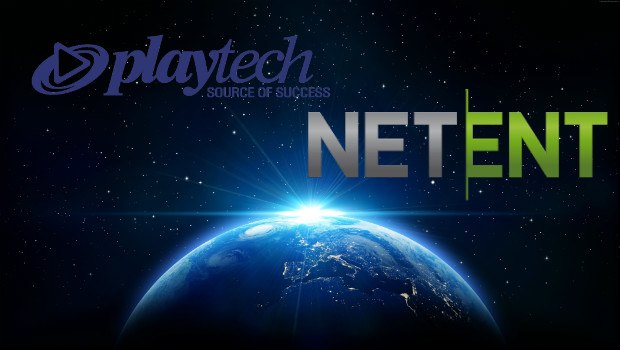 As SpaceX looks to make space travel commercial, top casino software companies recognize an exciting theme to jump on for their next new slot titles. Two of the world's leading software suppliers, NetEntertainment and Playtech, have both recently rolled out brand new space-themed slot titles to enjoy.
Playtech's new slot game's title, When Pigs Fly, might not immediately invoke intergalactic travel but a few spins on the game would reveal pigs went straight from flightless travel to space travel, skipping the typical flying through the sky altogether.
The new slot game from NetEntertainment leaves no room for confusion with its title, Space Invaders. Themed after the famed arcade game from the 80's, NetEnt's new slot title is all about the intergalactic travel. As space exploration continues to inch towards the greater social conversation, expect to see a wealth of space-themed slots like these.
3000+ Ways to Win with When Pigs Fly
The saying "when pigs fly" has long been used to describe impossible situations. Some would turn to this saying when thinking about a slot game offering 3000+ ways to win, it's seemingly impossible...until now. Thanks to NetEntertainment and their newest slot title, When Pigs Fly, players can now benefit from up to 3,125 paylines!
This 5-reel slot offers spins for as low as 50p for those looking for some cheap fun but for some of the more experienced players, When Pigs Fly touts a unique 'Re-Spins' feature that provides the opportunity to play the 3000+ paylines if you can string together some consecutive wins.
Following your first win on the slot, you are also awarded a Free Spin. During that first Re-Spin, paylines are increased to 135. If you win during the first Re-Spin, you are awarded another Free Spin. During the second consecutive Re-Spin, paylines are increased to 405. This continues up to six times with the paylines increasing as follows:
| | |
| --- | --- |
| Consecutive Re-Spin | Paylines |
| 1st | 135 |
| 2nd | 405 |
| 3rd | 675 |
| 4th | 1,125 |
| 5th | 1,875 |
| 6th | 3,125 |
That's right, you can increase your win potential 962 times your original bet with each consecutive Re-Spin you secure. Players have the opportunity to play up to 3,125 paylines on one spin, an opportunity most thought would only happen "when pigs fly."
Below is a helpful YouTube video revealing some of the stellar gameplay. If you like what you see and want to enjoy this topnotch slot from NetEntertainment, head on over to Betsafe Casino now and start racking up those consecutive wins!
Playtech Invokes Nostalgia with Space Invaders
Branding a slot after a famous movie or rock band has been a trend among the industry leaders in online casino software supply for years. An industry-leader known for this kind of branding is Playtech following their initial deal with Marvel and now new deal with DC Comics to produce slots revolving around all the legendary characters.
Playtech's newest title looked to an epic 80's arcade game for branding. The Space Invaders slot from Playtech is themed directly after Tomohiro Nishikado's famed arcade game released in 1978. The slot features 5-reels and 20-paylines indicating this game is more about nostalgia than it is about taking home a life-changing sum.
The game provides a few different features to enjoy while spinning including the 'Invaders Turn Wild' and 'UFO Wild' features among others. A 2x multiplier is also featured throughout the gameplay as well.
Playtech is hoping this new slot title will garner the same popularity its predecessor arcade game once touted. If you're looking to fend off alien invaders while enjoying a shot at winning some cash then go visit NetBet Casino today and start playing Space Invaders!