NetEnt To Give Out €1m in Slot Bonus Prizes During World Cup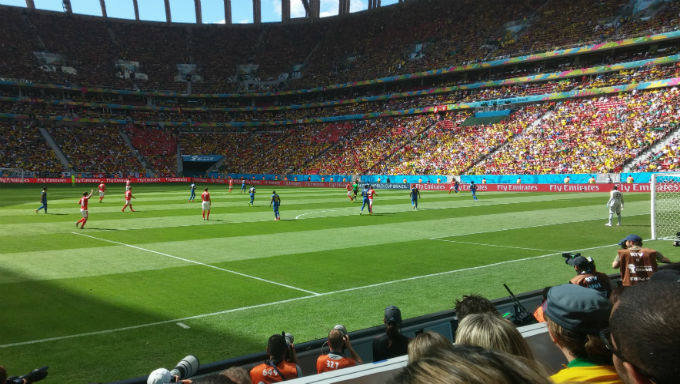 If the excitement around the world's most popular sporting event wasn't enough, one of the globe's top game providers has announced a content that will make sure this year's FIFA World Cup is unforgettable.
To celebrate the World Cup, game development giant NetEnt will give away €1m over the course of the event. The tournament kicks off 14 June and runs through 15 July - the same time frame as football's most prestigious event.
The best part - players don't need to beat the world's best on the pitch in Russia to come home a winner. Players just need to take a few spins with top online slot games Mega Fortune and Hall of Gods.
Players can win a €3,800 prize every day a match is played, with total combined awards building all the way up to €95,000 daily. Additionally, players can win the mega jackpot on each slot, which will have payouts up to €350,000 through Hall of Gods and a hefty €650,000 for Mega Fortune.
NetEnt CEO Henrik Fagerlund has joined in the excitement, telling Gaming Intelligence that this contents perfectly complements the thrill of the World Cup.
"Campaigns like Mega Million enhance players' gaming experience. This summer's football event is a great opportunity to push our already popular jackpot games, and that's why we've splashed out on this one. Just like our players, we're really looking forward to the World Cup and can't wait for the excitement to begin!"
NetEnt Continues World Cup Partnerships
The bounty of cash prizes is far from the only football-related promotion NetEnt has launched this year. For sharp football punters, the company announced a new sports betting widget in its live casino. This special set up allows players to make wagers on the matches while they play casino games.
Last month the Sweedish gaming leader partnered with NetBet to unveil the World Cup Free Round Widget for slot games and followed that will Live Sports Roulette. Fagerlund said the games will create an immersive experience for football fans and a great opportunity to win even more prizes during the tournament.
These new games couldn't come at a better time. The World Cup will draw billions of viewers in the coming months, attracting attention from supporters from all over the world. With millions more taking a punt on World Cup betting, football-themed casino games are an ideal way to get in the action while watching the action on the pitch.
Gaming Opportunities Transcend Football
As one of the top names in gaming, it's not surprise that NetEnt has made headlines in ways beyond just its high-profile World Cup partnership.
Earlier this year, two separate slot players won more €2m - on the same day. A player in the UK took home €2.6m playing on the PokerStars Casino while a Swedish players walked away with a stunning €4m on a progressive slot.
Not too long later, another player took home €6.7 on Hall of Gods. More high-stakes winner are sure to come in the following days, especially with the extra bonus opportunities coming alongside the World Cup and through many of NetEnt's other top game offerings.