Paddy Power Suspending Betting with Royal Baby on the Way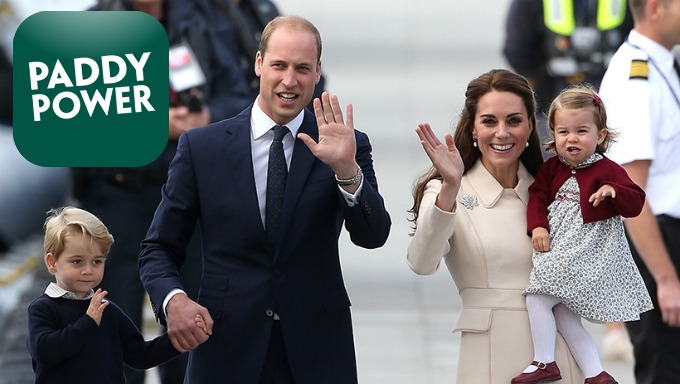 After a slew of wagering activity Monday morning, Paddy Power has suspended some bets regarding the upcoming birth of the Royal Baby. The Duke and Duchess of Cambridge, William and Catherine, are eagerly awaiting the arrival of their third child, and bookies have been fielding a wide variety of bets since it was announced by Kensington Palace that the baby would be born in 2018.
A rush of bets came in today on Catherine giving birth this week, prompting much speculation that while no official date has been given, the duchess may go into labor at any moment. Paddy Power's online bookmaker site reports that Sunday night odds were 12/1 for the birth to occur this week.
Get the trumpets ready, it looks like another royal baby is on the way this week. Read why we've had to suspend betting here: https://t.co/uHUfyTT7H7

— Paddy Power (@paddypower) April 9, 2018
Name and Gender Still a Mystery
The Royal Couple have thus far given no hints as to the gender of the upcoming prince or princess and obviously no hint as to his or her name. That hasn't stopped the wagers from pouring in with a definitive odds list taking shape:
3/1 Mary
5/1 Alice
8/1 Edward
8/1 Victoria
8/1 Arthur
8/1 Henry
10/1 Albert
A strong case can be made for each of these names. If female, could the child take the mantle of Queen Elizabeth's grandmother Mary of Teck, or one of the most famous matriarch's in British history should she be named Victoria? If a boy, could he be named for the fabled King Arthur which is as kingly a title as could likely be conceived?
What We Know for Sure
What is definitely known about the birth is that it will take place at St. Mary's Hospital in London sometime this month in the same wing that Prince George and Princess Charlotte, the coming child's siblings, were delivered.
Alan Farthing and Guy Thorpe-Beeston, who delivered Charlotte, will be leading the medical team to ensure the arrival of the precious cargo. A British mother of two, Georgie McGrath, described the swanky hospital arrangements worthy of Royal consideration to US weekly in 2015.
"When you arrive, you get given your own room, the floors are carpeted, [there are] fitted cupboards, a TV screen, your own bathroom, a little fridge, curtains, nice duvets on the bed. A menu comes to you every day, and it's not your normal run of the mill sort of menu, it's a good menu, yummy food."
Paddy Power a Top Choice for Betting Entertainment
Paddy Power always maintains a nose for current events, covering a wide variety of bets from the sports world to politics and beyond. It recently paid out on Arsene Wenger becoming the next Premier League manager to be shown the door by longtime employer Arsenal.
The bookie chronicles some of its more bizarre wagers under the Twitter hashtag #whatoddspaddy. Betters can even turn to modern technology to get the latest Paddy Power odds thanks to Amazon's Alexa and its partnership with the company.
Royal Wedding will Bring More Excitement
The next big event on the Royal Calendar is the wedding of Meghan Markle and Prince Harry scheduled to take place in just under 40 days. The highly anticipated event gained extra groundbreaking hype when it was learned that Markle specifically would become part of the Royal Family due to her African American heritage.
The excitement is palpable and a field of bets regarding who will design the dress, who will be the best man, what will the weather be like, who will attend the ceremony and who will perform for the new Royal couple are all questions open for wagering on. The pair was engaged on November 27 of last year and their nuptials will mark the first Royal Wedding since William married Kate back in 2011.
Stay In The Loop With Free Bets, Insider Tips & More!
Live Betting. Sports Promos. Sent Weekly.
Betting News Articles