Supreme Court Betting Hints At Trump Pre-Election Appointment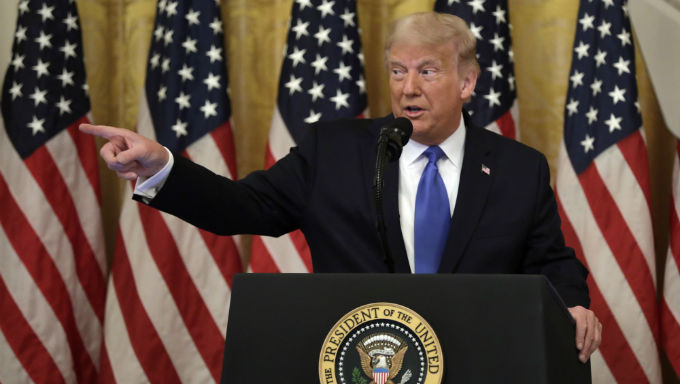 © PA
Donald Trump is likely to push through his third Supreme Court Justice appointment before the November 3 US election, political betting odds suggest.
A place on the nine-person US Supreme Court has opened up after the death of Ruth Bader Ginsburg.
The sitting president has the power to nominate a new Justice to the lifetime role and thus potentially change the social, economic and legal leanings of the country for a generation.
President Trump has already nominated two new Justices during his time in office — Neil Gorsuch and Brett Kavanaugh.
And now the 74-year-old could add a third pick to the highest bench in the United States before the election takes place, in a move that is already proving controversial.
When Will Trump Appoint Justice?
According to bookmakers Ladbrokes, Trump is most likely to appoint a new Justice ahead of the US electorate heading to the polls on November 3.
This has already caused outcry among liberals, as generally Justices aren't appointed in the run-up to an election.
What's more, a third conservative appointment from Trump could cause headaches for the Democrats, should they win the upcoming vote.
A pre-November 4 price is set at 11/10, which carries an implied probability of 47%.
Even if Trump doesn't make a pick before the election and then loses, he could still push a judge into the role before he is booted out of office in January.

A new Justice is 7/4 to be appointed between US election day and inauguration day, and 5/2 to get the job after January 20, 2021.
Trump has already insisted the new appointment should be made "without delay" and Republicans have secured the numbers required to put forward a name to the Senate, once Trump has revealed his pick.
The president has already revealed he will choose a woman for the role and United States Court of Appeals Judge Amy Coney Barrett is the favourite at 2/5.
However, both Barbara Lagoa (4/1) and Allison Rushing (20/1) are potential nominees too.
Appointment Could Change Election Odds
Trump pushing through a Supreme Court appointment just weeks before the election is unlikely to please many Democrats, but the president could attract floating voters with his pick.
Avoiding any of the white male candidates is seen as a shrewd move by analysts as Trump looks to rein in votes from the centre ground. There are currently five men on the Supreme Court – four of which are white – and all are over the age of 50.
Trump is currently behind Biden in both the national polls and US election betting odds, and this nomination could provide a boost to his numbers as November looms.