Trump Press Conferences Have Little Impact On Election Odds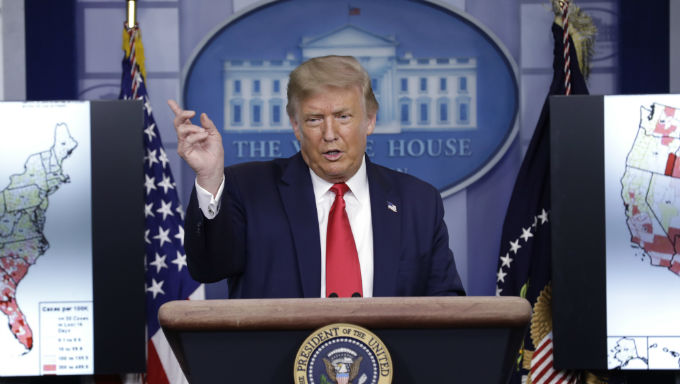 © PA
Trump is currently trailing Joe Biden by 8.7 points in the national polls as the odds remain in the latter's favour
---
Donald Trump's decision to bring back daily coronavirus press conferences is making little difference to his aspirations of winning the 2020 US Election.
President Trump cancelled his car-crash press briefings at the end of April as his approval ratings plummeted over his handling of the coronavirus crisis.
Since then the US has witnessed a surge in cases across the south and west of the country, while Trump's political poll ratings have collapsed.
And, in the week the US passed four million Covid-19 cases, Trump decided to bring back his press briefings in an effort to control the media narrative, with one eye firmly on November's election.
Yet any hope among Trump supporters that being back at the White House podium would help his ratings appears to have already been dashed.
Latest Trump Odds
Trump is currently trailing Joe Biden by 8.7 points in the national polls, while key states such as Michigan, Wisconsin, Pennsylvania, Florida and Arizona all have his Democrat rival out in front.
And while the 74-year-old has enjoyed a 0.3 poll rise since his press conferences started up again, Biden has also received a boost of the same margin.
It means the US Election odds have barely changed. In fact, bookmakers Boylesports have seen Trump's chances of winning the 2020 US Election widen from 13/8 to 7/4 since the press conferences returned.
Biden, meanwhile, has seen his odds come in to 8/15, making him the firm favourite to secure the presidency.
Biden Boost For 2024
Meanwhile, Biden has also enjoyed a boost in his prospective hopes to win the 2024 US Election.
The 77-year-old was 7/1 to win that election when the markets opened in June this year, and is now 5/1 to secure victory.
Were Trump to lose this election there are suggestions he could look to run again in 2024. Whether or not America still has the appetite for Trumpian politics four years from now remains to be seen, but his odds of 16/1 to win in 2024 have not shifted.
Trump Campaign Woe
If Trump is to reignite his campaign to win this November then he knows he has to hit the road and begin rallying in key states.
Frustratingly for the president, he has had to cancel the Republican convention in Florida due to the coronavirus outbreak. Florida is a vital battleground for Trump, who currently sits 51% to 38% behind Biden in the state polls.
The businessman already held a poorly-attended rally in Tulsa this summer and will be desperate to get back in front of crowds soon.
But with individual states enduring varying levels of lockdown, it appears the only hope Trump has of speaking to the nation is through these tumultuous press briefings.