UK Player Takes Home £87m EuroMillions Superdraw Jackpot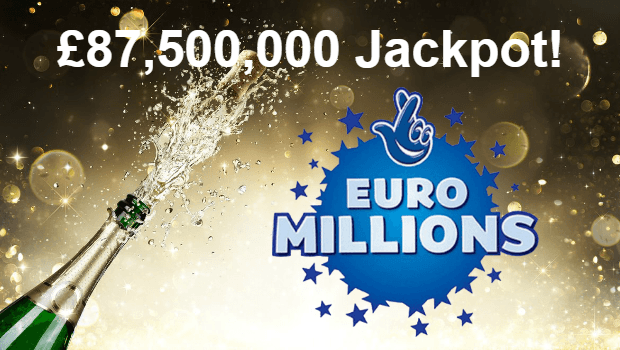 A ticket holder from the UK is celebrating after winning an £87.5m jackpot in the EuroMillions game. The player finally came forward last week following the Superdraw on Friday 30 June, and, if the claim is validated, they will become the seventh-biggest British lottery winner in history!
British Success in EuroMillions Continues
The dream came true for the lucky ticket holder after matching all five of the main numbers – 17, 35 39, 47 and 50 – as well as the Lucky Stars 06 and 08. In fact, it was a successful night all round for British players, several more of whom reaped big benefits from the draw. Over three million prizes were given out in total, with the combined value among players in the UK exceeding £91m.
This included two players who each won a million through the Millionaire Maker game, plus a further six players who won just over £200,000 each. The National Lottery is advising all UK players to check their numbers to see if they are among the prizewinners, according to Andy Carter, Senior Winners' Advisor at The National Lottery:
"By buying a ticket for EuroMillions or any other National Lottery game, every player is helping to raise money for Good Causes. On average, over £30 million is raised every week for projects across the UK, both big and small, from repairing Scout huts, to making Olympic and Paralympic champions."
Britain may be leaving the European Union but it's been a good year for the country in the EuroMillions. This latest win was the third jackpot to go to a Brit in 2017, following smaller wins of £19.9m and £14.5m in February. However, there's still some catching up to do if we're to equal or better the previous two years. Last year saw eight jackpots claimed in the UK, while 2015 was the country's most successful year with nine winners.
66th UK Jackpot Winner
The UK is now one of only three countries – the others being Portugal and Spain – to have recorded three jackpots since new rules were introduced for the Pan-European game in September 2016. We are just behind Belgium and France, each of whom have four jackpots to their name. In total, the UK has produced 66 jackpot winners since the game began in 2004.
This puts it third behind France and Spain, who lead the way with an impressive 85 and 82 wins respectively. Britain is just behind France when it comes to total winners, however. 493,153,337 players in the UK have won prizes on EuroMillions, compared to 506,811,499 from France. Together, the two nations account for nearly 45% of all prizes ever won.
It was a few days after the draw before the latest Brit winner came forward to claim the jackpot of £87,570,000. The claim is currently being validated by EuroMillions operator Camelot: it's not yet known whether the lucky ticket holder will choose to remain anonymous.
Once the claim is validated, they will stand in seventh place in the list of the UK's biggest lottery winners. This makes the win one of the largest since June 2015, when an anonymous player won £93.3m on EuroMillions.
Play EuroMillions Online, Win Big at Home
If you want to be in with a chance of winning such a life-changing sum of money, there's very little effort needed on your part. The EuroMillions draw takes place twice a week on Tuesdays and Fridays: you've got plenty of opportunities to get involved. Keep your eyes peeled for Superdraws (the last of which was on 30th June).
These are special draws that take place a couple of times a year and offer a larger guaranteed jackpot (normally €100m). However, it's not all about the jackpot. There are 13 different prize levels up for grabs, with the odds of claiming any prize a decent 13/1. Buy your ticket in person at your local licensed shop, or online via the National Lottery website.
Concierge services such as GiantLottos.com or The Lotter also offer a quick and easy way to purchase lottery tickets – all it takes is a few clicks, and you could be the next EuroMillions jackpot winner, So Sign up with TheLotter today!