Underdogs Strike Back: Cruz and Sanders Defeat Trump and Clinton in Wisconsin Showdown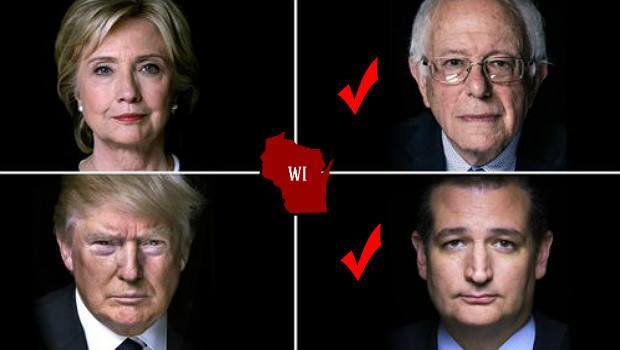 Tuesday 5th April 2016 proved to be a day of comebacks in the Democratic and Republican primaries, with both underdogs Ted Cruz and Bernie Sanders triumphing in Wisconsin at the expense of their higher-profile opponents in the race to become US presidential candidates.
Cruz Strengthens Position
Texas Senator Ted Cruz capitalised on Donald Trump's recent tumultuous week to claim Wisconsin's Republican primary. Ahead of the vote, Trump made a number of contentious comments about women and the country's foreign policy; as a result, Cruz seized a 48.24% share versus Trump's 35.08% to win comfortably at the expense of the controversial business magnate.
On the previous Wednesday, Trump caused alarm across the country by saying that women who have abortions should be sentenced to "some form of punishment" if the procedure is made illegal in the US. After widespread criticism, Trump issued a press release via his website to clarify his position, explaining that any doctors performing the act should be held legally responsible in his view, but "not the woman".
Trump Stirs Controversy
Trump also stirred controversy when he used his Twitter account to share an unflattering picture of Cruz's wife. He also made a third inappropriate gesture against women by defending Campaign Manager Corey Lewandowski after he was charged with battery in connection with an alleged assault on a female reporter, which is said to have been caught on CCTV.
As for foreign policy, Trump attended a rally of thousands in Rothschild, Wisconsin, and made the comments "good luck" and "enjoy yourself, folks" while discussing the threat of nuclear war between Japan and North Korea. This followed a TV interview in which Trump sympathised with the prospect of countries like Japan, South Korea and Saudi Arabia developing nuclear weapons.
Back in February 2016, Paddy Power Sports had priced Donald Trump at 1/5 to win the Republican presidential nomination. However, he has since slipped to 10/11, with some analysts now expecting a vote at the Republican convention in the summer if Trump fails to get the majority he needs. For Cruz, his odds have shifted considerably from 40/1 to 7/4 since February.
Sanders Fights Back
Among Democrats, there's a fierce rivalry between Hillary Clinton and Vermont Senator Bernie Sanders, who defeated the former secretary of state with 56.49% compared to her 43.19% share in Wisconsin. After winning in Alaska, Hawaii and Washington on Saturday, the 74-year-old is now in possession of some much-needed momentum as he tries to pull back Hillary's lead.
In March 2016, Paddy Power had Hillary as the clear favourite at 1/33, whereas now the 68-year-old is available at 1/10. Meanwhile, Sander's 10/1 odds to win the Democrat candidacy have since halved to 5/1 following his recent successes.
Panama Concern for Hillary
Moving forward, Sanders could continue his rise in the wake of the 'Panama Papers' leak. With blame spanning from David Cameron to Vladimir Putin, Hillary could also be a target for the media, given how she and current US President Barack Obama advocated a Panama free trade agreement, which was signed and ratified in 2011.
Hillary's involvement in the deal would already be enough to hand leverage to Sanders, but he can further strengthen his position by highlighting his vocal opposition to the agreement. Sanders specifically warned it would restrict the government's ability to react to illegal or even suspicious financial actions.The race for both US presidential nominations is incredibly tense, with neither candidate a certainty.
To get the latest US Primary odds before the next big swing, head over to Paddy Power Sports today!