Which Players in 2019 NFL Draft Could Most Impact Betting?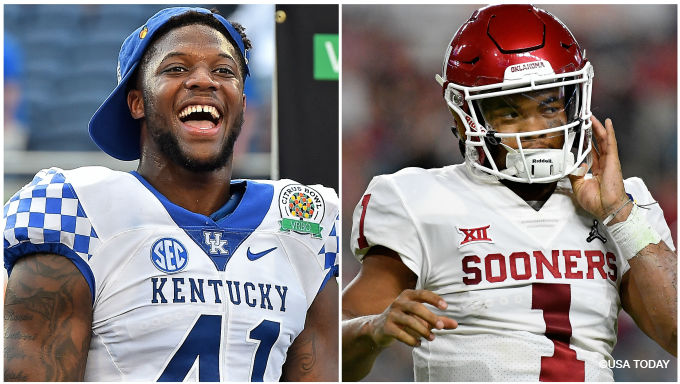 In every NFL Draft, there are typically a few picks that ultimately change the course of the franchise, even in Year 1, and smart NFL betting fans anticipate the picks and grab more favorable odds from NFL bookmakers before they shift.
Some of the most recent examples have been Ezekiel Elliott to the Dallas Cowboys, Deshaun Watson to the Texans and, last season, Baker Mayfield to the Cleveland Browns. Hitting on an elite player at a position of need can often result in a significant change of outlook for a team.
While we are still a few months away from the April NFL Draft, there are a handful of players who, in the right situations, could drastically change a franchise right away. Here are two of my favorite players and their potential landing spots in the 2019 NFL Draft.
DE Josh Allen to the Raiders (No. 4)
It's hard for pass-rushers to have a significant impact in the NFL during their rookie season. Typically, first-round edge rushers will only contribute a handful of sacks, at most. But for the Oakland Raiders, finding any pass-rush from the outside would be a godsend.
In 2018, the Raiders recorded just 13 sacks, 17 fewer than the 31st-ranked team in the NFL (Giants). Rookie defensive tackle Maurice Hurst led the team in sacks (4) despite playing in just 13 games.
Without a doubt, the Raiders will be looking to draft a defensive end in the first round, likely with the fourth-overall selection. The name that would be the most intriguing for the Raiders is Kentucky's defensive end, Josh Allen.
As a senior, Allen totaled 21.5 tackles for a loss and 17 sacks, all while becoming the SEC's Defensive Player of the Year. In four seasons, he tallied 42 tackles for a loss, 31.5 sacks and eight pass deflections as the Wildcats dropped him in coverage quite often.
Allen is a little raw in his pass-rushing technique, but he has all of the traits and athleticism to win there in the NFL. His speed and flexibility to finish around the edge is already impressive enough. Once he learns to incorporate more of his hands, he will be nearly impossible to block.
This was a really nice rush from Kentucky's Josh Allen: pic.twitter.com/JIsTEnFDkb

— Marcus Mosher (@Marcus_Mosher) February 11, 2019
If selected by the Raiders, it wouldn't be hard to argue that he would already be their best pass-rusher and maybe even the best defender. Allen's athleticism combined with his college production makes him one of the best prospects in the entire draft.
Even if the Raiders only make him a part-time pass-rusher, like Anthony Barr in Minnesota, his impact would be greatly felt across the whole defense. Adding Allen could instantly improve the Raiders by at least one or two wins in 2019 alone.
QB Kyler Murray to the Jaguars (No. 7)
While pass-rushers can make the difference in one or two games throughout a season, nothing impacts a team more than the presence of a competent quarterback. Look no further than the draft class of 2018.
Mayfield transformed the Browns into one of the most fun teams in the NFL and led them to seven wins as a rookie. Lamar Jackson saved a sinking Ravens' organization and led them to the playoffs and the AFC North crown.
This season, there is one team that could dramatically improve with an upgrade at quarterback, and that is none other than the Jacksonville Jaguars. In 2018, Jacksonville still had one of the top defenses in the league, allowing less than 20 points per game.
On all three levels of defense, they are loaded with All-Pro caliber players leading their respective groups.
However, the team's quarterback situation was a nightmare once again last season, as Blake Bortles and Cody Kessler combined for a passer rating of just 79.2. As a team, only four other teams combined for a worse passer rating than the Jaguars.
With a competent passing game, it wouldn't surprise anyone if the Jaguars were contending for a playoff spot once again.
While the 2019 draft class may appear to lack top-end talent at the quarterback position, there is one name that makes a lot of sense for the Jaguars: Oklahoma quarterback Kyler Murray. Indeed, Jacksonville is the betting favorite to pick him.
In his one season starting at Oklahoma, Murray threw for 4,361 yards and 42 touchdowns, all while gaining 1,001 yards on the ground to go along with 12 rushing touchdowns. Murray went on to win the Heisman Trophy award and has declared for the NFL Draft.
Murray averaged a college football record 13.3 adjusted yarder per attempt, just barely edging out Alabama's Tua Tagovailola. Outside of having insane passing efficiency, it's Murray's ability to make plays through the air and on the ground that make him so unusual.
Kyler Murray is such a weapon, man. pic.twitter.com/lO17ujMLp4

— Marcus Mosher (@Marcus_Mosher) February 11, 2019
The absolute best landing spot for Murray would be the Jaguars. If drafted by the team, it wouldn't be a surprise if Murray was able to replicate a Lamar Jackson-type season in Jacksonville.
In fact, he is a significantly more talented passer than Jackson and could energize the Jaguars' roster like Mayfield did in Cleveland. If Murray is still available to the Jaguars at pick No.7, expect them to pull the trigger and instantly become a sleeper team in the AFC.
Stay In The Loop With Free Bets, Insider Tips & More!
Live Betting. Sports Promos. Sent Weekly.
Betting News Articles