Horse Racing Betting Strategy: Jump vs Flat Racing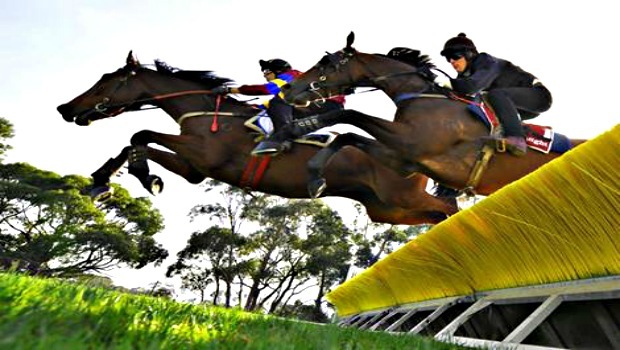 At first glance, National Hunt racing – or jump racing – and flat racing would not appear to be hugely different. The races are on turf, the furlong poles are the same distance apart and the winning post is still the winning post. The only difference, it would seem, is the fact that in National Hunt racing horses have to jump over obstacles. However, it is not quite that simple.
Shorter Distances
When you're thinking about betting on a flat race, it is worth noting that the distances are markedly shorter. Rather than being tests of stamina, flat contests are based on speed, with the longest flat race being over a mile shorter than the longest over jumps. One thing to look for when betting on flat horse racing is that horses with larger fore-quarters are generally speedier.
Money Talks: Flat VS Jump
Another notable variance between flat and jump horse racing is the amount of money put into the sport. Flat horses are commodities – animals that are not trained for long and are often used for breeding as much as racing itself. Jump horses are far less in demand, and therefore, when it comes to horse racing netting, jumps is generally easier to crack than its counterpart. Because jumps horses are in training for a longer time, their form is easier to assess simply because there is more of it. Horse racing tips for jumps racing becomes a lot more complicated because of the extra information, but wagers are usually made on a much more informed basis. Websites such as Coral Sports and Betfred Sports have all this information easily laid out, making sifting through the figures that little bit easier.
Other Variables
Of course, there are other differences between the two formats such as different trainers, jockeys and owners, but these variants do not have too much of a bearing on the outcome of races: the best jockeys in either format are just as good as each other when driving out a horse to the finish.
Weighing the Horse
One of the most fundamental differences, though, is how the horses are weighted. In jumps racing, the weight that a horse carries makes more of a difference to how it runs during the race, simply due to the fact that jumps contests take place over a longer distance. A horse carrying a heavier weight in the Grand National would have his chance severely hindered since the race goes on for a total of four and a half miles.
Obstacles
When betting on horse jumping, of course the most notable variable is the obstacles. With flat racing there is no chance of a horse falling over (unless it slips up), and therefore when you study the form of horses in National Hunt racing it is important to note if they are a good jumper or not.
When it comes to choosing between jumps and flat, everyone has a different preference. Jumps generally tends to have more variables, so when looking at horse racing tips, be sure to take everything into account. However, the speed of flat racing can be a sight to behold, and has its own quirks and characteristics that make it just as compelling.
Terms and Conditions apply for all bonuses. Must be 18+ to participate.