Poker Basics: Going All In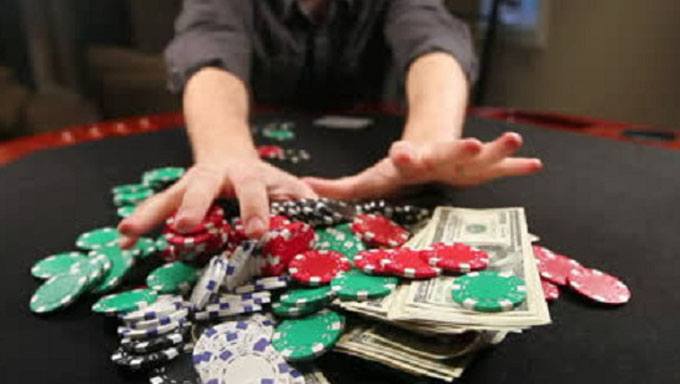 Going all in makes or breaks poker players, given that they use all of their chips when betting or calling. Only one player gets to experience the ecstasy of winning in such tense moments, while the losers instantly regret their decision.
To sharpen your decision-making, this guide covers the basics for knowing when to go in, how to calculate side pots and switching strategy to improve your play.
When To Go All In
With a great hand while playing against aggressive players, as it's possible to take away their chips before an opponent claims them instead. Aggressive players don't like backing down and this mentality can be turned against them.
An all in move on the flop can hold back opponents from limping in to see the turn and river cards. This can protect an early advantage and stop players from hanging on until they do get the cards they need.
Going all in can be effective as a bluffing tool, but only against the right players and cards. For example, a modest opponent who rarely takes risks is the perfect target to bluff with an all in move.
Every player will eventually face a time when they watch their stack of chips dwindle away. A last stand must be made eventually, but ideally when a good hand presents itself. Holding out for too long can eliminate any chance at staying in the game.
How to Calculate Side Pots
Side pots are a common occurrence during all in betting because the players involved are unlikely to have the same chip count. This is not needed for two players, but three or more will potentially require multiple side pots. So, just because some players have fewer chips, it does not mean their opponents have to stop betting on a hand.
For online poker players, it's easy to deal with side pots because the software is designed to track the chips and perform all of the calculations instantaneously. In offline games, it can be helpful to use a pen and paper, especially when four or more players are involved.
Below is an example of how to calculate side pots with four players, starting with their chips:
Player A: £50
Player B: £110
Player C: £180
Player D: £200
Main Pot: £200
Player A can only afford £50, so each player contributes £50 to create a £200 main pot.
Player B: £60
Player C: £130
Player D: £150
First Side Pot: £180
Player B has £60 left after the main pot, meaning that the first side pot is limited to £180. Players C and D are now the only ones who can compete in the second and final side pot.
Player C: £70
Player D: £90
Second Side Pot: £140
After all cards have been drawn, the winners will be the players with the best cards in each pot. So, while it's possible for A to win the main pot, only players in the subsequent side pots are entitled to win. Meanwhile, player D can survive with £20 if they lose the main pot and side pots.
Poker Tips for Going All In
Consider showdown value. | Never go all in out of frustration, even when playing with a short stack. A low pair or high card will have minimal value in a one-on-one showdown if the opponent is calls with a higher pair.
Try to trap opponents. | Having a reputation for going all in can work equally well in moments of restraint, like when Johnny Chan won the 1988 World Series of Poker Final. Opponent Eric Seidel was betting from the late position when Chan got a straight on the flop, so the Chinese native bet modestly until Seidel fell for the trap and made the all in call.
Don't be afraid to call. | Players who are actually in the weaker position can use an all in manoeuvre to unsettle their opponents. At the 2009 WSOP, Antonio Esfandiari had pocket queens against Andreas Flakstad's pocket eights. Esfandiari made the mistake of letting Flakstad grow in confidence before avoiding an all in call that he would have won.
Bluff from a late position. | Betting from the early position in a hand will give opponents an advantage because they have more information to use in their response. When combined with an all in, this can form an even more powerful bluff, but only with a solid read on opponents.
Use it in a balanced strategy. | Being predictable will only make it easier on opponents, so it's important to not overuse or underuse going all in. By adopting an unbalanced strategy, opponents can figure out how to win.
Going all in is inevitable in poker, so it's vital to at least understand the basics to be able use this strategy effectively.
Poker Tips
Recommended Poker Sites

Secure

Trusted

Verified
Deposit £10, receive up to £40 in Free Play

18+; new UK players only; min £/€/$10 deposit; £40 Free Play generated as tickets. 7-day ticket expiry. Full T&Cs apply. BeGambleAware.org

100% Welcome Bonus up to $888 + £20 Free Bonus Promo Code: NEW888

New Customers Only | 18+ | T&C's and Wagering Requirements Apply - Full Terms Apply

bet365 Poker - Welcome Package of up to €365

€365 bonus is redeemed in instalments based on Status Points earned. Tickets and prize wheel spins expire after seven days. Time limits, exclusions and T&Cs apply. For more information about this offer please visit the website. 18+. New players only. Gamble responsibly. - Full Terms Apply

Deposit £20, receive up to $30 in Tournament Tickets

18+. New players only. Min £20 deposit for $30 Free Play generated 6x $5 tickets. 14 day expiry. T&Cs apply. - Full Terms Apply

Bet £20, receive up to £50 in Tournament Tickets

18+ New Players only. Gamble responsibly. www.begambleaware.org

Terms Apply New Paddy Power Poker customers only. Deposit and Spend £20 and get £50 in bonuses. Bonuses released in increments of £10 over customers first 5 days. £20 must be spent on tournaments, twister and SitNGos only to receive bonus. Full T&Cs apply - Full Terms Apply

Deposit £20, receive up to $30 in Tournament Tickets

18+. New customers only. Nickname required. £10+ deposit = 5 x £5 tickets and 30 x £50 freeroll tickets. £10+ deposit = 100% pending bonus. Max £200 bonus. Bonus released with point accumulation. 90 days to accumulate points. £5 Tokens valid for 14 days. T&Cs apply. Begambleaware.org - Full Terms Apply