2018 NBA Summer League Playoffs: Round 2 Spreads and Tips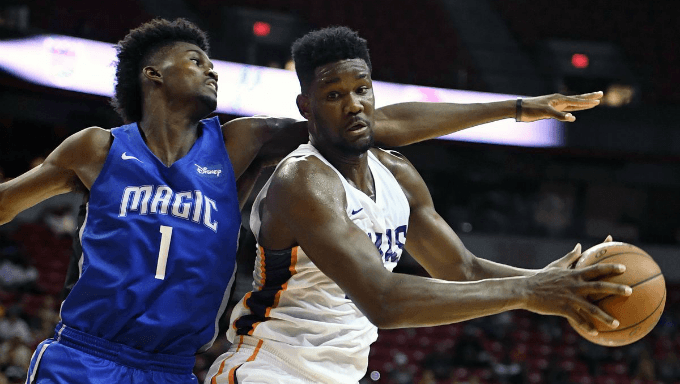 Quick Tips:
Bet New Orleans Pelicans +1.5 vs. Miami Heat on 888sport
Bet Boston Celtics -4.5 vs. New York Knicks on 888sport
Bet Oklahoma City Thunder +1.5 vs. Memphis Grizzlies on 888sport
Bet Phoenix Suns -6.5 vs. Philadelphia 76ers on 888sport
---
Eight teams (plus two that earned byes) have moved on to the second round of the NBA Summer League playoffs in Las Vegas. Remember, while these teams have been seeded and favorites have been placed, we're working with a three-game sample size. Plus, certain players are resting small injuries while others (like Dennis Smith Jr. and John Collins) are no longer playing because they've already proved enough. Anything can and will happen in this kind of setting, but we've got six plays we like thanks to the odds at 888sport.
New Orleans Pelicans +1.5 vs. Miami Heat
The Pelicans have been perhaps the best offensive team in Las Vegas over the past week, scoring 90, 110 and 97 points in their "regular season" games. Their top five scorers are averaging between 10 and 21 points and are shooting between 49 and 68 percent from the field. With Frank Jackson nursing a foot injury guard Trevon Bluiett has stepped up, averaging 21.0 points per game, good for fifth in the league. They'll face a Heat team that's already played six games and is missing Derrick Walton Jr. Bam Adebayo might not get a ton of run as he's dominated the competition thus far. The over also seems like a solid bet in this one.
Boston Celtics -4.5 vs. New York Knicks
We've written about Kevin Knox before, and he very well could wind up being the MVP of the Summer League. But the NBA experience and depth the Celtics have are going to make this a difficult matchup for the Knicks. Jabari Bird (18.0 points, 58% shooting) and Guerschon Yabusele (12.3 points, 5.3 rebounds) have been forces inside, while Semi Ojeleye has done a little bit of everything for the C's. Knox is capable of scoring in bunches, and he might need it against a really stingy Celtics defense that hasn't allowed a team to score 90 points on them thus far. Their three-headed monster should give Knox and New York fits.
Oklahoma City Thunder +1.5 vs. Memphis Grizzlies
It's been the Oklahoma City frontcourt making moves in Las Vegas this past week. Rashawn Thomas is averaging 16.0 points, 8.3 rebounds and 1.3 blocks, while Dakari Johnson (13.7 points, 5.3 rebounds) and P.J. Dozier (12.3 points, 5.7 rebounds) have helped as well. Freakishly athletic wings Hamidou Diallo, Deonte Burton and Terrance Ferguson give the Thunder a plethora of scoring options, and that should work in their favor against a Grizzlies team that's played six times this summer. We'll probably see rookie Jaren Jackson Jr. after he sat out on Tuesday, but that might not be enough. Expect an up and down affair, with Oklahoma City coming out on top.
Phoenix Suns -6.5 vs. Philadelphia 76ers
Bet against the Suns at your own peril. Deandre Ayton, Davon Reed, Shaq Harrison and Josh Jackson have all put up monster numbers in the summer. And that's not even including the Las Vegas cult hero Jack Cooley or the No. 10 pick Mikal Bridges, who we expect to get going anytime soon. The Sixers have put up impressive numbers of their own – specifically Furkan Korkmaz – but we're going to keep rolling with the Suns until they give us a reason not to. They've won their three games by 7, 8 and 18 points. We expect them to keep it rolling tonight.
---
Related: Check out Bet365 Sportsbook For Free Bets and Welcome Bonus.
---
Milwaukee Bucks +2.5 vs. San Antonio Spurs
The Bucks have been a model of efficiency in Las Vegas, which is ironic considering the team they'll face in the first round. But it's hard to look past Sterling Brown's 18.3 points on 49% shooting, or Christian Wood's 6.3 points on 50% shooting and 7.3 rebounds, or D.J. Wilson's 14 points on 49% shooting. You get the picture. And there's an outside chance they get to debut first round pick Donte DiVincenzo, who has missed all of the summer with a groin strain. San Antonio is talented, especially in the backcourt with Derrick White and Lonnie Walker, but we like the Bucks to continue rolling despite their 1-2 record. They're better than that and should show it Wednesday. Check for DiVincenzo's status, as that would only improve their shot.
Utah Jazz -2.5 vs. Orlando Magic
The Jazz are really starting to string together some nice performances thanks to the play of Grayson Allen on the perimeter and the trio of Tony Bradley, Georges Niang and Diamond Stone inside. They'll have their work cut out for them with the length of Mo Bamba and Jonathan Isaac for Orlando, but this team is playing with poise and balance and looks like a real contender in Vegas.
Atlanta Hawks + 5.5 vs. Portland Trail Blazers
A massive outburst from Trae Young in the final quarter of last night's playoff action against the Pacers vaulted the Hawks into the second round. Waiting for them is a Blazers team that has looked as good as any in racing out to a 3-0 lead. Wade Baldwin IV is making a case for the All-Summer League Team, averaging 14.3 points on 56% shooting and a league-best 8.0 assists per game. Jake Layman, the star of last year's Summer League team, is averaging 17.3 points on 56% shooting and Gary Trent, a steal in the second round of last month's draft, is averaging 14.7 points. They could also get back Zack Collins who missed Tuesday's game with a sprained ankle. Portland is probably the favorite to win it all in Vegas with the way they're playing and the depth they have.
L.A. Clippers +2.5 vs. Los Angeles Lakers
The Lakers have played six times this summer thanks to the California Classic, and it appears to be taking its toll. First round pick Moe Wagner is likely out with a bone bruise and Josh Hart, after crushing the competition, may sit out the playoff portion of the Summer League. There's still talent like Alex Caruso and Svi Mykhailiuk, but it's a different team if Wagner and Hart aren't getting big minutes. On the other side, Shai Gilgeous-Alexander is coming off a 17-point, six-assist performance in a win over the Wizards yesterday and Reggie Upshaw (24 points) and Jerome Robinson (15 points) appear to be finding their grooves at the right time. We've liked the Clippers all summer and it isn't going to change now, even against the undefeated Lakers.
Recommended Betting Sites

Secure

Trusted

Verified
Be first to get our exclusive sports offers!
Join today to stay up to date on your states gambling news and offers.
Betting Strategy Articles