5 Best Teams to Back Right Now in NHL Puck Line Betting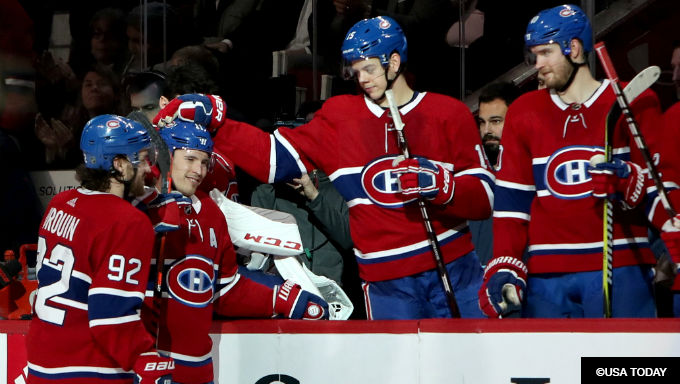 While there is great variance in point spreads in NBA betting and NFL betting, and even MLB betting to some extent, in hockey it varies about as much as the weather forecast for Honolulu.
While most top ice hockey bookmakers do offer a point spread of sorts for hockey, it is almost always 1.5 goals.
That's called the puck line. To win a bet on the puck line, the favorite must either win by two or more goals or the underdog must not lose by more than one goal. Most NHL betting fans bet the moneyline -- just a straight-up win-or-lose bet, based on the given odds.
But savvy bettors often prefer the puck line, because the payouts are usually bigger.
Who have been the best teams to put money on for the puck line this season, either as favorites or underdogs?
NHL Puck Line Betting: 5 Best Teams
Montreal Canadiens

If you've bet on the Canadiens as the underdog on the puck line this season, you've likely done very well money-wise. Montreal has a sterling 25-7 record as a puck line underdog so far.

Absolutely no one picked the Canadiens to make the playoffs this season, as it was supposed to be a rebuilding year. There were a lot of people calling for the job of GM Marc Bergevin over th summer, in fact.

Instead, Montreal is looking like a very good bet to make the playoffs. Don't expect them to be puck line underdogs quite as often from here on out.

Buffalo Sabres

Another real darling of the puck line crowd this season has been the Sabres. They are 23-8 as puck line underdogs, and a respectable 6-9 as a puck line favorite.

While most experts believed Buffalo would start to rise this season, with the addition of No. 1 overall draft pick Rasmus Dahlin and the continued development of Jack Eichel, not many expected the Sabres to be in the playoff hunt.

Yet, here they are, and there's no reason to think they shouldn't stay competitive to the end.

Vancouver Canucks

The Canucks have been the puck line underdog an awful lot this season, as most pundits did and continue to believe they just aren't that good.

But Vancouver has proven to be stubbornly resistant to the oddsmakers so far, as its 27-14 record as a puck line underdog shows. Most people expected Vancouver to be a lottery team again this season, but they have a real shot at making the playoffs.

One word of caution to hockey betting enthusiasts, though: Until rookie sensation Elias Pettersson comes back from his knee injury, the Canucks should be treated with care at the betting window. He should be back reasonably soon, however.

---

Related: Check out Bet365 Sportsbook For Free Bets and Welcome Bonus.

---

Calgary Flames

The Calgary Flames have been one of the best teams in the league so far, leading the Pacific Division as the calendar nears the All-Star break. That includes their performance on the puck line so far, too.

After the Flames beat the Sabres 7-1 Sunday night, the Flames' record as a puck line favorite improved to 15-15-0 -- a strong record in that category. Perhaps even more impressive is their 11-5-0 record as a puck line underdog. With such a high-scoring team, Calgary is a popular team not only to bet the over, but also puck lines.

Ride the Lightning

Entering Wednesday, each of the Lightning's last five games were victories of two goals or more. It's no surprise, then, that the Lightning's 22 victories as a puck line favorite were tops in the NHL.

But the overall puck line favorite record is still just 22-22-0, as a lot of their wins earlier in the year were close games.

The Lightning have only been the puck line underdog twice so far, and they are 2-0. Unless serious injuries strike to key players, I'd be surprised if they are a puck line underdog at all the rest of the season.
Recommended Betting Sites

Secure

Trusted

Verified
Be first to get our exclusive sports offers!
Join today to stay up to date on your states gambling news and offers.
Betting Strategy Articles