5 Hottest NHL Teams to Bet in Second Half of 2018-19 Season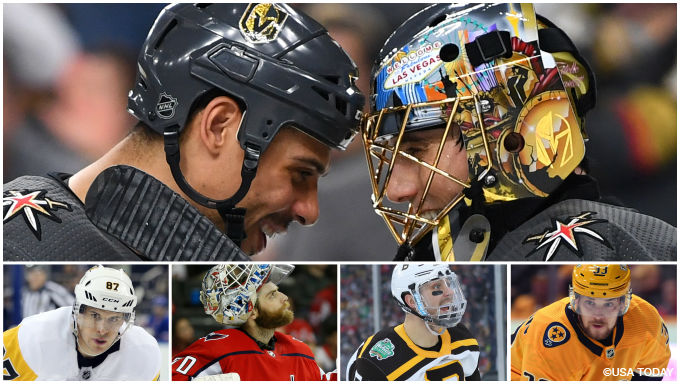 In my first year as a hockey writer, I went up to veteran Avalanche player Claude Lemieux and asked if he was worried about an early-season slump the team was having. Lemieux looked at me like I was crazy, and to paraphrase the four-time Stanley Cup winner, said essentially: "Kid, let me tell you something. The good teams don't really start to play until after Christmas."
It's always stuck with me, and for the most part that that's been right. That 1995-96 Avalanche team won the Stanley Cup, for instance.
Take a look at the 2014-15 Chicago Blackhawks, too. The Blackhawks that season were just 21-16-4 after the first 41 games. People thought Chicago's Stanley Cup days were over.
Savvy NHL betting fans capitalized as the Blackhawks went 27-12-2 in the second half and won their third Cup in five years.
Most NHL teams have hit the halfway mark of their current seasons, so in Lemieux parlance, it's time for the good ones to start playing. And for those interested in Stanley Cup betting, it's time to climb aboard before odds shrink.
---
5 Hot NHL Teams to Back in 2019
Vegas Golden Knights (+2300)

The Golden Knights were subject to lots of "It was all a fluke"-type stories early on, when the defending Western Conference champs stumbled out of the gate. The Golden Knights enter their final 39 games 6-1-3 in their last 10, only two points behind Calgary for the Pacific Division lead.

They clearly were not a fluke, and I think they'll be even better in the second half. Take the Golden Knights more often than not in outright bets from here.

Nashville Predators (+650)

The Predators snapped a six-game losing streak the other day in Philadelphia. The fact that the Predators would ever go through a six-game losing streak would probably have come as a shock to anyone before the season, but slumps happen to everyone.

I think the Preds have gotten the losing out of their system and will buckle down again to have a great second half. They are just too deep and talented to remain in such losing ways. Starting with Friday's start-to-the-second-half game in Detroit, take the Predators at -182 at 888Sport and don't be shy betting them to win from there.

Washington Capitals (+1300)

The defending champs have yet to really give off much of a Stanley Cup Hangover vibe. While they struggled at times early, they enter the second half 8-2-0 in the last 10. Starting with Thursday's game in St. Louis, take the Capitals to win outright at -120 with SugarHouse. Alexander Ovechkin (29 goals in his first 38 games) certainly doesn't seem satisfied at just one Cup.

Pittsburgh Penguins (+1700)

The Penguins were my preseason pick to win it all, and while I've definitely waxed and waned in that conviction over the first half of the season, I'm feeling much better about that pick again.

The Penguins have won seven in a row heading into a Friday home game with Winnipeg, and I see no reason not to bet on them outright at -132 with SugarHouse.

Matt Murray and Casey DeSmith have been terrific in goal, and we all know the Penguins still have one of the best groups of forwards in the league. I see a lot more wins for the Penguins in the second half, and bettors would be well served thinking that too.

---

Related: Check out Bet365 Sportsbook For Free Bets and Welcome Bonus.

---

Boston Bruins (+1500)

Injuries to stars such as Patrice Bergeron and Zdeno Chara hampered a Bruins team that had only a decent, for them, first half. But they're back now, and it looks like puck-moving defenseman Charlie McAvoy is nearing a return to health too. McAvoy has been limited to just 18 games this season, and that has hurt in all areas.

I thought the Bruins looked strong in their Winter Classic victory over Chicago at Notre Dame Stadium and enter the second half as a good bet to win a lot more. Twenty-two of the Bruins' first 40 games were on the road, so a little more home cooking in the second half won't hurt their chances either. Boston is currently 13-5-0 at home, 9-9-4 on the road.
Recommended Betting Sites

Secure

Trusted

Verified
Be first to get our exclusive sports offers!
Join today to stay up to date on your states gambling news and offers.
Betting Strategy Articles