Best Bets for Dallas Cowboys vs. Jacksonville Jaguars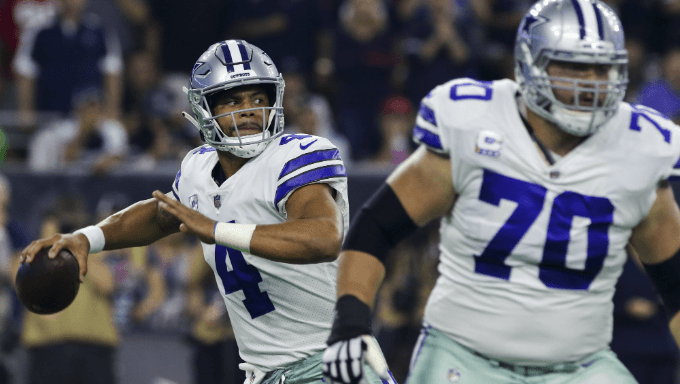 Quick Tips:
Bet Jaguars -3 over Cowboys with SugarHouse.
Bet Cowboys-Jaguars over 42 with 888Sport.
Bet Jaguars to win the first quarter giving -0.5 at +114 with 888Sport.
---
Dallas Cowboys Storylines
The Cowboys (2-3) are coming off a brutal loss in overtime to the Houston Texans, 19-16. Head coach Jason Garrett received criticism for punting on 4th and 1 from Houston's 42-yard line in overtime. They decided to go conservative and it cost them the game, as the Texans scored on the next possession.
Dallas' pass offense is broken, as quarterback Dak Prescott has thrown for more than 260 yards just once in his last 15 games. In that same time frame, Prescott has thrown 13 touchdowns and 13 interceptions.
Prescott struggled to get it done against one of the worst secondaries in the league in Week 5 and now will face the Jaguars' stellar pass defense. It's been a nightmarish season for the third-year quarterback from Mississippi State.
The wide receivers on the roster are starting to get frustrated with their poor production and have been calling out the play calling during the week. If the Cowboys' rushing attack stalls at all, their offense can't function. They are currently one of the worst scoring offenses in the NFL, scoring just 16.6 points per game.
Despite their talent on the offensive line and at running back, it's been one of the most disappointing offenses in the league in 2018.
Jacksonville Jaguars Storylines
The Jaguars (3-2) also lost in Week 5 to the red-hot Kansas City Chiefs. However, Jacksonville has been playing well in the first month of the season.
Despite allowing 30 points last week, the Jaguars are allowing just 17 points per game. Even that number is somewhat deceiving as Jacksonville's offense has allowed opponents' defenses to score at times.
Jacksonville's defense has been outstanding, allowing just three passing touchdowns in its first five games. Their defense is just as good as it was last year, if not better.
However, Jacksonville's biggest problem remains on offense. Depending on the week, its offense can either look great or like one of the worst in the league. Quarterback Blake Bortles has been average, completing more than 61 percent of his passes.
But Bortles is still the great equalizer at times as he turned the ball over four times in Week 5. Jacksonville still struggles to score consistently as they are averaging just 20.4 points per game. The Jaguars are one of the better teams in the NFL despite their inconsistent offense.
Cowboys vs. Jaguars Major Injuries
For Jacksonville, star running back Leonard Fournette (hamstring) will miss his second straight contest as he continues to rehab. Former second-round pick T.J. Yeldon is expected to start in his place.
Starting left guard Andrew Norwell, who was Jacksonville's big signing in free agency, was spotted in a walking boot earlier in the week. Starting left tackle Cam Robinson (knee) is out for the season and his backup, Josh Wells, is out for this contest as well. Josh Walker is expected to get the start at left tackle.
On the Cowboys side of the ball, linebacker Sean Lee is highly unlikely to play in Week 6 as he continues to rehab his injured hamstring. He has not practiced all week.
Defensive tackle David Irving was eligible to return in Week 5 from his suspension but did not play as he was dealing with family matters. He did not practice on Wednesday and remains questionable for Week 6.
One other injury of note is cornerback Chidobe Awuzie, who is dealing with an ankle injury. If he can't go, expect Dallas to use second-year cornerback Jourdan Lewis in his replace.
Cowboys vs. Jaguars Betting Tips and Picks
Here are some things for NFL betting fans to consider in this matchup:
Point Spread
Dallas enters this game as a three-point underdog at home, per SugarHouse. Since 2000, the Cowboys have not fared well as a home-dog, winning just six of 21 matchups, according to Team Rankings.
On the other side of things, Jacksonville has been just okay as a road favorite, winning three of its last six games since 2017. Considering Dallas has one of the worst home field advantages in the NFL and has struggled to score recently, bet the Jaguars -3 with SugarHouse.
Over/Under Total
The matchup between Jacksonville and Dallas has one of the lowest over/unders of the week at 888Sport at just 40.5. However, that still seems too high.
In the five games the Cowboys have played this season, their games have reached a point total of 38 or more just once. Jacksonville's point totals have been sporadic, but they have held their opponents to 20 or fewer points four times already this season.
This game has all the makings of a defensive showdown. Neither offense is very good and both have sub-par passing attacks. Expect this to be a fairly low-scoring game with the first team to reach 17 getting the victory. The only way this game will hit the over is with defensive scores and/or one team pulling away late.
Grab under 40.5 with 888Sport.
First-Quarter Spread
Jacksonville is favored by 0.5 points in the first quarter over Dallas. The Cowboys have scored just 19 points in the first quarter this season and have been shut out twice.
Considering the opponent and their first quarter struggles, it may be wise to put down some money on Jacksonville in the first quarter and/or the Jaguars to be the first team the score.
Take Jacksonville to win the first quarter giving -0.5 at +114 and -139 to score first with 888Sport.
Recommended Betting Sites

Secure

Trusted

Verified
Be first to get our exclusive sports offers!
Join today to stay up to date on your states gambling news and offers.
Betting Strategy Articles