Best NFL Week 5 Bets Against-the-Spread Worth Considering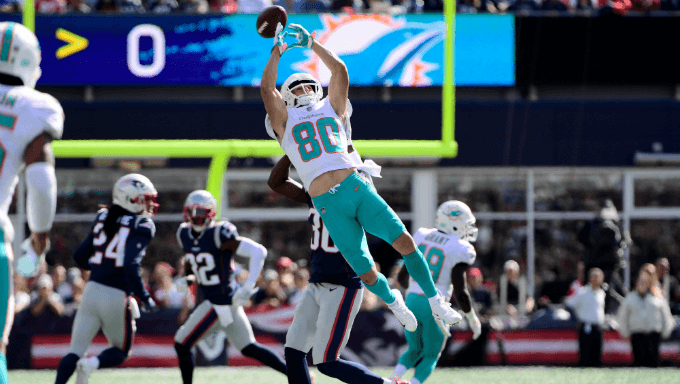 Quick Tips
Bet Bengals -6.5 at SugarHouse Online Casino & Racebook
Bet Ravens -3 at SugarHouse Online Casino & Racebook
Bet Panthers +7 at SugarHouse Online Casino & Racebook
Bet Steelers -3 at SugarHouse Online Casino & Racebook
---
How swiftly things have changed for the Miami Dolphins. They went from being one of the league's early-season surprises to quickly being exposed as a fraud. After starting 3-0, they were humbled at the hands of the New England Patriots in Week 4, losing 38-7. They finished with just 172 yards of offense and quarterback Ryan Tannehill – who had looked so competent in the early part of the season – produced just 100 passing yards.
Can they bounce back or is Week 4 an accurate depiction of who they really are? We'll start with them and their matchup as we examine the board to make our Week 5 against the spread picks.
Miami Dolphins at Cincinnati Bengals
Odds: Bengals -6.5 at SugarHouse Online Casino & Racebook
It just felt like the Dolphins luck was going to run out and it did. For example, seeing Ryan Tannehill throw for seven touchdowns in his first 74 pass attempts (a touchdown per 10.5 pass attempts) was unusual considering he's averaged a touchdown pass per 25 attempts in his career. And seeing the Dolphins average 25.0 points per game when they were in the basement in so many offensive categories seems like an outlier.
In this spot, they're going to need their ground game but they're averaging just 88 rushing yards per game (25th). The Bengals are playing very well right now in all aspects and the Dolphins are a fraud. Lay the points here.
Pick: Bengals -6.5 at SugarHouse Online Casino & Racebook
Baltimore Ravens at Cleveland Browns
Odds: Ravens -3 at SugarHouse Online Casino & Racebook
The Ravens are one of just five NFL teams to average at least 30 points per game (30.8). If anyone was worried about Joe Flacco and the offense going into the season, those concerns can be put to rest. Flacco is currently on pace for 5,008 passing yards, 32 touchdowns and eight interceptions. This unit already has 16 passing plays of 20+ yards (11th in the NFL) after producing just 29 all of last season (32nd in the NFL).
Cleveland is a team that's on the rise but they also just gave up 45 points to the Raiders. They still have flaws. They're still with a rookie quarterback at the helm, a questionable kicking game and a coaching staff that seems to be questioned quite a bit. Unless Baltimore is half asleep in this one, they should win and cover here.
Pick: Ravens -3 at SugarHouse Online Casino & Racebook
New York Giants at Carolina Panthers
Odds: Giants -6.5 at SugarHouse Online Casino & Racebook
Some games and betting plays are determined by how well you think the better team will play. This is a game more likely to be determined by how poorly the inferior team is likely to play. The Giants score just 18.3 points per game and couldn't light up the visiting New Orleans Saints' defense last week, which gave up 37 points to the Atlanta Falcons the week before. They still don't have the offensive line they need, which is resulting in only 82 rushing yards per game and getting into too many third-and-long situations, leaving Eli Manning more vulnerable against the pass rush in the pocket.
The Panthers have been solid on defense this season and are playing at home. Add in the fact that they're coming off a bye week and that's a significant edge. The Panthers are the smart play here.
Pick: Panthers +7 at SugarHouse Online Casino & Racebook
Atlanta Falcons at Pittsburgh Steelers
Odds: Steelers -3 at SugarHouse Online Casino & Racebook
The Falcons are sixth in the NFL in scoring, averaging 29 points per game. However, the defense is where their problems lie these days. They've allowed 104 points in the last three weeks. Worse yet, the defense couldn't hold late-game leads at home in each of the last two weeks, which particularly stings. Clearly the losses of Pro Bowl caliber starters like Deion Jones, Keanu Neal and Ricardo Allen are making an impact.
This game will be a showdown of two elite offenses. However, the Steelers are at home. They're also coming off a loss at home and it's hard to see them losing back-to-back weeks at Heinz Field. And lastly, this is a Falcons team that's not only travel, but they're an indoor team traveling outdoors. This will be a high-scoring affair but the Steelers will find a way to get the win and cover.
Pick: Steelers -3 at SugarHouse Online Casino & Racebook
Recommended Betting Sites

Secure

Trusted

Verified
Be first to get our exclusive sports offers!
Join today to stay up to date on your states gambling news and offers.
Betting Strategy Articles