Best Tiger Woods Masters Prop Bets You Should Back in 2019
The Masters is all about taking chances.
Go for the green on that par-5 on your second shot, or lay up? Make a run at the pin on that 30-footer for eagle, or lag it up there on a lightning-fast green to ensure the ball stays below the hole? Tee off with driver into those wide, inviting fairways, or use less club to avoid the second cut and ensure a better approach?
So, it is with Masters prop betting at Augusta National, a tantalizingly open and accessible golf course whose hazards are camouflaged by azaleas and pine trees.
Go low? Make lots of birdies? Throw in a few eagles? Why not — unless the wind is blowing at 20 mph, or gusts are swirling down in the natural amphitheater that is Amen Corner, or the rain is falling and the place gets slower and longer, or it's so dry the greens are as slick as ice.
It's an especially tricky proposition when betting the Masters, (no pun intended) if the player involved is Tiger Woods, who's won four times at Augusta, finished last season looking like someone who could earn a fifth green jacket, but at 43 is a graybeard amid an army of young guns.
Still, Tiger is Tiger and Augusta is Augusta, and for four days each year the two go together as well as pimento cheese on bread, and it's something to make fans of golf betting hungry, too.
There are a number of Masters prop bets available at 888 Sport and other sites, most of them involving the biggest name in golf. Here's a guide to some of the more intriguing wagers, and some context for those who might consider betting on them.
Go to 888Sport to make any of these Tiger Woods prop bets:
---
Eagle in the Tournament: Yes (+100), No (-137)
Woods is always an eagle threat on par-5s due to his length off the tee, though he struggled in that very department in 2018. He's tied for the Masters record for most eagles in a single tournament, four, with Woods achieving it in 2010.
You can also bet on the chances of Woods eagling specific holes, such as Nos. 13 (+220) and 15 (+350), the iconic par-5s on the back side. Woods eagled the 15th in the final round at Augusta last year.
Hole-in-One (+6600)
It's one of the few things Woods hasn't done at Augusta: hit a hole-in-one. There have been 29 aces in the history of the tournament, which stretches back to 1934, so they're not exactly an annual occurrence.
The most recent was recorded in 2018 by Charley Hoffman, and the 170-yard 16th hole has given up the most.
---
Check Out: Hard Rock Sportsbook For Free Bets and Welcome Bonus.
---
Final Score of 278 or Lower: Yes (+500), No (-910)
Woods owns the record for lowest four-round score in tournament history, a 270 shot during his epic 1997 breakthrough and tied in 2015 by Jordan Spieth. He carded a 272 in hiss 2001 victory, and has twice shot 276 — in two more victories, in 2002 and 2005.
Since his last victory at Augusta, Woods has finished at 278 or lower twice — in 2010 and 2011. Last year, in his first Masters since 2015, he finished at 289. Tiger always has the potential to go low at Augusta, but getting to 278 or lower would take an effort from him not seen in several years.
To Play in the Final Group in Round 4: Yes (+800), No (-2000)
It's been a while since we've seen El Tigre go out in the final pairing on Sunday, which would mean he's at or just off the lead entering the final round. The last time for Woods was in 2007, when he went out with Stuart Appleby, whom he trailed by one shot.
Woods finished tied for second that year, two shots behind surprise winner Zach Johnson. His best final-round position since has been in the third-to-last group in 2008.
Total Birdies: Over 15.5 (+100), Under 15.5 (-137)
In years where he's contending, Woods can pile up the birdies at Augusta: his best total is 24, which came during his 2005 victory, and included a string of seven straight in the third round — tying for the longest such birdie streak in Masters history. Woods recorded 13 birdies last year at Augusta, his first start in the tournament since 2015.
---
Make your Masters bets here:

Secure

Trusted

Verified
---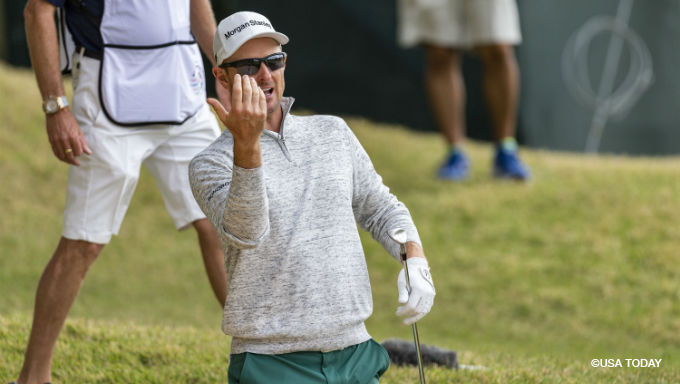 Best Masters Prop Bets 2019
Woods may dominate the Masters prop market, but there are a few other bets that pertain to any player in the field, such as:
Any Round of 63 or Lower: Yes (+600), No (-1250)
You're talking pretty rarified air here. Just two players in tournament history have carded a 63, which is the Masters course record: Nick Price in 1986, and Greg Norman in 1996. The layout now plays much, much longer than it did in either of those years.
You can also bet on any player to shoot a 64 or lower (+275) or get crazy and wager on someone to card a 62 or lower (+1600).
Winning Score of 270 or Lower: Yes (+350), No (-560)
As mentioned above, only Woods and Spieth have matched that total, which stands as the Masters tournament record. A few others have come close: Patrick Reed shot a 273 last year, Charl Schwartzel a 274 in 2011, Phil Mickelson a 272 in 2010, Raymond Floyd a 271 in 1976.
Might want to grab another pimento cheese sandwich and mull that one over for a while.
Previous Masters Champion to Win: Yes (+400), No (-670)
With his victory last year, Reed became the fourth straight first-time Masters champion, and seventh in the last eight years. Over the last 12 tournaments, 10 winners at Augusta have been first-timers. In the final World Golf Rankings before the Masters, the top 11 players and 15 of the top 16 are still without a green jacket.
Winner to Par 72nd Hole: Yes (-137), No (+560)
The 18th hole on Sunday at the Masters isn't always eventful — Reed last year became the third straight champion to close his final round with a par. Over the last decade, winners have parred No. 18 on Sunday six times, with four other champions carding birdie.
No. 18 at Augusta isn't known as a scoring hole, and leaders usually play it conservatively, leading to the glut of pars on the 72nd hole.
Tournament Decided by a Playoff: Yes (+350), No (-500)
When Mike Weir beat Len Mattice in a playoff in 2003, it marked the first time the Masters had gone extra holes since Nick Faldo topped Raymond Floyd 13 years earlier. We've since seen five playoffs in the last 14 years, a historic rate for the tournament. The most recent came in 2017, when Sergio Garcia's birdie on the lone playoff hole bested Justin Rose.
---
Recommended Betting Sites

Secure

Trusted

Verified
Be first to get our exclusive sports offers!
Join today to stay up to date on your states gambling news and offers.
Betting Strategy Articles