KSI vs. Logan Paul Betting Tips and Analysis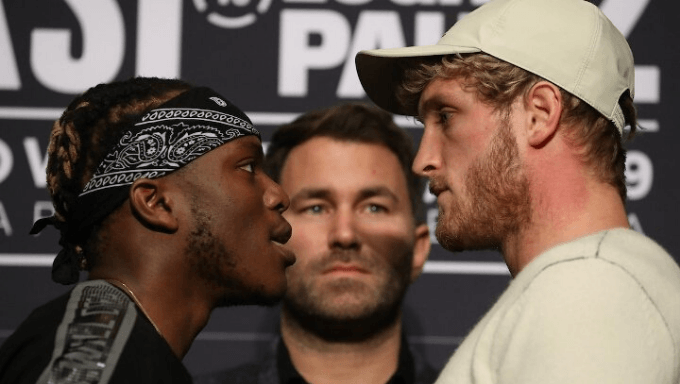 Quick Tips:
Bet on Logan Paul to win in any manner at +100 at Ladbrokes.
YouTube celebrities Olajide Olatunji (aka KSI) and Logan Paul are stepping into the boxing ring on Saturday, Feb. 25, at Manchester Arena in Manchester, England. The two popular internet vloggers have been promoting the fight for months -- even putting on news conferences for the bout in both the US and UK.
KSI vs. Logan Paul will be presented on YouTube via pay-per-view live stream starting at 3 p.m. ET (8 p.m. in Manchester) with undercard action featuring other YouTube celebrities going up against each other, including the main participants' brothers, Jake Paul and Deji.
According to bookmakers covering the event, KSI is a slight betting favorite heading into the bout. Both William Hill and Ladbrokes have odds for KSI at -137 and Paul at +100, so there will be plenty of opportunities for boxing betting enthusiasts.
Why KSI vs. Logan Paul is Happening
As it is with all celebrity boxing matches, the two men have much to gain in terms of money and fame by facing each other in a boxing match. The fight is scheduled for six rounds and the participants have requested to forego the use of the headgear traditionally worn by participants in amateur fights.
This will be KSI's second celebrity boxing match this year. In February, the YouTube star stopped fellow vlogger Joe Weller in the third round.
KSI showed a good jab in that fight as well as decent enough footwork to keep the plodding Weller at the end of his punches. He bloodied the face of his opponent in the opening round and never looked back in the one-sided drubbing of Weller.
Both KSI and Paul have exchanged insults and diss tracks over the last few months. KSI even went so far as to suggest a win over Paul would be a stepping stone for his own professional prizefighting career.
While Paul can't boast of having the recent experience of fighting in a celebrity boxing match, the YouTuber has been training at the Mayweather Gym in Las Vegas in preparation for the fight.
KSI also took a trip out to Las Vegas to visit the Mayweather Gym, where he was trained personally for a few days by famed trainer Floyd Mayweather Sr.
Can Either Really Fight?
Judging by available footage, neither fighter looks set to embark on a professional fighting career anytime soon. But both seem to be seriously training for their celebrity fight against each other, and the bout should be relatively entertaining to watch.
Footage of KSI defeating Weller can be reviewed on YouTube. In that fight, KSI appeared to box with confidence and precision against a slow-footed opponent with little punching power.
Still, KSI's defense was an important factor in the fight. Weller was seldom in range to throw punches, and much of that was due to KSI's footwork and head movement.
As for Paul, little footage of him in a boxing ring exists. What was leaked was a very short video of him landing a solid left hook to a sparring opponent who was off balance and ready to take the tumble when he did.
Paul is larger than KSI, standing two inches taller and carrying somewhere around 20 more pounds on an athletic and fit frame. Neither of those things will hurt him in his endeavor.
Can either KSI or Paul really fight? Compared to your average professional boxer: No. But both have put in long hours training, so they should be able to ply the trade better than your average man on the street come fight night.
Betting Tips for KSI vs. Logan Paul
Betting on a bout such as KSI vs. Logan Paul comes down to how comfortable one is with risk. There's much risk in betting on the unknown and with the limited footage of the fighters it's hard to gauge who is truly worth backing.
The most known factor heading into the bout is KSI. While his three-round fight against Weller in February isn't very much to go on, it is more than we have with Paul.
In that fight, KSI appeared more relaxed in the ring than his opponent and more capable of sticking to his fight plan. KSI's balance was decent enough and his punches were accurate.
Moreover, KSI has the home ring advantage against Paul. The UK YouTuber will be fighting in front of his home crowd. and Paul will have the disadvantage of adjusting to the change in time zones.
If you like KSI in the fight, Ladbrokes offers KSI by decision at +333. That's a reasonable bet considering the size difference between the two fighters, especially if you value what's known about each fighter heading into the fight.
In KSI's bout with Weller, he appeared comfortable going the full six rounds at a pretty solid pace, though in that bout he had little to worry about coming back at him.
On the other hand, Paul is larger enough and appears to be in good enough shape that taking a flyer on the underdog isn't that far out of reach. Paul wrestled as a youth, so that experience should lend itself well to this other form of combat.
Moreover, Paul appears from training footage to be a much better athlete than Weller and more capable of keeping KSI at the end of his longer punches. Ladbrokes offers Paul by decision at +400, a bigger return with albeit a little more risk.
---
Check Out: Resorts Sportsbook For Free Bets and Welcome Bonus.
---
Best Bets for KSI vs. Logan Paul
The fighters seem reasonably matched heading into the bout. While KSI appears to have the edge in experience, Paul seems to be the better athlete and will present KSI with a much sterner test than KSI's previous opponent.
With fights like this, it's usually worth taking a leap of faith on the underdog. I wouldn't worry too much about the method of victory, as there simply isn't enough data about either fighter going into the fight to make the call.
Ladbrokes offers Paul by any method at +100. That's probably the best way to bet in this fight. He's larger, a good athlete and will probably be able to keep KSI worried enough about cutting the distance to keep him from landing many effective punches.
Take Paul to win the fight at +100 at Ladbrokes.
Recommended Betting Sites

Secure

Trusted

Verified
Be first to get our exclusive sports offers!
Join today to stay up to date on your states gambling news and offers.
Betting Strategy Articles