NBA Summer League 2018 Tips and Spreads For Playoffs Day 3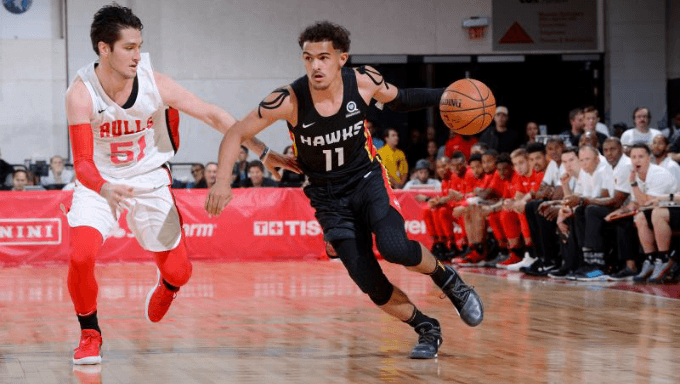 Quick Tips:
Bet Indiana Pacers -3.5 vs. Brooklyn Nets on 888sport
Bet New Orleans Pelicans +1.5 vs. New York Knicks on 888sport
Bet Washington Wizards +2.5 vs. Dallas Mavericks on 888sport
Bet Phoenix Suns -2.5 vs. San Antonio Spurs on 888sport
---
We're finishing up Round 2 of the Las Vegas Summer League playoffs tonight. But the good news is the teams knocked out in the first round will still play a fifth game, so we've got another eight-game slate for you. Remember to check for injury and rest updates, as plenty of teams are resting their top rookies and two-way contract players in certain situations as the Summer League drags on. With top-tiered talent making such a difference, a rested first-round pick can swing the line in an instant. Let's see the eight picks we're making based on spreads from 888sport!
Indiana Pacers -3.5 vs. Brooklyn Nets
The Pacers were stunned in Round 1 by the Hawks, who came back from a 22-point halftime deficit to advance to the second round. Brooklyn couldn't get by the Rockets, giving us a consolation game that features one of the top Vegas rookies in Aaron Holiday. The UCLA product is averaging 14.5 points and 6.8 assists per game and is third in the league in steals (2.8). Combine Holiday with their productive bigs in rookie Alize Johnson and last year's first-rounder T.J. Leaf and this looks like a game Indiana should roll in.
New Orleans Pelicans +1.5 vs. New York Knicks
The Pelicans also blew a lead against the Heat, while the Knicks ran into the Celtics buzz saw on Thursday. There's a chance rookies Kevin Knox, who could make the All-Vegas team, and Mitchell Robinson sits for the Knicks, while the Pelicans could rest Chieck Diallo after his breakout performances and a back-to-back setting. With both teams potentially resting their top players this one feels like a toss-up, but New Orleans brought much better depth to Sin City. We'll roll with them.
Washington Wizards +2.5 vs. Dallas Mavericks
The Wizards may have found a pair of wings to add to their rotation this upcoming season in two-way player Devin Robinson and first round pick Troy Brown. The latter is averaging 6.8 points and 7.0 assists, while Robinson leads the team with 21.5 points (fourth in the league) on 58 percent shooting. The Mavs, meanwhile, are really missing Dennis Smith Jr. and appear to be coasting down the stretch after an uninspiring loss to the Bulls. The Wizards are the play here.
Phoenix Suns -2.5 vs. San Antonio Spurs
The Suns looked like the team to beat in Vegas before the Sixers' big comeback victory on Thursday. Because it's a back-to-back they could opt to rest some of their young guns like top pick Deandre Ayton, Mikal Bridges and Davon Reed. But the Spurs are also beat up, as first round pick Lonnie Walker IV is dealing with a sprained ankle and won't play. And the Suns tout one of the deepest rosters in Vegas even if their top guys do sit. Play the Suns as they try to bounce back.
Denver Nuggets -2.5 at Minnesota Timberwolves
The Nuggets bowed out to the Raptors in a surprising upset on Thursday, and guys like Malik Beasley and Monte Morris might sit out the finale in a back-to-back setting. That would be good news for the Timberwolves, who also lost in Round 1 but have had an extra day of rest. Same old story for Minnesota: Rookies Josh Okogie and Keita Bates-Diop have looked super impressive and will look to end their summers on high notes. Denver's got the talent advantage but might rest some guys, so we'll tentatively give the nod to the Wolves here.
Orlando Magic -2.5 vs. Oklahoma City Thunder
Let's try this one more time with the Magic. Mo Bamba and Jonathan Isaac will be rested after sitting out Thursday's loss to the Jazz. We'll assume they play in Orlando's final Summer League game, and they'll do so against a Thunder team also on a back-to-back that may rest some of their own top players like Rashawn Thomas and Dakari Johnson. There's a real chance Isaac and Bamba own this matchup as they close out their respective impressive summers. Check to see if both are going to suit up, and then play the Magic to win this one.
---
Check Out: FOX Bet Sportsbook For Free Bets and Welcome Bonus.
---
Sacramento Kings -1.5 vs. Golden State Warriors
It feels like the Kings have played an entire regular season this summer. They'll finally close out their busy summer with a tilt against a Warriors team that looks content to rest their big guns (Jordan Bell, Damian James, first round pick Jacob Evans). Meanwhile, Justin Jackson and Harry Giles will have one last chance to finish the summer strong as they fight for rotation minutes on the Kings. One team is coasting and the other seems motivated. Let's play the Kings here.
L.A. Clippers -2.5 vs. Atlanta Hawks
The battle of the point guards should take place tonight. Both Shai Gilgeous-Alexander (L.A.) and Trae Young (Atlanta) rested on Thursday as their respective teams lost, so they should be fresh for an exciting matchup. The Clippers have really played well in the backcourt and on the wings, while the Hawks have relied on Young's heroics in their own victories. The 6-foot-6 Gilgeous-Aleander should give Young fits trying to get his shot off, giving the Clippers a real edge here.
Recommended Betting Sites

Secure

Trusted

Verified
Be first to get our exclusive sports offers!
Join today to stay up to date on your states gambling news and offers.
Betting Strategy Articles