NFL Week 4 Over/Under Plays to Consider Betting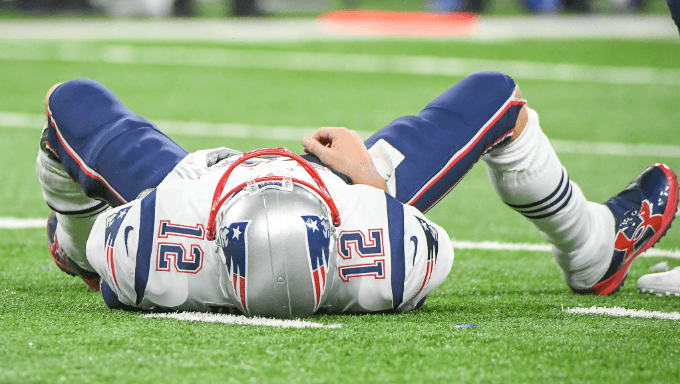 Quick Tips:
Bet Patriots-Dolphins over 47.5 with SugarHouse.
Bet Lions-Cowboys under 43 with SugarHouse.
Bet Browns-Raiders under 44.5 with SugarHouse.
Bet Saints-Giants under 50.5 with SugarHouse.
---
The New England Patriots were second in the NFL in points per game last season (28.6). As a matter of fact, they've been in the Top 10 in scoring (and mostly in the Top 5) every year since 2003, which is when they were 11th.
That's why it's so surprising for NFL betting fans to see them 25th right now with just 30 points combined in the last two weeks. We're expecting things to change this week, though, as the Miami Dolphins visit. That's the first game we'll focus on in our weekly over-under picks:
Miami Dolphins at New England Patriots
Over/under total: 47.5 at SugarHouse.
The Patriots and Tom Brady know this is a huge game for their season. When Brady has his back against the wall, he is as good as it gets in the NFL. He's coming off a lousy performance in primetime on Sunday Night Football, but we're expecting better from him in this spot.
The Dolphins defense is overrated. They've topped the Tennessee Titans, New York Jets and Oakland Raiders – three offensively-challenged teams – so they've looked better than they are. On top of that, the Patriots should get Josh Gordon into the lineup for this contest.
Over is 18-7-1 in the Patriots' last 26 games after scoring less than 15 points in their previous game. The Dolphins should contribute points in the early 20s but we'll look for the Patriots to hit the 30-point mark in this contest for the first time this season. That's why you should bet Patriots-Dolphins over 47.5 with SugarHouse.
Detroit Lions at Dallas Cowboys
Over/under total: 43 at SugarHouse.
The Lions might have scored more than 25 points against the Patriots, but that is not likely to continue. Detroit was contained on offense by the New York Jets, and it struggled for most of the afternoon in Week 2 at San Francisco before making a late rally.
The Lions offense is not to be trusted – especially on the road. After all, they just registered their first 100-yard rusher since 2013 and it's always tough to succeed on the road absent of a running game.
For all the problems the Dallas Cowboys have, defense has not been the main one. Dallas is definitely playing well enough on defense to win games. It's the offense that is a mess. Maybe it's not a matchup of two mediocre offenses but rather one that's bad and one that's decent but could be flat on the road or after a big win.
With Dallas struggling to score in the upper 20s in any game it plays, it seems that the ceiling for this game is 23-21 or 24-20. That means we're likely looking at under 43 at SugarHouse.
Cleveland Browns at Oakland Raiders
Over/under total: 44.5 at SugarHouse.
The Baker Mayfield hype is exploding in Cleveland, but let's stay level-headed. He played the Jets and the Jets aren't a particularly good team.
This is a road game for Mayfield, and it's also a game against a team which is 0-3 and desperate for a win under coach Jon Gruden, whose return to the NFL has gone horribly. Mayfield will probably run into difficulties in this game.
As for the Raiders, lost in the early headlines is the fact that their offense has been really challenged at scoring points. You wouldn't think so with Gruden, Derek Carr, Amari Cooper and Jordy Nelson, but this team has averaged just 17.3 points per game. That's the fifth-worst mark in the league.
Cleveland's defense has played very well so far this season, holding the Pittsburgh Steelers and New Orleans Saints to 21 points each, and then the Jets to 17. Take under 44.5 at SugarHouse.
New Orleans Saints at New York Giants
Over/under total: 50.5 at SugarHouse.
This just seems like a very high total. It's entirely possible that this game turns into a shootout, but what's more likely is a game in the 20s on both sides.
For starters, the Saints are coming off an emotional win against a big rival last week. That makes it back-to-back overtime wins for New Orleans, so there is the possibility that they come out a bit flat here. Secondly, they're on the road, and that's worth noting because they scored nearly five points per game less on the road last season than at home.
Lastly, the Giants offensive line is a bit of a mess right now. When Eli Manning gets protection, he has a plethora of weapons to work with. Far too often, though, the Giants are held to shorter drives as they can't run with consistency. They are 25th in the NFL in rushing yards per game.
The under has cashed in four of the Saints last five games after scoring more than 30 points in their previous game. We're expecting another on Sunday. Go with under 50.5 at SugarHouse.
Recommended Betting Sites

Secure

Trusted

Verified
Be first to get our exclusive sports offers!
Join today to stay up to date on your states gambling news and offers.
Betting Strategy Articles