NFL Week 6 Top Moneyline Bets You Should Consider Backing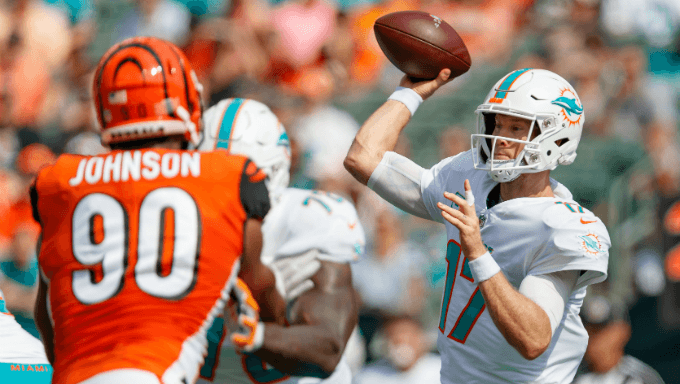 Quick Tips:
Bet Dolphins over Bears at +160 with SugarHouse.
Bet Falcons over Buccaneers at -165 with SugarHouse.
Bet Seahawks over Raiders at -150 with 888Sport.
Bet Redskins over Panthers at -127 with 888Sport.
---
As we move into Week 6 of the NFL season, one of the main questions for fans of NFL betting is what to make of the Chicago Bears.
Are they in fact that good? Fresh off a bye, they head to Miami, which is where we'll start our weekly moneyline picks.
Chicago Bears at Miami Dolphins
Moneyline: Bears -190, Dolphins +160
We're going to go against the grain here a little bit. The Bears are doing well and there is no question that Khalil Mack has made a huge difference for them. He should be licking his chops going up against Miami's feeble offensive line.
However, Chicago is one of the four worst offensive teams in the league in overall yards gained and that's after they padded the stats at the hands of Tampa Bay. Their other wins were defense-dominated struggles against the Seattle Seahawks and Arizona Cardinals, two losing teams.
Miami did lose at Cincinnati, but the Dolphins were good enough to take a 17-0 lead in that game. The Dolphins ae 2-0 at home this season and have allowed an average of just 16 points per game in those two wins.
I definitely expect the majority of bettors to be on the Bears this week – especially off of their bye week – but I just don't have much confidence in their offense on the road. Ryan Tannehill just needs to avoid the turnovers and the Dolphins should get back on track.
Take the Dolphins +160 with SugarHouse.
Tampa Bay Buccaneers at Atlanta Falcons
Moneyline: Falcons -165, Buccaneers +135
There's no question that both teams are struggling, but Tampa Bay seems like the bigger mess. The Buccaneers followed up their bright 2-0 start with back-to-back losses, getting outscored 68-13 in the first halves against Pittsburgh and Chicago.
Their defense has been abysmal, as they rank dead-last in passing yards per game allowed (358 per game). Only two teams in the league allow more than 300. On top of that, their magic touch on offense seems to have dissipated.
The Falcons have lost twice at home this season, and their season might already be fried, but it's not due to their offense. Atlanta has scored at least 31 points in each of its three home games this year, averaging just under 35 points per contest.
Tampa Bay should be capable of hanging around – especially after a bye week – but this looks like a spot for the Falcons to rebound. After facing tough teams like the Pittsburgh Steelers, Cincinnati Bengals and New Orleans Saints, facing the Bucs should feel like a reprieve.
Back the Falcons -165 with SugarHouse.
Seattle Seahawks vs. Oakland Raiders in London
Moneyline: Seahawks -150, Raiders +123
Seattle and Oakland will play in our first London game of the year. While the Seahawks are always a dicey bet away from home, this looks like a winnable contest for them.
The Raiders are a complete mess right now, as their defense can't stop anyone. They were smoked last week by the Los Angeles Chargers, and that's one week after the Cleveland Browns put up 42 points.
The big concern is that Oakland can't stop the run. The Seahawks have issues on the offensive line and tend to be in a tight spot when they're forced to pass the ball more than they want. However, Oakland doesn't pressure the quarterback particularly well or stop the run (allowing 4.9 yards per carry).
This will be a close game but I like the Seahawks to have the win by the end of it. Bet Seattle -150 with 888Sport.
Carolina Panthers at Washington Redskins
Moneyline: Redskins -127, Panthers +104
The Redskins might not be a playoff-caliber team, but they're not as bad as they showed on Monday Night Football. This week's home game with Carolina seems much more manageable.
The Panthers are a decent team but one has to be concerned with their performance last week. They needed a 63-yard field goal as time expired to turn aside the New York Giants, who are a one-win team. We saw how pathetic they looked on Thursday Night Football.
New offensive coordinator Norv Turner has made Cam Newton a more efficient passer but he hasn't really improved the passing game overall. Even with all of the weapons like Torrey Smith and Curtis Samuel back and D.J. Moore being drafted in the first round, the Panthers are averaging just 211 per game (25th).
The Redskins are an odd team. They're great when they start with a lead and are terrible when they trail early. Look for them to be more effective from the get-go, get in front and earn the win in this spot.
Bet Washington -127 with 888Sport.
Recommended Betting Sites

Secure

Trusted

Verified
Be first to get our exclusive sports offers!
Join today to stay up to date on your states gambling news and offers.
Betting Strategy Articles