The Best 2018 Stanley Cup Playoffs 2nd Round Betting Tips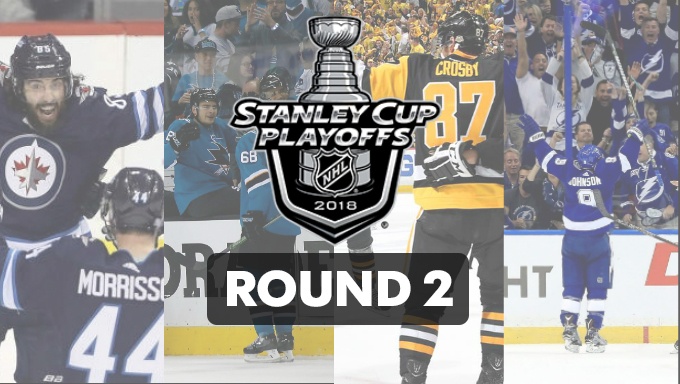 The second round of the NHL Playoffs begins tonight as the quest for the Stanley Cup intensifies. With a severe lack of upsets in the first round, every team left in the running collected at least 100 points in the regular season.
The matchups are all fantastic and should make for some tough calls and picks for bettors. That being said, here's a breakdown of some solid wagers to make on top betting sites for each series on overall results and individual player performances.
Betting Tips for Penguins vs. Capitals

Picking Pittsburgh to advance to the next round is not as much about disrespecting Washington as it is going with history. The Caps have been to the postseason 10 of the last 11 seasons and never made it past the second round. They've lost to the Penguins in the second round two postseasons in a row.
While Pittsburgh finished five points behind Washington in the regular season and will have to work against the Capitals' home-ice advantage, the Pens are favoured to advance. Betway lists the Pens at 4/5 odds to move on while the Caps face 21/20 odds.
It will be a thrilling back-and-forth series, as these two teams have a lot of history between each other. Bet on the series going to seven games at 39/20 odds on 888sports and take the Penguins to continue the Caps' misery with a victory in Game 7.
SportNation.bet gives Pittsburgh 17/4 odds to do so while both Betway and 888sports give Pens in seven 9/2 odds. For some more interesting picks take SportNation.bet's 27/20 odds that the series will be tied 2-2 after four games and take Evgeny Kuznetsov at even odds to score more goals than Phil Kessel on 888sports.
Betting Tips for Sharks vs. Golden Knights
It's been a magical season for Vegas as it's gone from 199/1 odds to win the Stanley Cup to a co-favourite to take it home. The Sharks, however, were there in 2016 and proved with a first-round sweep of Anaheim that they're legit and ready for another run.
Take advantage of their position as dogs and bet on the Sharks to move on which Betfair offers at 21/20 odds. The Golden Knights should be deep enough to take two games, but San Jose is primed to win at least one of the necessary road games to close them out in six.
Betway lists the Sharks at 4/1 odds to advance in six games, while 888sport offers a bigger payday with 17/4 odds, and SportNation.bet offers value with 19/4 odds.
One name that jumps out when looking at head-to-head goal scoring matchups is Joonas Donskoi over Erik Haula. Donskoi has shown up big time in the postseason in the past for the Sharks, so take him at even odds on 888sport for an easy double up.
---
Check Out: Hard Rock Sportsbook For Free Bets and Welcome Bonus.
---
Betting Tips for Jets vs. Predators
In another hotly contested series, the Jets will take on the Predators, and many think the winner could decide the eventual Stanley Cup champion. With the series expected to be so competitive, the best value bet appears to be the Jets in six games.
888sport has the Jets at a 23/20 chance to go through and saddles them with 9/2 odds to do it in six, as does Betway. Getting a little creative, as the money is tight in this series, looking at individual games yields some bigger chances to score.
If you're picking the Jets to win the series, a Game 1 victory in Nashville would be a huge step in that direction and a decent bet to pursue. With both teams feeling eachother out, expect a close affair at Bridgestone Arena.
Bet Ladbrokes' odds of the Jets winning at 13/10 and combine the under (5.5 goals) for a 7/2 wager. Also take the Jets on Ladbrokes' -1.5 puck line for the game.
Betting Tips for Lightning vs. Bruins
Boston and Tampa Bay spent a good portion of the regular season dueling for first place in the Eastern Conference. After taking over the top seed in the last week of the season, the Bruins turned right around and gave it back to Tampa Bay, losing to the Panthers in their last game.
That lost home-ice advantage could be pivotal in the outcome of this series. The Bruins had their series with Toronto stretched to seven games, while the Lightning finished the Devils in five, securing a full week of rest and using it to get fully healthy.
In terms of matchups, these teams know each other very well, but the edge in depth and overall talent goes to Tampa Bay. Add that to Tampa Bay's uptick in physicality against a bruising New Jersey team and picking the Lightning looks like the best bet.
If Tampa Bay wins this series, which it should, it will likely jump on the Bruins early by winning both games at home and one in Boston. Take the Lightning on the -1.5 puck line in Game 1 offered on SportNation.bet and take them to win the series in five games at 15/4 odds on 888sport.
Recommended Betting Sites

Secure

Trusted

Verified
Be first to get our exclusive sports offers!
Join today to stay up to date on your states gambling news and offers.
Betting Strategy Articles