The Best Odds for 10 Democrats Who Could Face Trump in 2020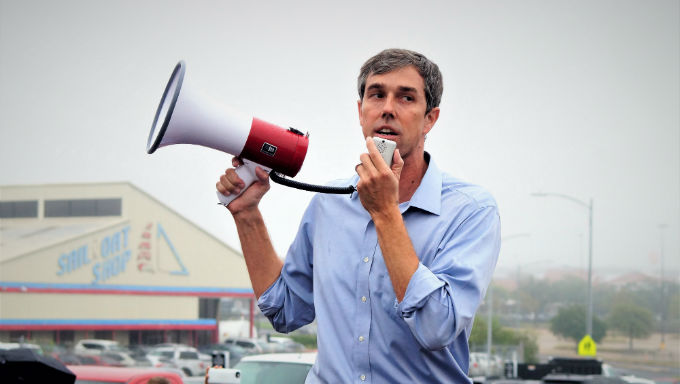 By announcing plans to form an exploratory committee to run for President in 2020 - the first prominent Democrat to do so - Elizabeth Warren effectively kickstarted the 2020 US election. Over the months ahead, many more will throw their hat into the ring hoping to capitalize on Trump's shaky prospects for re-election.
This marathon process has 23 months left to run. First each party must choose their nominee, via a primary covering all 50 states. Republicans may or may not allow Donald Trump to run unopposed but at least 25 names are vying for the Democrat ticket. Here are my rankings for the top ten with odds from the top political betting sites to boot.
Beto O'Rourke

---

Democrat Nominee | +400

Next President | +750

---

Depending where you stand Beto O'Rourke is either the 'new Obama' or an inexperienced, overhyped talking horse. He's been all the rage in political betting circles for months and is now joint favorite. I'm in the former camp and on from 50/1 down.

Little-known a year ago, O'Rourke ran a historic campaign for the Senate in Texas. Travelling to every county - laying out an unapologetically progressive agenda to a largely conservative electorate - won many a new admirer. Narrow defeat, on a night when other red-state Senate candidates struggled, felt like victory.

After refusing to take corporate PAC money, he raised more than any Senate candidate in history, exclusively from small donors. Combined with progressive policies, soaring rhetoric and the looks of Robert Kennedy, an O'Rourke campaign has massive nationwide potential.

All this, however, is now factored into the odds and there are downsides. Beto lacks experience and might be better suited to a VP role. The mood on the Left points towards a female and/or minority candidate and the odds in the US Presidency betting market run somewhat parallel with this sentiment. Many an early primary favorite has faded to nothing. O'Rourke isn't a confirmed runner yet.

Nevertheless if victory is the priority, his case is strong. Obama - their only recent candidate to fit the bill - proved how Democrats fare better when their leader has star appeal. Beto will run an upbeat, positive campaign - based on uniting the country after the divisive Trump years. It will be electoral gold, driving turnout among the left-leaning younger voters whose failure to turnout ruined Clinton.

Kamala Harris

---

Democrat Nominee | +500

Next President | +750

---

Sharing favoritism, Harris has been a front-runner since 2016. A strong, African American female should be very well received among the Democrat base and she represents the most important primary state. Winning delegate-rich California early in the cycle would likely guarantee a top-two spot.

Harris has plenty going for her. A very progressive voting record and high-profile role in the Senate should ensure she scores well in early polls, keeping her odds short. However, she is just one of several very capable women in the race and could struggle to be heard. Plus, assuming candidates will win their home state primary is a common error.

Elizabeth Warren

---

Democrat Nominee | +1200

Next President | +2000

---

By announcing early, Warren vastly improved what felt like fading prospects. Her numbers are not great and the recent DNA test controversy damaging. Becoming the center of attention offers the Massachusetts Senator a chance to self-define and move forward.

Warren is probably the most substantive candidate. A former law professor, consumer advocate and leading critic of corruption in the banking system, she is now setting out plans to transform the economy in a progressive direction. She will certainly play a prominent role in debates and have a devoted, campaign-savvy movement behind her. She'll have a great chance in the critical second primary - New Hampshire.

The negative is that Trump would probably choose her as his ideal opponent. He will continue to troll her with 'Pocahontos' jibes and define her as an identity politics-driven, social justice warrior. Primary voters must decide whether Warren's ideological purity is worth risking in the current climate and may very well do so.

Amy Klobuchar

---

Democrat Nominee | +2200

Next President | +3300

---

Here's another woman rising fast. Klobuchar was re-elected as Minnesota Senator with tremendous numbers having made a big impression opposing the Kavanaugh nomination, has since confirmed interest in running and promised to declare her intentions soon.

Regarded as closer to the center and less partisan than Warren, she is highly electable. She would be a major threat to Trump with the mid-west voters he needs and, regarding the nomination, would be a big contender for the opening Iowa Caucus.

Kirsten Gillibrand

---

Democrat Nominee | +2000

Next President | +3300

---

Warren's decision presents several alternative female candidates with a dilemma. If as expected she takes 20% out, opportunities to impact a crowded field will be rare. Many will opt out having failed to make the required early impression.

One I'm confident will run is Gillibrand. Everything about her behavior since 2016 - positioning herself as a #MeToo leader, daring to alienate her natural backers by criticizing Bill Clinton over the Lewinsky scandal - screams ambition. Her early polls are dismal but that is in part down to low name recognition - liable to change.

Joe Biden

---

Democrat Nominee | +1000

Next President | +1600

---

The key task at this stage of the process is weighing whether candidates will run. For that reason, Joe Biden makes no appeal, despite leading early polls. I doubt he'll run at the age of 76 and see little activity to suggest otherwise.

Being VP to Obama (sainted among Democrats) is obviously an advantage. Had he run in 2016, I think he'd be president now. However the mood is shifting towards a younger set of leaders and polls at this stage are meaningless, led by name recognition. 'Uncle Joe' may be popular, but he made little progress when running twice before.

---

Related: Check out Hard Rock Sportsbook For Free Bets and Welcome Bonus.

---

Bernie Sanders

---

Democrat Nominee | +1200

Next President | +2200

---

Ever since Bernie threatened to gatecrash the 2016 nomination, supporters and many pundits installed him as a 2020 front-runner. He isn't and will, in my view, opt out and back Warren instead. Considering his name recognition and wider likeability, Sanders' poll ratings are poor. Plus the party machine has ensured the rules are less favorable to him than 2016.

Why Sanders did so well against the odds in 2016 is often misexplained. Supporters argue it was a mandate for democratic socialism but many - particularly his young, white, liberal fanbase - were default backers against unpopular Clinton. Against an O'Rourke, a repeat strategy goes nowhere. Equally the reason he lost - lack of support among minorities, particularly African Americans in the South - still applies.

Sherrod Brown

---

Democrat Nominee | +2500

Next President | +4000

---

Next an interesting candidate who has slipped badly down my rankings due to Warren's decision - I had hoped Brown would be endorsed by Warren and Sanders. Without that boost, he is unlikely to earn the required national name recognition in time.

If he could do so, results in Ohio would hugely advance his claims. Demographic trends in OH are working against the Democrats and it remains a prerequisite of any Republican route to the White House. Yet Brown won a third Senate term in November on a typically left-wing populist ticket, increasing his advantage.

Cory Booker

---

Democrat Nominee | +2000

Next President | +3300

---

Booker is another whose ambitions are obvious but whose numbers are a major worry, given a relatively high profile. The NJ Senator will employ unifying rhetoric and persist in trying to hug Trump supporters despite no evidence of that plan working. He will be liked and respected, but the first choice of few.

Michael Bloomberg

---

Democrat Nominee | +2000

Next President | +3300

---

Finally, a most interesting candidate. The billionaire banker, media mogul and philanthropist has long been predicted to run as an Independent but, recognizing the futility and need to avoid splitting the anti-Trump vote, has registered as a Democrat. Previously he was the Republican Governor of liberal New York.

Can Bloomberg win? Probably not, in a party of the Left in which old, white men are at a disadvantage. He cannot be ruled out though and will add fascinating variety to the debates. He will win plaudits for championing gun control and appeal to millions of centrists who hate Trump. The President would also not relish taking on a real billionaire with a real political record.
---
Check Out: Updates on Texas gaming and sports betting
---
Recommended Betting Sites

Secure

Trusted

Verified
Be first to get our exclusive sports offers!
Join today to stay up to date on your states gambling news and offers.
Betting Strategy Articles