UFC Fight Night 152 Odds: Dos Anjos vs Lee Betting Preview
The UFC returns with another exciting offering on Saturday evening at the Blue Cross Arena in Rochester, New York. The main event features former lightweight champion Rafael dos Anjos welcomes former lightweight title challenger Kevin Lee up to the welterweight division.
Lee and Dos Anjos have fallen on hard times lately, having each won only one bout in their last three, so Saturday night is of pivotal importance to both men. Lee is the slight underdog at -106, with dos Anjos nearly a pick 'em at -115. Here's how fans of UFC betting should approach the fight.
Rafael dos Anjos vs. Kevin Lee Betting Analysis
Rafael dos Anjos has had a long and winding career in MMA. Considered a journeyman at first, RDA turned a corner in 2013, and went on an impressive run through the lightweight division, claim the title and defending it once before losing the belt to Eddie Alvarez.
That could've been the end for dos Anjos but instead, following another loss to Tony Ferguson, RDA moved up to welterweight, and barn-stormed the division before losing to Colby Covington in an interim title fight.
Dos Anjos's game is built around pressure and pace. He is constantly pushing forward behind simple combinations and powerful kicks to the legs and body.
Once he gets an opponent backed up against the fence, then dos Anjos will start to look for takedowns, where he can use his strength to overpower opponents.
Where dos Anjos can falter is when he's taken out of that game plan. Colby Covington and Kamaru Usman both put the pressure to dos Anjos consistently and ended up winning as a result.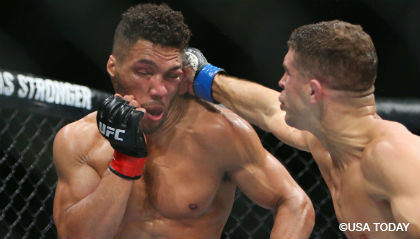 Like dos Anjos, Kevin Lee also came up short in his interim title bid, getting submitted by Tony Ferguson in the third round after dominating the early stages of the bout. That fight is a pretty good encapsulation of Lee, showing both his incredibly high ceiling, and his incredibly frustrating floor.
Lee is capable of truly incredible offense. A powerful grappler with excellent understanding of position and when to attack versus when to control, Lee mauled Ferguson on the floor early, only to gas out and get subbed later.
But Lee also has a frustrating history of gassing out and of getting away from a winning game plan. In his rematch with Al Iaquinta, Lee dominated when he chose to take Iaquinta down, but late in the fight, with the outcome up for grabs, he stopped shooting and lost as a result.
If he does something similar against dos Anjos, Lee will be in for a rough night.
---
Check Out: BetAmerica Sportsbook For Free Bets and Welcome Bonus.
---
Dos Anjos-Lee Best Bet
Oddsmakers are conflicted about this fight and with good reason: There are a ton of variables to consider. Should the fight take place on the feet, dos Anjos is the superior and more diverse striker. But Lee is an excellent wrestler and that has proven to be an effective strategy against dos Anjos.
But while Kevin Lee almost certainly will take RDA down at some point, the question is will he continue to do so and can he continue to do so?
Moving up in weight should help Lee's gas tank some, but there's no guarantee it will help his decision making, and RDA's gas tank has never been in question, having gone five rounds a number of times in his career.
Ultimately, I favor RDA to get the win based on Lee's history of mental lapses. Lee will likely have success early in the fight but he is less relentless than Colby Covington or Kamaru Usman and I expect dos Anjos' cardio and pressure style to wear down Lee as the fight moves into the championship rounds.
Recommended Betting Sites

Secure

Trusted

Verified
Be first to get our exclusive sports offers!
Join today to stay up to date on your states gambling news and offers.
Betting Strategy Articles