Top 5 Casino Table Games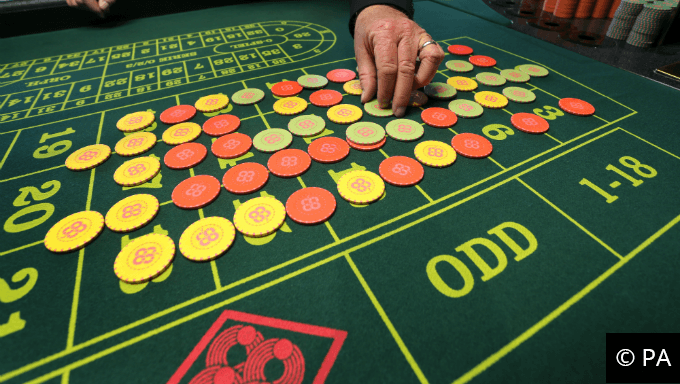 Casino table games are a casino classic that'll never go out of style because people will always love to play them. Table games spin the wheels of our imagination and inspire us to take a chance. All your favorite table games at the casino are also available to play at online casinos.
And no other type of game lets you have fun and flex your skills for a chance to win like your favorite casino table games. Drawing countless gamblers to the casino, games like blackjack, baccarat, craps and roulette make the casino a place to play.
Here are the top 5 casino table games:
Baccarat (Punto Banco)
Originating in Italy during the 15th century, Baccarat's latest version was developed in Havana, Cuba in the 1940s. Punto Banco, as it was called in Cuba, offered bets on dealer hand, as well as the player's, which was a momentous adaptation that still remains.
This casino card game has simple rules. When playing baccarat, you can bet on either the player's hand, the dealer's hand, a tie or even bet on all three. Cards, 2 or 3, are dealt to both player and dealer hands. If you end up backing the best hand or correctly predicting a tie, you win.
The best hand will be the one closest to nine, with the aces valued at one and face cards worth zero. If a hand reaches a number higher than 9, its value is subtracted by 10. For example, a hand of 7+8 would have the value of five.
Regarded as one of the most popular high-stakes casino table games, baccarat is often played in a room separate from the rest of the casino floor. Play with less pressure, give online baccarat a try.
Three Card Poker
A hugely popular casino table game, three-card poker lets you have a great influence over the game's final outcome. It's also a game with great odds and several potentially profitable side bets. Invented in the 1990s, three card poker seems pretty low key but it's one of the best casino card games.
Playing against the dealer, you'll place an ante bet and be dealt three cards. After getting a chance to look at your hand, it's then up to you to decide whether you're going to play or fold. You can either fold and forfeit the ante bet or match it with a play bet for a chance at the odds.
The hand rankings in 3-card are similar to Texas Hold'em poker but is still a simpler poker variant. Dealers can't play if they don't have a Queen-high or better. When this happens, the play bet will be a push (tie) and your ante bet will pay even money.
Three card poker is widely available, you'll find several tables in most casinos. The game is also offered at nearly every online casino, too.
Craps
This dice game made its way from London to New Orleans in 1807 and still gets loads of action around the world. Craps tables get crowded with usually multiple players and spectators alike, making the craps table one of the most exciting places to be in any casino.
This table game is fast-paced and full of particular lingo but it's nothing you can't learn and keep up with. Essentially, players take turns rolling the dice while the rest of the table bets on the result of the roll. There are various bets like 'don't bets' that can be made against any shooter at the craps table.
Craps appears to be a complicated game, but it also offers some of the best odds in the casino. So, it's definitely worth learning how to play. The game has a rich history and complicated code of etiquette that you must follow at brick and mortar casinos if you don't want to annoy the dealers.
When playing online craps, you're pretty much free of the expectations of etiquette, which makes online casinos the best place to practice.
Roulette
Early versions of this game were developed in 18th century France and grew in popularity across Europe, eventually arriving to the US and adapting to the type of dishonest play found in the gambling dens of the new American territories.
Of the top casino table games, roulette is absolutely the most unique. Players bet on where a ball placed onto a spinning wheel will land. A pure game of chance, it's easy to play. There are also roulette variants. You'll usually find European and American roulette at casinos.
European roulette has every number from 0 to 36 on the wheel, with half red, half black and green for zero. The American version has two zero segments, 0 and 00, increasing the house odds, meaning that the European variety is more rewarding for players.
When playing live casino roulette online, you get to experience all the action with a real dealer from your screen as if you were in the casino yourself.
---
Check Out: New Casinos for Welcome bonus and offers.
---
Blackjack
The precursor to blackjack is believed to have originated at casinos in 18th century France. The game was called twenty-one, an attractive offering when it arrived to gambling houses in the US. Thanks to simple rules and a fast pace of play, it's one easily become the top casino table game.
In blackjack, you compete with the dealer and maybe other players to form a hand that's equal to 21 (blackjack). Everyone is dealt two cards and then gets the choice to either stand (end your turn) or hit (be dealt another card).
There are a couple of ways to win more. Choose a double to double your stake and give you just one more card before having to stack up against the dealer. Another way to possibly win more on a hand is to split certain pairs, giving you two hands to play against the dealer.
New to the game? Get your head around a basic blackjack strategy and get accustomed to the game playing at online blackjack.
Recommended Casino Sites

Secure

Trusted

Verified
Stay In The Loop With New Casino Sites & Offers!
Free Spins. Exclusive Bonuses. Sent Weekly.
Casino Strategy Articles