Ranked: The 9 Biggest Upsets in Heavyweight Boxing History
© PA
Despite Muhammad Ali's renown, his victory in The Rumble in the Jungle came against all odds (© PA Images)
---
In Madison Square Garden, on June 1, 2019, Anthony Joshua – one of boxing's most sculptured monoliths – may not have appreciated the rarefied company he was about to join.
As referee Michael Griffin raised his arms to end proceedings, liberating Joshua from the confusion and concussion flabby Mexican-American Andy Ruiz had swotted him into, the Englishman took an unwanted seat alongside illustrious predecessors Mike Tyson, Lennox Lewis and Muhammad Ali, to name but three.
Judging where to place Joshua's New York humiliation in the history of heavyweight upsets is a subjective feast but, does serve to remind boxing fans of some of the sport's greatest names, its most remarkable nights and proves beyond doubt, that in boxing, particularly heavyweight boxing, there are no guarantees.
9 – Wladimir Klitschko LTKO2 Corrie Sanders Hannover, 2003
Long before Tyson Fury and Anthony Joshua defeated more venerable versions of the Ukrainian, little known South African Corrie Sanders destroyed a then 40-1-0 Klitschko in two brutal rounds.
Using blistering hand speed, and 'dynamite' power, the 37-year-old southpaw, who had boxed just twice in three years prior to the bout, knocked down the highly touted favourite three times in the opening round.
The fight was Klitschko's first of a 9-fight deal with HBO. It was a humbling loss. For those who took on bookmakers to bet against the 1/20 favourite, it was a rewarding night.
8 – Muhammad Ali LPTS15 Leon Spinks Las Vegas, 1978
In 1978, Muhammad Ali was a transcendent figure, a towering presence of personality and charisma, a beloved sporting king as recognised in Africa or the Far East as he was beneath the American spotlight he first stepped in to in 1960 as a willowy Olympian. He was also a tired and fading fighter.
Despite his ebbing physicality, the lost speed and reflex, the idea he could lose to a novice professional like Leon Spinks, who had won seven of his eight contests when the deal was struck, remained a fairy-tale few could contemplate.
And yet Spinks, who would be engulfed by the fame and money that victory brought, would out-work and out-punch the weary veteran. That Ali could summon enough to win a rematch was as miraculous as his defeat appeared to those who had ignored his decline and the damage Ali accrued late in his career.
7 – Anthony Joshua LTKO7 Andy Ruiz Jnr. New York, 2019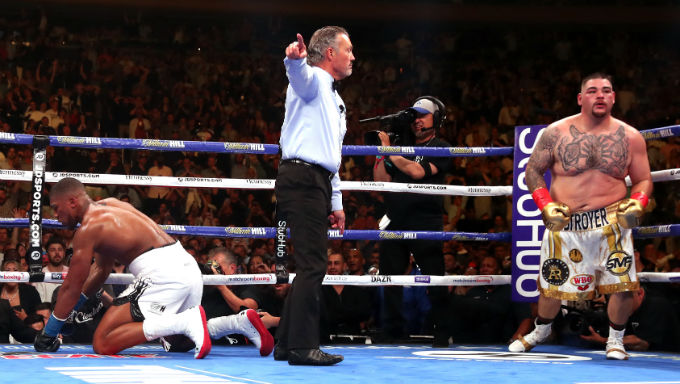 As the unbeaten WBA, WBO and IBF Heavyweight champion, the giant puncher from Watford was expected to announce himself to the American market by knocking out late replacement Andy Ruiz in quick time.
In doing so he would build the market value of a bout with the WBC champion – yes, four titles, one world – Deontay Wilder and reassert his credentials as the division's premier heavyweight and biggest cash-cow.
Ruiz, despite his 'Mall Cop' physique, proved quicker, more nimble, more aggressive and more durable than anyone anticipated and Joshua's plan and reputation was left in tatters. Odds as short as 1/24 on the Joshua win had been available with boxing bookmakers.
6 – Mike Tyson LTKO11 Evander Holyfield Las Vegas, 1996
Evander Holyfield vs Mike Tyson is often thought of as one of the greatest rivalries in sporting history. However, when Holyfield withdrew from competitive action beneath the shadow of a heart complaint in the early nineties having survived a war with unheralded Bert Cooper and the accumulation of mileage in the trio of Riddick Bowe fights, the notion he could return to beat Tyson was an opinion few would share publicly.
Like Ali before him, when faced with Liston and Foreman, there were many who feared for Holyfield's health and the more melodramatic whispered of how he could pay the ultimate price for his bravery.
Holyfield, one of the toughest and most durable men to ever lace up the gloves, knew better. From sparring as teenagers, he was confident he could break Tyson's will – he viewed him as a bully who needed to be hit back.
History will be kind to Holyfield when the memory of his latter-day defeats are contextualised and the scope of his whole career is considered but it shouldn't be underestimated just how favoured Mike Tyson was when the two met in 1996. 1/25 was the best return available on a Tyson victory.
5 – George Foreman LKO8 Muhammad Ali Kinshasa, 1974
It seems incredible to find this fight, one of the most iconic events in sporting history, at a lowly number five. There were fears for the 32-year-old Ali's life when he signed to fight the fearsome George Foreman in Zaire in 1974. Foreman had proved irresistible as champion, demolishing both Joe Frazier and Ken Norton in quick time, two fighters Ali had lost to in the preceding years.
Ali had slowed, no longer the quicksilver of his mid-sixties prime, but now a veteran with a series of debilitating wars behind him. His efforts to convince the watching world that he could summon another miracle were widely dismissed and the brooding champion's advantages of weight, youth and power were presumed to break Ali up in much the same way as Frazier and Norton had been before. The irritable champion had been 1/7 to win.
In a fight which represented one of a trio of peaks Ali would climb to in his unparalleled career, he would absorb all of the champion's clubbing attacks before knocking the exhausted Foreman to the floor in the 8th round. Ali had shocked the world, again.
4 – Max Baer LPTS15 James J. Braddock New York, 1935
Hindsight offers perspective on all of the entrants on this list. Holyfield's continued accomplishments at heavyweight following his shock win over Tyson diminishes the scale of the upset, as does Ali's subsequent greatness in the review of Liston's loss to a then 21-year-old in 1964.
The likelihood that there was mob-influence in James J. Braddock's victory over Max Baer also sullies our view of the Cinderella Man's apparently unimaginable triumph in 1935, but by definition it is a clear contender for the greatest upset in heavyweight history.
Baer was an immensely capable fighter, prone to distraction, but a heavy hitter and sound technician with advantages of size, power and pedigree. Braddock, by contrast, had 27 losses in a long and winding career. One he'd briefly retired from at the height of the Great Depression.
With Baer listening to lucrative offers to take his heavyweight title belt away from Madison Square Garden, influential figures stirred, eager to preserve the venue as the home of boxing and specifically, of the lucrative championship fights. Baer lost.
Braddock was a 10/1 shot when the bell rang. He was champion for two years, principally because he never defended the title. When he did, to Joe Louis, a more natural order was restored.
3 – Lennox Lewis LKO5 Hasim Rahman Johannesburg, 2001
When Lennox Lewis attended his pre-arranged meeting with Nelson Mandela in the days after the fight with 20/1 long shot Hasim Rahman, it was expected to be a handshake between the heavyweight statesman and the statesmanlike heavyweight.
A pilgrimage of sorts for the unified champion while in South Africa. Unfortunate for Lewis, who was the recognised 'king' of his era, having vanquished Evander Holyfield two years earlier, was the distraction his cameo in the star-studded heist film Ocean's Eleven proved to his boxing career.
Appearing as himself in a mock-fight in a Vegas casino with Wladimir Klitschko, who also features on this list, the film focuses on mess's Clooney, Pitt and Damon plunging the arena into darkness to make off with Andy Garcia's millions.
By staying in the US, and in doing so failing to acclimatise to the South Africa location, or considering Rahman a clear and present danger, Lewis had his own lights switched off in the 5th round and almost saw Rahman, and the omnipresent Don King, make off with the millions Lewis was to earn versus Mike Tyson too. Lewis duly met Mandela, but as the former champion.
He met Rahman again later in 2001, and promptly won back all that he lost in South Africa.
2 – Sonny Liston LTKO8 Cassius Clay Miami, 1964
Sonny Liston was a dominant force in the heavyweight division. Physically imposing, he had a jab that broke people's will, and their bones. His solemn demeanour added to the legend and the intimidation he wrought over his era.
When he faced Cassius Clay, who would become Muhammad Ali of course, he was an overwhelming favourite and those willing to pick Clay were both rare and scoffed at for their opinion.
Liston had demolished Floyd Patterson twice; first to win, and then defend, the heavyweight crown. Fights John F. Kennedy had to embarrass the complex Patterson to make. Liston had wrecked all of the leading contenders before he was belatedly offered that fight with Patterson in 1961.
But when faced with Clay's dazzling hand speed, elusive style and enormous self-confidence, the 'grizzly bear' shrank. He retired on his stool, a broken spirit, and Clay jubilantly announced that he had "shocked the world." He had, and he was 7/1 to do so.
1 - Mike Tyson v Buster Douglas LTKO10 Tokyo 1990
It is the nature of the Tyson's dominance, the manner with which he won and defended the heavyweight title that the aura of invincibility he established exceeded even that of Foreman or Liston in the decades before.
His punching power, his hand and foot speed and a chequered past as an errant hoodlum, and the fear those ingredients created, often beat challengers before they ever climbed the steps to the ring. And for those reasons, his loss to Buster Douglas is widely regarded as the biggest upset ever in the heavyweight division.
Having won the title so young, aged just 21, it appeared he would remain unbeaten for a decade, maybe more. He had overcome the significant threats to his title, and only the spectre of Evander Holyfield, moving up from Cruiserweight, remained. A fight Tyson had already agreed to and was guaranteed a purse of $22million for. A record at the time.
The Tyson brand was a phenomenon, and his appearance in Tokyo one further step in the process of extending that reach and maximising his potential to earn, not only for himself but for those vested in the Mike Tyson business.
A growing circus of chancers and hangers-on. Chief among them was Don King. Himself a notorious figure, King had taken the reigns of Tyson's career, one briefcase full of cash at a time, following the passing of Cus D'Amato the year before Iron Mike won the title.
---
---
Buster Douglas was a talented heavyweight but only moderate in his success to this point, unable to compile a complete performance at the highest level and entirely dismissed as 'the opponent' for Tyson's Japanese adventure. Iron Mike, 37-0 (33ko) at the time, was a 1/42 favourite despite Douglas' respectable form.
Tyson, unbeknown to the world save for those in a sycophantic inner circle, had become progressively distracted and ill-prepared for championship action without the guiding hand of his beloved Cus.
Douglas, himself mourning the loss of his mother less than a month before the February bout, had become focussed in a way he'd never previously mustered and the fog of intimidation Tyson usually enveloped his challengers within had no such effect on a newly determined Douglas.
Images of the seemingly impervious bully scrambling for his gum shield splashed across the back and front pages of the world's newspapers as the shock rushed across the time zones to the waking West. Disbelief was palpable. Iron Mike would never be the same fighter again. And, sadly, neither would his conqueror.
Douglas lost the titles in his next bout to Evander Holyfield. The perfect cocktail of motivation, his physical prime and an ill prepared Tyson, proving to be a once in a lifetime event.
'Tyson-Douglas' has now entered the sporting vernacular as shorthand for an upset.