Maryland Voters Have the Chance to Approve Sports Betting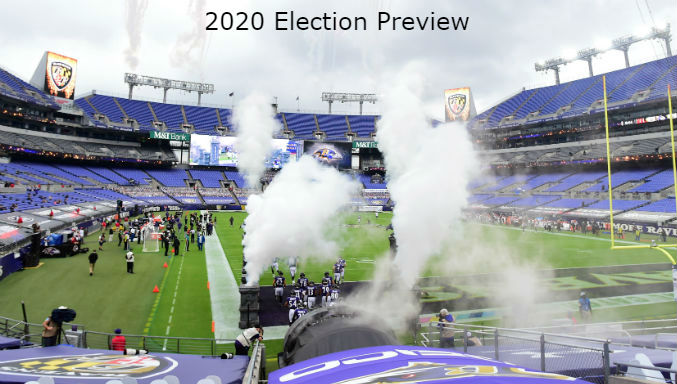 © PA
Maryland is one of several states to have a gambling-related issue on the Nov. 3 ballot and arguably, from among the handful of referendums, it is the ballot measure that is likely to be most impactful soonest.
Voters in Maryland will be casting ballots on Question 2, which simply calls for an up-or-down vote on sports wagering. Period. There are no details in the referendum itself about what Marylanders can expect sports betting to look like should the measure pass, meaning serious work will have to be done by the Maryland legislature post-election.
That said, there has been considerable testimony and comment regarding proposed sports wagering bills during legislative hearings earlier this year that at least provide a starting point.
---
2020 Election Previews
---
Actually, Louisiana is looking at a similar situation where voters will decide on a parish-by-parish basis whether to allow sports betting. If sports betting passes, the Louisiana legislature will be tasked with creating rules and tax rates. However, Louisiana's track record on trying to launch daily fantasy (voters approved it in 2018 and it's still not operating there) suggests a lengthier process in Louisiana than in Maryland.
Still, the Maryland situation is not without complexity.
Earlier this year before the COVID-19 pandemic caused a global shutdown, the Maryland state senate and House of Delegates appeared to be on the cusp of a fully-formed sports wagering referendum replete with license eligibility, online provisions and more. But that fully formed bill hit a snag when some members of the House of Delegates felt that there was not enough provision for minority and women ownership in Maryland's new sports wagering landscape.
With a pandemic shutdown looming, the Maryland legislature agreed to send a stripped-down version to the voters and figure out the details later.
What Sports Betting Could Look Like in Maryland
Some feel that the original plan provides a solid guide for the legislature in its next session, which begins in January. Perhaps that will be the case. If it is, Marylanders could be betting on sports by next football season.
---
RELATED: Op-Ed: Maryland sports betting could be coming, but will the state take the right approach?
---
In the scuttled bill, licenses for sports betting would have gone to the state's six casinos, Maryland's horse racing operator, the state fairgrounds in Timonium, possibly OTBs, and potentially to a Washington Football Team stadium if a new one was built in Maryland. Discussions seemed to favor one online operator attached to one primary license-holder. Tax rates floated were in the 15% to 20% range.
Tax money generated from sports wagering would largely go toward funding education (much of the tax revenues from the state's slot machines already do). Maryland Gov. Larry Hogan, a Republican, has signaled that he will sign whatever sports wagering bill comes out of the legislature.
Not Much Maryland Opposition to Sports Betting
Pushing the referendum are DraftKings and FanDuel who have teamed up to contribute $2.75 million in an effort to convince Marylanders to vote "Yes" on Question 2. Other stakeholders are also weighing in with support. There has been no substantial organized effort to oppose Question 2. The Baltimore Sun's editorial board has come out against the referendum while the Washington Post favors a "Yes" vote.
Maryland voters have been to the polls on two prior occasions regarding gambling relatively recently with the vote going in favor of the gaming question each time — when slots were approved in 2008 and when tables games and a sixth casino were approved in 2012.
No vote is ever a sure thing but Marylanders are mindful that 18 states and the District of Columbia already have sports wagering and that Maryland is encircled by jurisdictions either with sports betting up-and-running or about to have it — Pennsylvania, Delaware, West Virginia, Washington D.C., and soon, Virginia.