Motörhead Online Slot
Published:
Sep 11
th
, 2018 |
Updated:
Apr 6
th
, 2021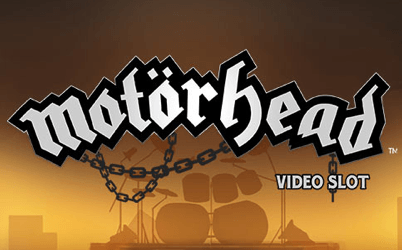 Game Provider: NetEnt
Slot Info

RTP:
96.98%
Volatility:
Low
Maximum win:
$ 250000.00
Progressive Jackpot:
Bonus Feature:
Theme:
Sevens, Bars and Bells, Irish Luck
Play Free Demo
Version Directly in Your Browser
Slot Setup and Betting Options
Motörhead Review
The latest installment in the 'NetEnt Rocks' series that took the online slot world by storm is the Motörhead slot game titled: Motörhead: Louder Than Anything Else Online Slot. Following the likes of the great Jimi Hendrix and fellow rock band Guns 'N Roses, Motörhead joined the NetEnt slot family with their own branded video slot.
The Motörhead slot features the typical 5-reel format but varies with a unique 76 payline structure. The rows are also not all the same as with most slots, instead opting for rows ranging from 3-5. Overall, this slot game encompasses all the nostalgia of the Motörhead glory days with the excitement and entertainment of modern top New Jersey casino sites and top Pennsylvania casino sites.
About Motörhead Slot Game
The world renowned slot developer NetEnt garners unprecedented praise for innovation and creativity within the industry. One of their biggest successes was their release of the 'NetEnt Rocks' series, a string of three online slot launches, all of which featured topnotch games branded after some of the world's most famous rock stars including Jimi Hendrix, Guns 'N Roses and, of course now, Motörhead.
The Motörhead online slot was the last installment in the series but many believe NetEnt saved the best for last. The game opens with a fantastic intro video featuring live shots of the band playing their iconic "Ace of Spades" song. Then, players are greeted with a quick tour of the game including links to explanations on all the bonus features.
The entire gameplay focuses on the legendary Motörhead band with tribute songs playing constantly in the background and all the symbols pointing back to some reference of the band. The minds behind the game decided to pay a little written tribute to the band to ensure all players, regardless of their age or experience with the band, understand the level of success Lemmy and the guys reached. Here's what they wrote:
"No band epitomizes rock and roll nore than the legendary Motörhead! Led by the one and only Ian Fraser "Lemmy" Kilmister, Motörhead released 22 studio albums, 12 live albums, 12 compilation albums, and 4 EPs and sold more than 30 millions albums worldwide over a career spanning 40 years."
The Motörhead slot plays the following songs:
| Motörhead Song | Release Date | Album |
| --- | --- | --- |
| "Ace of Spades" | 1980 | Ace of Spades |
| "Overkill" | 1879 | Overkill |
| "Killed by Death" | 1894 | No Remorse |
| "Iron Fist" | 1982 | Iron Fist |
You wouldn't brand a topnotch slot game after an iconic rock band and NOT include their major hits as the soundtrack, so it should come as no surprise the Motörhead slot game is pumped full of classic Motörhead tunes. To ensure the soundtrack resonated with the generation that saw the band's rise, NetEnt stuck with four of the band's legendary tunes from before 1995 despite the band cranking out hits for over 40 years.
The four titles included in the game are listed above with only one hit Motörhead song seemingly missing, "Bomber", the iconic 1979 jam chosen to represent the exciting Bomber Feature within the gameplay. Many assumed the song representing the feature would be included within the game but NetEnt decided to use the name but forgo including the song.
---
Click here: to play real money slots at Hollywood Casino.
---
Features, Specials and Symbols
Bonus Feature
Bonus Feature Effects
Wild Symbols
Wild symbols substitute for all symbols except Scatter symbols.
Scatter Symbols
Landing 3 Scatter symbols anywhere on reels 3, 4 and 5 during a main game activates 10 Free Spins.
Mystery Reel Feature
A Mystery Reel consists of a stacked reel of mystery symbols and regular symbols.
Mystery Reels appear on 1 or more reels with every single spin in the main game and free spins unless the Bomber Feature is active.
Post spin, if there are mystery symbols they transform into 1 random symbol (except for Scatter).
Bomber Feature
The Bomber feature can be activated before a main game only (not active during Free Spins).
A number of bombs are then dropped, resulting in at least 10 overlay mystery symbols (Max Bombs = 5 | Max Overlay = 15).
Each bomb consists of a cluster of mystery symbols and generates the mystery overlay symbol.
Free Spins
Landing 3 Scatter symbols anywhere on reels 3, 4 and 5 during a main game activates 10 Free Spins.
Free Spins are played with the same bet and coin value used for the round that activated the Free Spin(s).
Free Spins cannot be won during Free Spins but, fortunately, they are included in any bet line wins.
The Motörhead slot is chocked full of bonus features for players to enjoy. As with most NetEnt titles, this slot touts the typical Scatter and Wild symbols most slot-lover are familiar with. The game also features Free Spin opportunities, a staple with topnotch slots. Outside of those more typical bonuses, the Motörhead slot also touts some unique bonuses worth checking out if you haven't.
The most popular feature of the slot has to be the Mystery Reel feature found with most NetEnt titles. The bonus consists of a stacked reel of mystery symbols and regular symbols. Along with the Mystery Reel feature is the Bomber feature, named after the band's hit song "Bomber" (1979). This bonus includes 'bomb clusters' of mystery symbols sure to help each player win big.
Enjoying the last installment in the 'NetEnt Rocks' series should be no problem for any online players looking to enjoy this stellar title. Visit one of the many NetEnt casinos on the web and you're sure to find a wealth of quality online casinos to begin spinning.
Some of the top slots sites in New Jersey and Pennsylvania hold partnership agreements with NetEnt meaning a top slot title like Motörhead can be found all over the internet. Some of the best casinos from all over the world feature this title so no reason not to get started playing today!
Meet Our Slot Tester

Bill Speros
Senior Producer at Gambling.com
With more than 30 years of experience in Sports journalism and online gaming, Bill has put a bevy of slot games through their paces. He focuses on getting a jump on what sets games apart from a jackpot, feature and thematic standpoint ahead of their release.