partypoker Launches $5 Million Guaranteed 'Powerfest'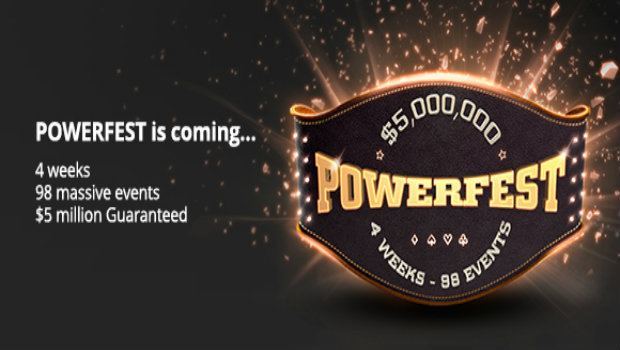 partypoker, the party brand's premier poker offering, has announced that later this month it will launch Powerfest, a brand new update on its traditional online poker festival that promises a prize kitty of no less than $5 million.
The month-long event, which will run in conjunction with the partypoker's Power Series tournaments, will see a total of 98 no-limit Texas Hold'em contests and culminate in a Tournament of Champions-style finale.
Powefest Explained
Powerfest will appeal to online poker players of all experience levels and budgets by offering a wide range of buy-ins, and each week a new series of dedicated tournaments will determine the best player of each level.
Week 1
The first week of the festival is aimed at the Featherweights, with buy-ins ranging from $5.50 to $11, and a top prize of $50k, which is awarded at the end of the week's final Main Event tournament.
Week 2
The Middleweights will then battle it out during Week Two, with their buy-in of $22 to $55 (February 28-March 6) culminating in the chance to play for the $100k prize fund.
Week 3
Week Three will see the big boys (and girls) in the Heavyweight division compete for a seat at the $500k table on 13th March via a $109-$215 buy-in limit.
Week4
And finally, it's the High Rollers who join the festival for Week Four, with a buy-in range of $530 to $5,200 and the chance to win the $500k top prize.
partypoker's Strategy
partypoker has been strategic in its promotion of the festival schedule over the last few weeks. New details – such as the Fight Night promotion, in which three tournaments' prize guarantees were doubled – have been released gradually, keeping prospective Powerfest players on their toes.
The Fight Night Round 2 promotion launched on the 6th February, with the prize guarantees of the Jab (a $5.50 buy-in), the Contender ($22) and the Uppercut ($109) all doubled to $20,000, $40,000 and $100,000 respectively.
Other contests to take place throughout the second half of February and March as part of Powerfest include a $25,000 guaranteed tournament on 21st February, a $40,000 bounty event on 6th March and finally a huge $500,000 guaranteed High Roller competition on 20th March.
Champion Chance
Instead of the typical ladder-style leaderboard, partypoker is opting for a Tournament of Champions-style table for Powerfest. Each player will be guaranteed at least an entry into the $5.50 Jab contest, with prizes increasing in increments up to a $5,000 Las Vegas package for the contestant eventually crowned overall champion.
As if that wasn't enough, the tournament winner will also receive $1,000 spending money, entry into the WPT500 event at Aria, five nights' accommodation, a dinner with partypoker ambassador Mike Sexton, and the honour of their own custom-made Tournament of Champions winner's belt. Former WSOP bracelet winner Sexton said:
"I love that partypoker are introducing the Tournament of Champions element into the new Powerfest. This allows all the winners of each buy-in level to compete for their chance to win a memory of a lifetime. I look forward to hosting the winners in Vegas this summer."
Put your poker strategy to the test before the big tournaments by playing a few hands at partypoker today!