Tiger Woods PGA Championship Odds: Ex-Champ an Outsider in 2022 USPGA Golf Betting
© PA
Tiger Woods is among the top 12% of players competing at the 2022 PGA Championship who betting sites think are most likely to win this tournament.
Woods last won the PGA Championship back in 2007 but there remains hope he can capture a 16th career major following his 2019 Masters victory.
The American, 46, is back in action after requiring more than a year out of the game to recover from injuries sustained in a serious car crash. His return at the 2022 Masters this year ended in him making the cut but not threatening the top of the leaderboard.
Woods says he is coming into the week at Southern Hills, Oklahoma feeling "stronger" than when he competed at the Masters. His caddie, Joe LaCava, added: "I think the endurance is there now. I don't think he's getting quite as tired as quickly."
Woods hasn't played competitively since the Masters two months ago. But that's not stopped punters across the world keeping a keen eye on the golf betting markets this week!
Tiger Woods PGA Championship Odds
Indeed, some golf betting sites have priced Woods as big as 55.0 to win the PGA Championship. That's a fair bit wider than the 34.0 odds on his claiming the Masters in April – but it's still enough for Woods to be in the top 20 golfers most likely to taste success this weekend.
Woods actually won his 13th major at Southern Hills in Tulsa. He clinched the 2007 PGA Championship on the par-70 course with an eight-under final score to put him two shots clear of runner-up Woody Austin.
Both Austin and Ernie Els had rallied on the final day to threaten the lead but Woods held on to land the trophy.
Fast-forward 15 years and the American faces a more challenging course that has been renovated since his last success there. In fact, Woods arrived in Tulsa several weeks ago to check out the course and plot his path to success, playing a round with the club's director of golf Cary Cozby as his caddie.
Luckily for Woods the hot temperatures in Tulsa are expected to lead to a fast course, which in turn will aid his approach play. If he putts like we know he can, UK bookmakers may swiftly cut his odds on winning the 2022 PGA Championship.
Who Will Win The PGA Championship?
Of course, Woods is still unlikely to actually claim the trophy here. His odds suggest a 1.8% likelihood of glory. And there are plenty of shorter-priced favourites out there who will be targeting this second major of the season.
Here are the names the golf bookmakers have as the frontrunners…
Scottie Scheffler
Amid all the hype about Woods at the Masters this spring, players like Scottie Scheffler were overlooked. And the American claimed his first major with a three-shot victory over second-place Rory McIlroy at Augusta.
Fast-forward two months and top-seed Scheffler – 10/0 to win here – has played in just one further tournament. The 25-year-old is hoping to carry his Masters form straight into the PGA Championship and is keeping a low profile heading into the weekend.
Indeed, Woods wasn't the only player practising at Southern Hills this spring. Scheffler reportedly shot a six-under 64 during a wet round in early May so he should enjoy the test Southern Hills presents.
Jon Rahm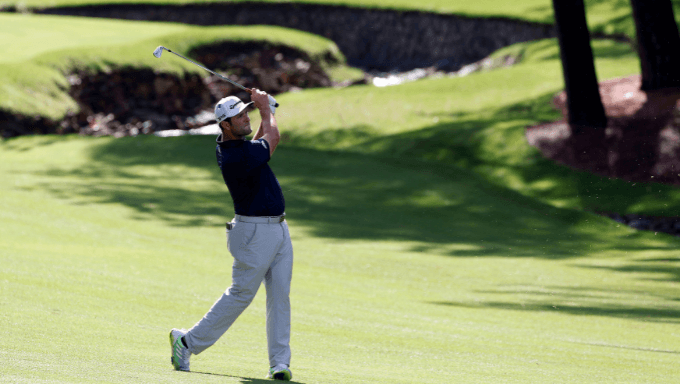 Spaniard Jon Rahm was never really in the running to win the Masters this year but since then he has claimed a title at the Mexican Open. Rahm is another favourite keeping a low profile but will likely turn heads if he shoots off fast like he did during last year's US Open.
The one-time major winner will likely thrive on the big course at Southern Hills, and the dry conditions could suit him. His short backswing isn't for everyone but he remains fairly consistent even if the Masters and PGA Championship have so-far eluded the Biscay native.
At 12.0 Rahm has attracted around 5% of all wagers on the PGA Championship winners odds so far. That could well change if he starts fast here.
Rory McIlroy
Another Masters went past without Rory McIlroy donning the Green Jacket this spring but his second-place finish was at least a career best at Augusta for the Northern Irishman.
Now attention turns to the Championship he first won a decade ago. McIlroy has twice won the USPGA but his recent performances in this tournament have been woeful. What's more, McIlroy is still seeking a trophy this year.
He has, however, regained a modicum of form in the guise of two top-five finishes in his last two outings. On top of this, McIlroy is hitting the ball well and his approach game is as good as anyone's.
The bookies price McIlroy as the third favourite at 15.0 to win here. That's a tall order for a player who last won a major in 2014, and who can often fade into obscurity before the weekend truly gets going.
Best of the Rest
Woods is a 55.0 outsider to win the PGA Championship and there are 19 players ahead of him, according to the bookies. Of those, Jordan Spieth is well priced at 19.0 considering the Texan won the RBC Heritage in April. Spieth also placed second behind Lee Kyoung-hoon at the AT&T Byron Nelson last weekend – a result that probably revealed more than the Heritage Classic about his recent form.
Shorter than Spieth at 67.0 is Justin Thomas, who hasn't really impressed since the Valspar Championship in March. Thomas has been one of the biggest critics of the defecting golfers to Saudi Arabia's LIV Golf Tour, and could well be a popular figure on the course in Tulsa.
Collin Morikawa 17.0 was one of the favourites to win the Masters but his odds have slipped here after a 26th-place finish at the RBC Heritage. Meanwhile, Patrick Cantlay has seen his odds come in from 23.0 to 17.0 off the back of an impressive second-place finish at Harbour Town.
Other players whose odds have recently come in include Hideki Matsuyama (to 26.0), Shane Lowry (29.0) and Matt Fitzpatrick (34.0). Some bookmakers are even offering Woods odds as high as 70.0 – although this is currently the outlier price that is going against the trend.
Stay In The Loop With Free Bets, Insider Tips & More!
Live Betting. Sports Promos. Sent Weekly.