How Does The Merseyside Derby Compare To Other EPL Derbies?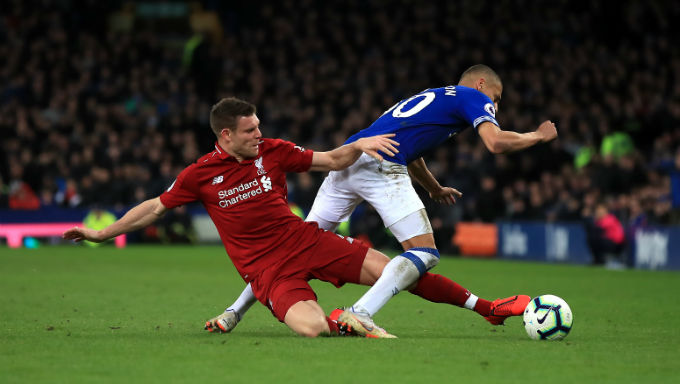 © PA
This Saturday's Merseyside showdown is one of the most eagerly anticipated Premier League derbies in recent memory with Everton heading into the fixture in unfamiliar territory as league leaders.
Although known as the most feisty local rivalry in English football, Everton and Liverpool will look to go 10 consecutive league meetings without a red card for the first time in the Premier League era.
Their first nine Premier League league meetings produced no red cards, but David Unsworth and Robbie Fowler opened up the floodgates in their 10th fixture in the breakaway division in 1997 when they both got sent off for throwing punches at one another. And it wouldn't be the last on-field punch-up in the derby before the turn of the millennium.
Here, as the current squads look to stretch the derby red card drought into double figures, we have analysed the biggest local derbies in the Premier League and this weekend's stand-out fixture certainly makes a case as the most appealing.
For dismissals, the Merseyside derby still leads the way with 21 red cards shown in the 56 derbies contested since the inception of the Premier League in 1992. That's 0.38 dismissals per meeting, way above the average 0.11 per game according to Premier League stats.
Fourteen of the 21 have been shown to the Toffees while Liverpool have seen red seven times. Former Liverpool skipper Steven Gerrard and former Everton captain Phil Neville were both dismissed twice in the heat of the derby battle.
Both players were sent off during the 2005/06 season – Gerrard at Anfield, Neville at Goodison Park – at a time when red cards were commonplace between these two clubs. In three successive derbies in 2005 and 2006, a total of five red cards and 18 yellows were shown.
Which EPL Derby Produces Most Red Cards?
| Derby | Average Red Cards Per Meeting |
| --- | --- |
| Everton/Liverpool | 0.38 |
| Arsenal/Tottenham | 0.23 |
| Man City/Man Utd | 0.2 |
| West Brom/Wolves | 0.0 |
Red cards have been shown in 13 Merseyside derbies with multiple dismissals occurring seven times. The final derby of the 20th century proved to be a feisty encounter with three players taking an early bath as Everton won 1-0 at Anfield.
Everton forward Francis Jeffers and Reds keeper Sander Westerveld saw red after trading punches before Gerrard was sent off by referee Mike Riley for a reckless challenge on Toffees matchwinner Kevin Campbell in the closing stages.
However, both sets of players have been better behaved in recent seasons with the last dismissal coming in April 2016 when Everton finished their 4-0 defeat at Anfield with 10 men following Ramiro Funes Mori's red card.
Both Everton and Liverpool managed to get through the first Merseyside derby in the Premier League without picking up a yellow card. In April 2001, the enemies racked up 10 yellow cards as well as a red card for Igor Biscan in a 3-2 win for the Reds at Goodison Park.
In the 56 Merseyside derbies played in the Premier League, there have been 11 goalless draws which has dragged the goals per game average down to 2.23.
Tottenham and Arsenal have met the same number of times and the north London rivals average 2.84 goals per game.
Which EPL Derby Produces Most Goals?
| Fixture | Goals Per Game |
| --- | --- |
| West Brom/Wolves | 3.75 |
| Arsenal/Tottenham | 2.84 |
| Man City/Man Utd | 2.80 |
| Everton/Liverpool | 2.23 |
While capital clashes don't have as many red cards as the Merseyside derby, it does have the most recent red cards with both Spurs and the Gunners having a man sent off on enemy territory in recent seasons.
The total number of red cards shown in a north London derby rose to 13 in 2018/19 when Lucas Torreira came off the bench in the final minute of the first half, only to be sent off in the final minute of the second half as the Gunners held on to draw 1-1 in the final north London derby played at Wembley before Spurs moved into their new stadium.
You have to go back to December 2006 for the last time Manchester City last finished a Premier League derby with 10 men. And the recipient of a red card from Graham Poll at Old Trafford that day was Italian Bernardo Corradi in the final stages of a 3-1 loss.
It's one of just two red cards City have received in their 46 meetings with their Manchester neighbours in top flight clashes, with defender Richard Dunne picking up the other. Cristiano Ronaldo has been sent off more times in a Manchester derby than any other player with his two red cards coming at the Etihad in January 2006 and in November 2008.
---
Last Player Sent Off In Key Derbies:
Arsenal/Tottenham - Lucas Torreira (March 2019, 3 meetings ago)
Man City/Man Utd - Marouane Fellaini (April 2017, 7 meetings ago)
Everton/Liverpool - Ramiro Funes Mori (April 2016, 9 meetings ago)
---
Marouane Fellaini, who has played in both a Merseyside and Manchester derby, was the last player to be dismissed in a Manchester derby seven games ago on April 27, 2017.
City and United have met 46 times in the Premier League but they average 2.80 goals per game which is more than the 2.23 scored between Everton and Liverpool, which was boosted by the Reds' 5-2 win over their local rivals at Anfield last December. However, three of the last five Merseyside derbies have ended goalless.
So, are these derbies losing their edge? The data suggests they are. In the last 16 Manchester derbies, there has been one red card. In the previous 16 there were six.
In the Merseyside derby, there has also been one dismissal in the last 16 meetings while there were 11 in the previous 16. All that could change this season as some if not all these derbies could be played behind closed doors because of Covid-19.
Incidentally, clashes between Liverpool and Manchester United are described by some as a football derby, but given the fact they are 33 miles apart along the M62, we have not considered it a derby in this context.
Meanwhile, West Brom's promotion back to the Premier League for the 2020/21 season will see the Baggies lock horns with their Black Country rivals Wolves. The two sides last met in a top flight derby on February 12, 2012.
A lot has happened to both clubs since then, with Wolves suffering relegation at the conclusion of that campaign and a second successive relegation the following season to drop into League One.
An immediate return to the second tier of English football was secured before they earned their place back in the Premier League in 2018. Meanwhile, West Brom are now back in the top flight after spending the last two seasons in the Championship.
Supporters will hope that by January 16, when the first derby of the season is scheduled to take place at Molineux, fans will be allowed back into grounds following the Covid-19 pandemic.
It promises to be an eagerly anticipated derby and will no doubt be hyped up beforehand as all derbies seem to be these days.
---
Key Derby Dates in 2020/21 Season:
October 17: Everton v Liverpool
December 5: Tottenham v Arsenal
December 12: Man Utd v Man City
January 16: Wolves v West Brom
February 20: Liverpool v Everton
March 6: Man City v Man Utd
March 13: Arsenal v Tottenham
May 1: West Brom v Wolves
Stay In The Loop With Free Bets, Insider Tips & More!
Live Betting. Sports Promos. Sent Weekly.
Betting News Articles