Ultimate McGregor vs Mayweather Las Vegas Travel Guide Hack
Last Updated:
28 Sep 2022
UFC's defending Lightweight Champion, "The Notorious" Conor McGregor, steps out of the octagon and into the boxing ring to face fifteen-time world title winner and the undefeated Floyd "Money" Mayweather in what's being called the super-fight of the century. MMA's finest finally meets boxing royalty, both with brash, money-loving personas, in what should be a matchup of epic proportions.
For the time ever, betting on boxing and betting on MMA becomes a single market. Mayweather, who retired in 2015 with an unbeaten record of 49-0 as a professional boxer, and Ireland's own McGregor, who is 21-3 in official MMA bouts, will clash in a 12-round boxing match in Las Vegas after teasing the event for nearly a year.
Both fighters confirmed in June the bout will go ahead on August 26th in the T-Mobile Arena under the glamorous Las Vegas lights, bringing two of the biggest names in their disciplines to the gambling capital of the West. For those interested in experiencing the action first hand and are planning to be in Las Vegas for the mega-fight, Gambling.com has put together the ultimate travel guide hack to make the trip a little easier!

To Vegas or Not to Vegas?
Ticket prices have not been announced for the epic encounter as of yet but will likely be in the range of $1,500 - $7,500, which was the pricing range for the Mayweather vs Pacquiao super-fight back in 2015. The bout sold in seconds as tickets going up on trading sites immediately saw massively inflated prices, with an average of $85,000, including a ringside ticket being sold for a whopping $130,000! Tickets are expected to be limited or exclusive to say the least due to the amount being gifted to promotional companies and celebrities.
Where Should You Stay?
Hotels are flying fast with bookings as we speak, but if you like your comfort, the best deal for the weekend has got to be at the Circus Circus resort at just €362. For those looking to go all out while they are there, the four-star Monte Carlo Resort will give you the three nights for €672 - exceptional really. For the less fussy, Hostel Cat quote €38 per night over the big fight weekend.
Located just off the famous Las Vegas Strip, it's not a place to turn your nose up at if you don't plan to spend any time in the room. Finally, although we don't endorse this sort of spend if your only there for one or two nights, the MGM Grand Hotel - site of so many legendary fights - will make you fork over €1,258.
What if You Don't Go to Vegas?
Floyd Mayweather's name features in all of the top three best-selling boxing pay-per-views of all-time so you know that it may be one of the best. While the prices are yet to be set, the so-called 'Fight of the Century' between Mayweather and Manny Pacquiao is a good guide. US viewers were charged $99.95 to watch Mayweather extend his unbeaten record, while in the UK it cost £19.95 (€24.95 in Ireland).
Mayweather vs McGregor will almost certainly cost more for viewers on either Sky Sports Box Office or BT Sport, the major contenders for the deal. The best way to combat the high pay per view charges is to get some great odds on to bet the fight which are currently offered at NetBet Sportsbook!
Where Do You Party?
While there will be no shortage of parties in Las Vegas, Intrigue nightclub at the Wynn is the most likely spot to catch McGregor and his team after the fight. McGregor celebrated his win again Nate Diaz at Intrigue and liked it so much he came back for his birthday party! But, the Intrigue bash won't be cheap.
Tickets into the club are general $25 –$45, but you might want to budget for some new kicks – Intrigue's website warns: "Dress To Impress - Upscale, no athletic wear, athletic footwear, baggy apparel, hats, shorts, flip flops, tank tops, chains, or work boots." The average cost of a beer in Las Vegas is $3 - $6, so maybe lay off the cocktails if you want the champagne life on a lemonade budget.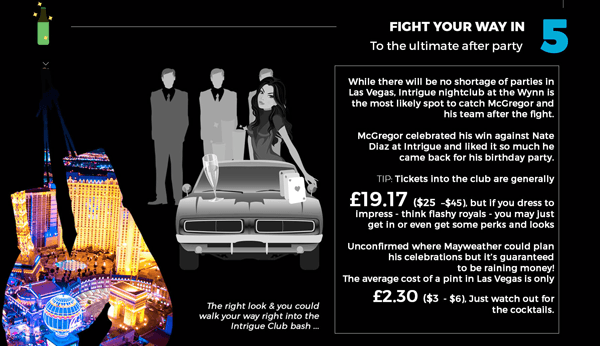 Best Vegas Parties:
Encore Beach Club $$$$ - Famous for McGregor's pool party, this place is expensive but worth the experience. It's full of stylish people out for a good time in the sun. Drink prices: Mixed drinks start at $15, beers and shots are $8, and they have a strict no speedos policy (phew!).
Light Nightclub, Mandalay Bay $$$ - Not too pricey and feels more like a EDM gig than a nightclub.
Marquee Nightclub $$$ - One of the busiest spots in Las Vegas, this place has everything – an outdoor pool, loads of dancefloor space, and loads of rooms – It even has a library!
Best Las Vegas Casinos
Stay In The Loop With Free Bets, Insider Tips & More!
Live Betting. Sports Promos. Sent Weekly.