Storylines and Betting Tips for the 2018 Kentucky Derby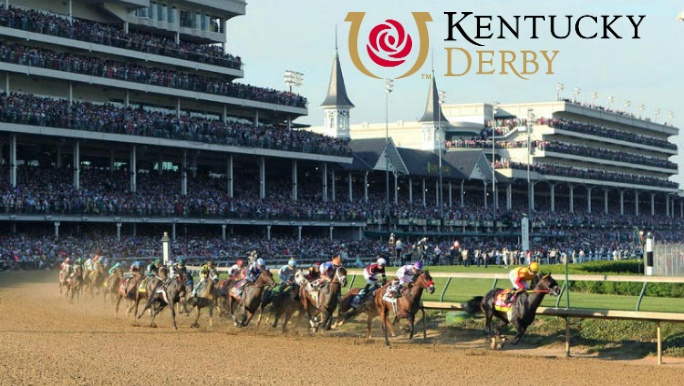 The 144th Kentucky Derby is almost here. Post time for the one of the biggest horse racing betting events has been officially set for 6:50 p.m. EST this Saturday at Churchill Downs. While the race is always a can't-miss affair for betters around the world, this installment promises more intrigue than the usual go round.
Of the 20,000 thoroughbreds born every year only 20 earn the honor to run in the the US' largest race. In short, they've all beaten the odds to get to this point, but picking the winner this year will be as challenging so we've provided all the betting tips, storylines and odds punters need for the Kentucky Derby 2018.
A Look at the Top Picks
The overall favourite is likely going to be Justify, a California-based entry that won the Santa Anita Derby this year. Ladbrokes and Sportnation.Bet have him as a co-favorite with Mendelssohn at 4/1 odds, while Betway lists him as the clear-cut favorite with 100/30 odds.
While Justify is light in the experience category he has a huge, well-respected and trusted name behind him. Bob Baffert has become something of a legend known for training the best racehorses in the world, as his students have racked up quite the list of accolades over the years.
Baffert's horses have won four Kentucky Derbies, six Preakness Stakes, two Belmont Stakes and three Kentucky Oaks. And many expect Justify to continue that proud tradition. Another of Baffert's thoroughbreds, Solomini, is also a contender in this year's loaded field facing 22-1 odds among bookies.
Todd Pletcher, Baffert's biggest rival, has won the Eclipse Award for Trainer of the Year seven times and come on strong since 2010 with two Derby winners in Super Saver in 2010 and Always Dreaming last year. Pletcher has four horses in this field with Noble Indy (22/1), Vino Rosso (16/1), Magnum Moon (15/2) and Audible (5/1).
While Audible has garnered some favorable odds, Magnum Moon is gaining a lot of buzz as the weekend draws nearer. Born in Kentucky and trained in New York, Magnum Moon won the million-dollar Arkansas Derby in a dominating performance.
His owners, Springfield, Kentucky natives Robert and Lawana Low, are hoping Magnum Moon can score a Kentucky Derby victory on their second try. The only other thoroughbred they'd entered, Steppenwolfer, finished third back in 2006.
"If you're doing it to make money, you're in the wrong sport," Robert Low said. "The economics just don't work. The sport, the love of the animal, that's why we're in it. I'm a little superstitious. I'm not gonna bet on him. I don't want to weigh him down. Those wagers put an additional weight on the horse."
Favourites On a Roll in Recent Derbies
From 1980 to 2000 favorites were winless at the Derby, but they've won five in a row. According to Dan Wolken of USA TODAY, the adaptation of trainers to new strategies and a new point system to determine the field have contributed to this success.
"The recent run of favorites isn't necessarily a fluke because it lines up with the establishment of a points system tied to particular prep races in order to qualify for the field," Wolken wrote. "In essence, that has weeded out the cheap speed horses who had no shot to win, making it a truer run race with fewer fluky elements."
If you're buying into the trend and expecting a big favorite to hit the winner's circle, the best way to bet the derby, according to Wolken, is to try for bigger paydays with superfecta, exacta and trifecta wagers.
While the eventual final odds for the favorite may not be as thrilling to bet on, combining what feels like a sure-fire winner with some longshots to place, could be a fun way to get lucky. One name that's generating some buzz across multiple news sources is My Boy Jack, currently listed at odds of 25/1 to win.
All that being said, however, there's plenty of reason to believe that this year's derby might buck the trend as there's some serious conflicting superstitions and potential firsts that could really shake things up.
---
Check Out: BetAmerica Sportsbook For Free Bets and Welcome Bonus.
---
Mendelssohn an Intriguing Contender
Mendelssohn is looking to prove that a foreign horse trained outside the U.S. can win the Run for the Roses. While he was born in Kentucky, he was quickly shipped overseas where he spent his entire career.
With an impressive resume including a win in the UAE Derby the first time he ran on dirt, Mendelssohn is being viewed as the horse that could break the mold and make history. But being listed among favourites creates an interesting "something's gotta give" situation between the trend of favorites winning and non-American trained horses going winless.
Worth noting, Mendelssohn had his inbound flight from Ireland diverted to an unexpected landing in Indianapolis and had to truck an additional 125 miles to Louisville. He had to spend two days in quarantine and won't get to exercise until Thursday morning so this unique travel route should be taken into account.
Mendelssohn's flight from Ireland to Louisville diverted to Indianapolis, reportedly because one of the grooms did not have proper paperwork for customs. Why Indy customs would be different? No idea.

— Tim Sullivan (@TimSullivan714) April 30, 2018
The Curse of Apollo
One of the commonly repeated phrases you'll hear going into this year's race is the "Curse of Apollo." That's mainly due to the fact that were they to win, Magnum Moon or Justify could essentially break that curse. It's named for Apollo, the last horse to win the Derby after not running in its second year.
The curse dates all the way back to 1882, out lasting most major professional sport curses. Perhaps the persistence of the jinx is based more on shared trainer strategy and common knowledge than fear and superstition, but recent developments in that training strategy could lead to its end.
While in the past, it would be customary for horses in the Derby field to share extensive experience running sometimes up to 10 races, some of the most recent winners have come in much lighter. Magnum Moon has run just four races in his career, while Justify has only three on his resume.
Recommended Betting Sites

Secure

Trusted

Verified
Be first to get our exclusive sports offers!
Join today to stay up to date on your states gambling news and offers.
Betting Strategy Articles