Democratic Primary Betting Odds 2020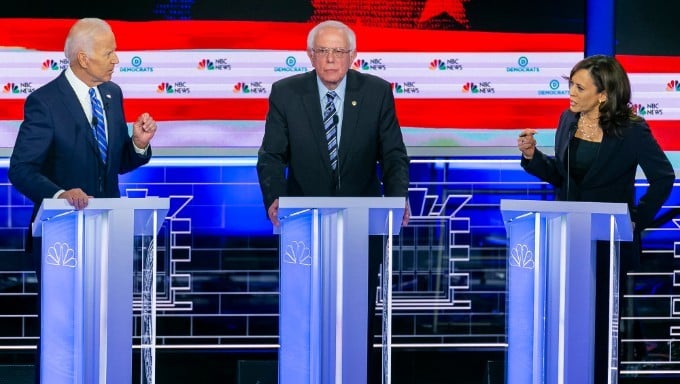 Democratic Primary betting can be a very lucrative business for keen-eyed political betting enthusiasts. In 2016 it was the GOP flaunting what felt like an endless list of potential nominees, but now it's the Democrats' turn.
Elizabeth Warren at 9/10 has moved into the betting favorite to become the Democratic Nominee for the 2020 Presidential Election. Sen. Warren is ahead of former VP Joe Biden at 4/1.
2020 Democratic Nomination Odds
| Candidate | Odds |
| --- | --- |
| Elizabeth Warren | 9/10 |
| Joe Biden | 4/1 |
| Hillary Clinton | 8/1 |
| Pete Buttigieg | 14/1 |
| Bernie Sanders | 14/1 |
| Andrew Yang | 17/1 |
| Kamala Harris | 20/1 |
| Beto O'Rourke | 50/1 |
| Tulsi Gabbard | 66/1 |
| Cory Booker | 80/1 |
| Amy Klobuchar | 100/1 |
| Michael Bennet | 150/1 |
| Julián Castro | 150/1 |
| Marianne Williamson | 150/1 |
| Steve Bullock | No Odds |
| Wayne Messam | No Odds |
| Tim Ryan | No Odds |
| Joe Sestak | No Odds |
| Tom Steyer | No Odds |
Trump might have a strangle hold on the Republican nomination, but the Democratic nomination is still relatively wide open for 2020 despite two debates behind us. Expect the crowd to finally start to thinning, though, after ballooning to over 20 candidates.
How Democratic Primaries Work
In order to determine who will represent their party, every state will vote in either a primary or a caucus.
There are subtle differences between the way they both work, and matters are further complicated by the fact that each party and state has its own legislation about exactly how to conduct them.
The basic process works in the following way: party delegates (elected officials) pledge their support for a presidential candidate, before party members vote for their chosen delegates to attend the national convention, based on who they support.
The delegates then attend the convention and vote for their presidential candidate.
3 Things to Consider When Betting Democratic Primaries
Super Delegates | Some delegates aren't pledged to a specific candidate, and can vote however they choose at the national convention. Lots of super delegates can mean last-minute twists.
Closed/Open Primaries | Closed primaries only allow registered Democrats to vote, in open primaries anyone can vote (in either Democrat or Republican primaries, never both).
Proportional Representation | Unlike the Republicans, who can operate winner-takes-all primaries, the Democrats use proportional representation – meaning the delegates reflect the percentage of the vote they receive.
Key Dates to Track
Timing your bet is vital to extracting maximum value from Democratic primary betting, and there are a number of historically important events and dates that can help you get this right.
Iowa caucuses and New Hampshire primaries traditionally open the presidential candidate selection process; since 1976, every single nominee from both parties has won one of these, so these markets are worth looking into.
The Iowa Caucuses are set to take place on February 3, 2020.
New York and California, which now votes on Super Tuesday, tend to be reliable as they are generally the states with the most Democrat delegates.
Since the 1980s, Super Tuesday has been the day on which most states hold their primaries, and it's generally make-or-break time for serious candidates. Super Tuesday is planned for March 3rd, 2020.
Democratic Nomination Betting Strategies
There are plenty of ways to build a betting strategy when gambling on the outcome of the nest U.S. Democratic Primary. For example:
Choosing an outsider. | In the early markets, spreading several bets across fancied outsiders could yield big returns.
Cashing out. | If you do opt to back outsiders, some bookies will let you cash out before the bet has run – excellent if the twists and turns hit, as expected, on key dates.
Waiting for the right odds. | Alternatively, hold off on your favorite until they face adversity and their odds lengthen. Even a fancied favorite could hit a stumbling block at some point.
Use your research to develop a strategy that suits your betting outlook, and don't deviate. A big risk with emotive betting markets like the Democratic primaries is getting caught up in media hype, which can cause problems.
In addition to choosing who to back and when, you might want to consider checking out the U.S. Presidential election betting market too. Remember, the prices in all political betting markets change quickly.