FC Pinzgau: The Austrian Underdogs With The American Dream
Last Updated:
28 Sep 2022
Saalfelden Arena, the home of FC Pinzgau, is overlooked by a medieval castle in the Austrian Alps
---
When searching for inspiration for their quest to rise through the divisions with the goal of competing in Europe, FC Pinzgau Saalfelden don't look to the obvious examples.
The likes of Sheffield United – who were in England's third tier as recently as 2017 but are now vying for Europa League qualification – and Leicester City, arguably the greatest underdog achievers of them all, are far from the forefront of their thinking.
Instead, Austrian Regionalliga West outfit FC Pinzgau Saalfelden – or FCPS for short – have an inspiration a lot closer to home when it comes to plotting out their plan towards the top of European football and the lucrative potential that comes with it.
---
Check Out: Latest odds and offers available at these Football Betting Sites.
---
That team is Linzer Athletik-Sport-Klub, better known as LASK, who were brought to the attention of the world earlier this year when they were drawn against Manchester United in the knockout stages of this season's Europa League.
"There's one example in Austria that we can point to a couple of hours down the road and that's LASK, who were in the third tier here three or four years ago," FC Pinzgau Managing Director Mark Ciociola, who began the project with fellow Americans Steve Paris and Trey Fitz-Gerald three years ago, told Gambling.com.
"That's a very big underdog story right here at home and they've done it the right way, they built up their programme, and when we look at them we think, if they can do it why not us?"
Established 1999
#ad. 18+. Gamble Responsibly. Begambleaware.org. Spread betting losses can exceed deposit. Plus Best Odds On All Premier League Matches(fixed odds Match Odds, pre-match v top 5 bookies on Oddschecker). See full details.
Of course, every lower league club has ambitions of one day reaching the top tier and taking things from there, but what makes third division club FC Pinzgau different, other than the beautiful surroundings of their facilities, is how they plan to go about it – fan ownership.
"One of the things that makes this different from other fan owned clubs is that it is actual ownership," adds Wisconsin native Mark, who came to Europe in search of a club to implement his grand plan having grown tired of the standard US models which too often leave fans empty handed.
"It's not a membership model or a yearly fee model, it's legitimate ownership with stock and you can log in to see your shares, which are tradeable and sellable.
"We've had people who have invested in the club that have said from their traditional investments they watch the ticker, but with this particular investment they watch the table and look out for the scores every week.
"It's a whole new way to engage and it changes the way people watch the match because they have a vested interest in it.
"The second aspect of it is that we have genuine aspirations and we're promotion contenders so it's a chance to be a part of the growth of the club, to hop on in the third league and make a meaningful impact in the club's rise as we go up to the second tier and hopefully the top tier soon after.
"So yes, it is a financial investment, but people are also willing to help, our investors have been asking what they can do to help out using their skills – whether that's marketing, social media or graphic design – which has given it a real community feel."
Fan Ownership Done Right?
From the likes of breakaway community clubs FC United of Manchester and City of Liverpool FC, to NFL kingpins Green Bay Packers at the higher end of the scale, fan ownership has been tried and tested in many variations, but FCPS believe they've finally nailed the model in a way that can be both socially rewarding and profitable for investors.
"I grew up in Wisconsin so I'm very familiar with the Green Bay Packers' model and that's kind of where I based this on," adds Mark. "But with the Packers you're not allowed to sell your shares or trade them, you don't get any benefits, no discounts at the team store or season tickets, so the benefits associated with it are pretty much non-existent.
"You get a certificate, so I guess it's more of a novelty thing. But I figured what if we took that model and made it legitimate ownership whereby you get perks associated with it so people can see behind the curtain of what actually goes on at the club.
"We do have lofty ambitions so our first goal is to get promoted to the second tier, once that's achieved we'll set our sights on the top league.
"It's no secret why we picked Austria – not only is it a beautiful place that people would want to come and visit all the time, but there's also accessibility to the Europa League and Champions League spots at a fraction of the cost for what it would cost to reach those goals in Germany, England, Spain or France.
"That is our ultimate goal – to get ourselves in a position to compete in the Champions League. We're in our early stages, but we have some very passionate people who have jumped on board, and seeing their excitement about it is really encouraging as we continue to grow."
Indeed, one of those to have jumped aboard is Christian Ziege, the former Germany international who had such a storied career playing for Bayern Munich, Milan, Liverpool and Tottenham, among others.
Ziege's son Alessandro was already on the books at the club when former first team manager Markus Fürstaller parted company with FCPS after failing to mount a serious promotion challenge. Since he was living locally and familiar with the club through his offspring, it seemed the perfect match.
Ziege Puts Pen To Paper
With experience as a coach and Director of Football at German Bundesliga club Borussia Mönchengladbach, getting Ziege to agree a long-term contract as the club's first team manager was a huge coup and a real signal of intent. So impressive have the club's owners been with Ziege, he has since been made Sporting Director in a dual-role.
"I have a lot of experience in being in different places, playing for big clubs and having big success, but after all that I just decided with my wife to move to Austria, in to the mountains because we love this area," Ziege told Gambling.com.
"For me, it was almost a coincidence to become manager of this club. I wanted to help because my son was playing here and when they sacked the manager last year, all of a sudden there was this big opportunity, and I love it here.
"It is challenging, doing both roles, but because I had a similar role at Borussia Mönchengladbach – in different circumstances of course – I have enough experience, and I have to say I like it because we get things done quicker and we keep things simple.
"We're just at the beginning of hopefully a successful journey, so I think it's a good decision, and it's not just about me, we have quicker conversations without too many people being involved and a lot of people in the club are helpful with me as well."
German managers are held in high regard all across Europe and beyond right now, thanks in no small part to Jurgen Klopp, the current manager of Ziege's old club Liverpool, who have just been crowned Premier League champions, their first league title in 30 years, adding to last season's Champions League triumph.
"I take inspiration from him every day because he is so successful and he's shown it now on three different levels, at three different clubs, all the while sticking to his principles," said Ziege of Klopp.
"It has been the same with him since the beginning. To make it work, everyone around him has to understand what he wants. For example at Mainz, even when he was struggling to get the team promoted at the start he stuck with his style and I think at the fourth attempt they went up.
"They're still in the Bundesliga now, which is amazing. Then he went on to Dortmund, another level up but still the same guy with the same style, and he changed the mentality of the club, they became German champions, won the German Cup and reached the Champions League final.
"Then at Liverpool he again persevered with what he believed in, even after losing a couple of finals, eventually winning the Champions League and then the league for the first time in how many years?"
Understandably, Ziege stopped short of directly comparing himself to the Liverpool manager, widely regarded as the best in world football at this moment in time, but in describing his own approach to management there are some similarities.
He said: "My management style is quite simple – I ask for 100% whether we're training, playing or otherwise, anything we need to do to win games, it's important for full commitment.
"In between and around the club I try to help players as much as I can and I like to think I'm someone they can rely on, someone they can come to if they have problems or questions.
"You have to use your training sessions to work without wasting time. Sometimes, in my experience, players don't always give 100% on a given day and you lose preparation time if that happens, so my biggest issue is to always utilise your time when you come to the training ground and not just have a nice time, we have to work hard."
Form Upturn Under Ziege
The early on-field signs have been very promising during Ziege's tutelage. In his first full season in charge, the team were on course for a place in the Regionalliga West playoff spots, which would have given them a shot at promotion to the second tier.
Alas, the global pandemic put that notion to bed, at least for the time being, as the season was cancelled. However, the situation hasn't dampened the spirits of Ziege or anyone else at the club.
He said: "The smaller teams have the same issues in a smaller context than the bigger clubs. There's still a possibility for every club to reach the ambitions that they had before Covid-19 but, overall, after all this it will be difficult for everyone at every level.
"I have a long journey behind me at big clubs as a professional player and coach, but I'm happy in the place that I am right now and I hope everyone at the club – me, the players, the fans, the owners – can reach the targets we have set out."
Many smaller targets have already been reached. For one, the average attendance had doubled in the last year before the pandemic struck, while locals have warmed to the project after initially seeming a little frosty towards their new American ownership. Signings such as clever Argentine Pablo Ruiz certainly helped bridge that gap.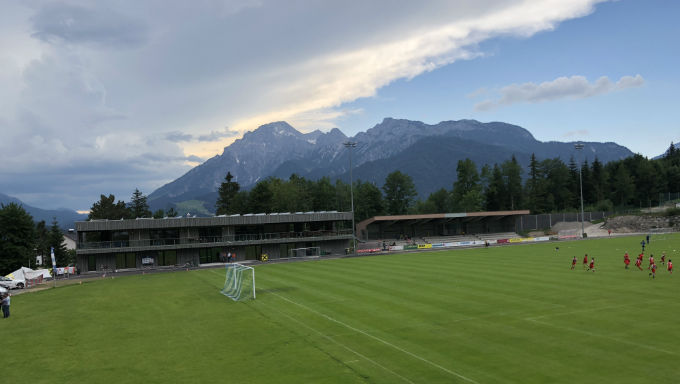 Off the field, things are moving in the right direction too. With the minimum investment set at $500, the club have attracted part-owners not only from America but also from India, South Korea, Malaysia, Singapore, Britain and Ireland through their Fan Owned Club initiative.
"What we've said from the outset is that we're not here to make this club American, we're coming in to make the best of both worlds so that at the end of the day it's still an Austrian club, it still has its traditions and its way of doing things," said Mark.
"We want to mix some of the best things about the traditions of the club with some American flavour, and we made that known from the get-go."
They're already taking measures in the event of quick success too – their floodlights are being replaced to meet the standards of the top two tiers in Austrian football. Meanwhile, talks have been held with an Italian architect over a redesign of their tiny little ground – which offers the unique aspect of being overlooked by a medieval castle – in order to one day meet UEFA's 8,000-seat minimum criteria for staging a Europa League or Champions league game.
Not too dissimilar to how Austria's Seefeld Casino has become a bucket-list venue for globetrotting poker fans, the plan is to market FCPS's facilities as a holiday destination for part-owners to come visit, unwind in the scenic mountains and watch their football team play at the same time.
The next stage of their adventure is a pre-season friendly with French giants Marseille on July 19, a game which will be streamed live online for their growing global fanbase, as will all of their games – competitive or otherwise – going forward.
Perhaps in years to come FC Pinzgau Saalfelden will be the inspiration for other clubs plotting their route to the top.

Stay In The Loop With Free Bets, Insider Tips & More!
Live Betting. Sports Promos. Sent Weekly.