38 Games Unbeaten – Who Did It Best, Liverpool or Arsenal?
© PA
Klopp's side are looking to emulate Wenger's greatest Arsenal side by going a league season unbeaten (© PA Images)
---
It may have taken three decades, but Liverpool look set to get their hands on the Premier League trophy for the first time since its inception.
The Reds were last crowned champions of England in May 1990 when they lifted the old First Division trophy for the 18th time. It was their 11th domestic title in 18 seasons and few would have expected them to have a 30-year wait for their next league success.
Since their last title with Kenny Dalglish as manager, the Anfield outfit have won 14 major honours including two Champions League trophies, but the league title has remained out of reach.
With a 14-point lead at the top of the Premier League with 17 games to play and a game in hand on their nearest challengers Manchester City, the title is Liverpool's to lose and the long wait is expected to come to an end, so much so that online bookmakers are now 1/33 about a 19th league title for the Reds.
Liverpool supporters have had to be patient as they watched their bitter rivals Manchester United win 13 titles, but their patience is being rewarded with arguably the best football ever seen in England's top flight.
Arsenal laid claim to that when they went the entire 2003-04 league season unbeaten, but Liverpool look ready to emulate the Gunners, with Bet365 only willing to offer as high as 5/1 on the Reds remaining unbeaten in the Premier League over the full 38 games.
However, Klopp's men – who were crowned the best team in the world after winning the FIFA Club World Cup before Christmas – took their unbeaten run in the league to 38 with a hard-fought 1-0 win at Tottenham on Saturday thanks to Roberto Firmino's goal.
As such, comparisons are already being made with Arsenal's 'Invincibles' team and it's Liverpool who are coming out on top over the two 38-game periods.
---
Statistics: Charlie Mullan
---
The Reds have taken 12 more points than Arsenal (104 to 92) whilst scoring 11 more goals and conceding two fewer. Over the 38 games, Liverpool have taken 2.73 points per game while Arsene Wenger's side managed 2.42 points per game when they won the title.
Klopp missed out on the title last season by a single-point to Manchester City despite losing just one game, their only loss in the last 60 Premier League games. Many believe the only team that can stop Liverpool from winning the title this season is Liverpool themselves.
They are still involved in the Champions League and the FA Cup, with their treble odds priced up at 33/1 – but in the league they'll hope to beat City's remarkable record total of 100 points, set in the 2017-18 season.
Should Liverpool do the unthinkable and win their remaining 17 games, they will finish on 112 points from a possible 114 to take invincibility to a new level.
However, one former Liverpool player admits the debate can be settled almost instantly, with Arsenal and Preston still the only teams ever to have gone a full top flight league campaign unbeaten, the latter of which was achieved across 22 games in 1888-89.
"This run of unbeaten games makes it tempting to start the comparisons already, but ultimately you can kill the argument by saying Liverpool haven't done it over a full season, you have to be 'invincible' from start to finish," former Reds defender Phil Babb told Gambling.com.
"But don't take anything away from Liverpool's achievements over these 38 games. It's been brilliant, it's been progressive and it's been methodically plotted out by Jurgen Klopp and his backroom staff who have got a group of lads together with a winning mentality.
"What's even more impressive is that they've had a few defeats in cup finals in the past and they've come back as stronger characters with a will to just keep going. And right now, they look as though they feel invincible on the pitch."
League Title The Main Aim
But feeling invincible and actually going out and achieving the ultimate dominant domestic triumph are two very different things, though Babb believes Liverpool will at least accomplish their primary aim of ending their three-decade wait for a league title.
He added: "Even earlier this season when they were conceding quite a lot of goals – although they seem to have stemmed that flow now – they still had that belief to come back late on or see games out, and that is the sign of champions.
"But if you want to call them invincibles, then it has to come over a full league season – they're 17 games away from it and it's a challenge I'm sure they'll relish.
"Comparison wise, that's the best way to size both teams up, so let's see if Liverpool can do it."
Indeed, with Manchester City being back-to-back champions with previously unprecedented points hauls of 100 and 98 in the last two respective seasons, some have suggested both this current City side and Champions League holders Liverpool are better than the Arsenal team of 2003-04.
Arsenal lost the 2006 Champions League final to Frank Rijkaard's Barcelona so Wenger was never able to tick that box with the Gunners, but Pep Guardiola has not won the Champions League since his second with the Catalan giants in 2010-11.
---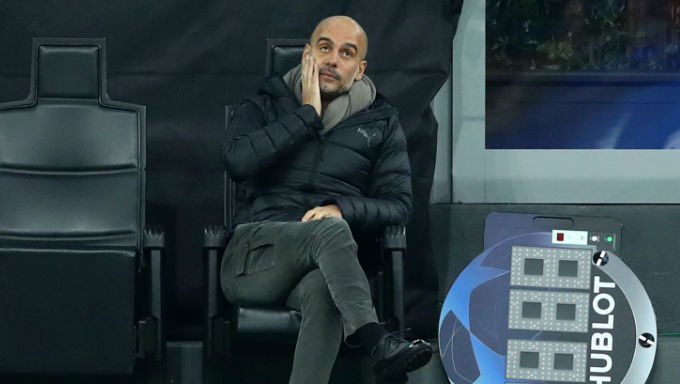 Guardiola is under pressure to deliver the Champions League at City having failed to do so at Bayern (© PA Images)
---
Nonetheless, Babb believes City are well placed for a first European Cup win this year, backed up by the bookmakers' odds of 7/2, making them slight favourites ahead of the Reds (4/1).
"Are Liverpool and Manchester City the best two teams in Europe? I would say yes," said Babb.
"Obviously, Manchester City haven't won the Champions League and that will be bugging Pep Guardiola, but they're well in the hunt this season.
"And as for Liverpool, they're world champions and reigning European champions, Premier League champions-elect – what a squad, what a team. If they do manage to stay unbeaten in the league, then you'd have to say yes, they are better than the Arsenal invincibles.
"Liverpool and City are two fantastic teams and it will be interesting when Liverpool go to the Etihad in the league.
"City will be thinking – if Liverpool are still unbeaten at that stage – that they'd like to throw a spanner in the works by ending that run. And with the way City are playing at the moment, they look like the only team in the league that could beat them, Liverpool are that strong.
"There's obviously the Manchester United game at Anfield this weekend first – they've been able to deal with Liverpool more often than not in recent years even without Sir Alex Ferguson, so that will be an interesting game too."
Do Liverpool Need To Buy Anyone?
Meanwhile, Liverpool have gone 585 minutes without conceding a goal. Not since Richarlison scored Everton's second in the Reds' 5-2 derby win at Anfield on December 4 has their defence been breached.
Despite a return to fitness and form for Joe Gomez in the absence of Joel Matip, Babb has some concerns over the injury record of both central defenders and believes Virgil van Dijk could benefit from having a steady partner with a more reliable injury record.
"As a fan and a broadcaster I wonder where Klopp can improve the squad and I'd probably say they might want to look at bringing in another top centre-half," he said.
"That's only because of the injury records of Gomez, Matip and Dejan Lovren. Virgil van Dijk is like a thoroughbred horse, very rarely gets injured, and if he could have another world class centre-half constantly alongside side him that would bolster Liverpool.
"I can't see them doing that, but it might be in the back of their minds. I say this with a heavy heart because I'm a big fan of Joe Gomez – I have been since he was at Charlton when I was doing agency activity years ago. I started tracking him and was made up when he went to Liverpool.
"But if you look at the Liverpool squad and where they might need to strengthen, the only place I can think of is centre-half. You look at the full-backs – no need to strengthen there, there's good young cover at left and right back, and Gomez can go there at a push, as can James Milner on either side.
"In midfield there's a plethora of talent all capable of adapting to the tactics suited to each game. And then up top, the front three speak for themselves and Divock Origi and now (Takumi) Minamino offer good support from the bench as well.
"I'm not so sure they will go into the market again this month or even in the summer, but from my point of view centre-half is the only position that may need addressed.
"Can you imagine Virgil van Dijk and Kalidou Koulibaly together? That would be some centre-half partnership."
Ironically, Koulibaly – who has been linked more heavily with a move to Manchester United – has been unavailable for Napoli's last three games with a muscle injury, but missed only three Serie A games last season, all of which were through suspension.
Despite the constant links to United, bookmakers rate Manchester City as the sturdy Senegal international's most likely next club, with Unibet and Betfred going as short as 2/1 and 11/4 respectively.
Stay In The Loop With Free Bets, Insider Tips & More!
Live Betting. Sports Promos. Sent Weekly.
Betting News Articles