Stanley Cup Finals 2018 Betting Tips: Top 3 Bets to Consider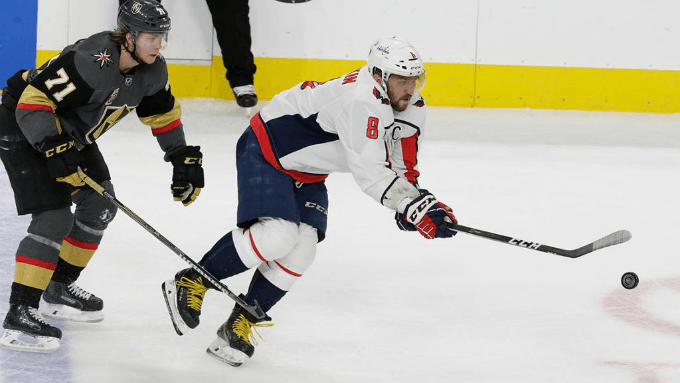 This may end up being one of the most difficult sports championship events let alone Stanley Cup Finals to bet on. Normally there's a team that's been to the Finals before or been close enough in recent seasons to be given the nod as an experienced favourite.
This year's favourite, the Las Vegas Golden Knights, weren't even in existence last season and are currently on the most incredible inaugural run for an expansion franchise ever. Their opponent, The Washington Capitals, are in the Finals for the first time since 1998 despite making the playoffs 10 of the last 11 seasons.
The last time two franchises who'd never won a Stanley Cup before met in the Finals, it ended in five games with the 2007 Anaheim Ducks defeating the Ottawa Senators. I'd imagine that was a tough series to predict, and this one will be no different.
Even though the Golden Knights won both contests this season, both games were entertaining and this matchup should make for an incredibly exciting Stanley Cup Finals. Before we get into the picks, let's take a look at how they faced off this season.
Stanley Cup Betting Tips
Hockey betters are sure to have their hands full with this one, so to make things easier, here are the three best markets, tips and wagers to consider before the puck drops Monday night.
Team More Likely to Sweep

The longest shot and biggest potential payout in terms of betting the series outcomes would be picking one of these teams to sweep. It's a testament to both sides' skill and grit that they're each heavily expected to win at least one game.

But if you want to play Devil's advocate or be a Debbie Downer and potentially cash in big time, which team would be the more likely to rip out the other's heart and take the series in four?

Based on how the playoffs have gone, that team looks like Vegas. Yes, the doubts, fears and demons experienced by years and years of playoff disappointment appear to have been squashed by the Capitals.

But what happens if the Golden Knights go up 2-0 and the Capitals head home, where they're 4-5 this postseason, for a desperate Game 3 in an attempt to win their first Stanley Cup Finals game in franchise history? That's a mountain of pressure the Golden Knights could capitalise on.

888sport offers 13/1 odds on a Vegas sweep, while Karamba gives it a +1375 chance if you prefer American odds. Betway says Golden Knights in four is a 12/1 gamble and Betfair gives it an 11/1 shot.

Betting the Overtime Games Market

One of the more interesting markets to take a chance on is the Games to go to Overtime market offered by Ladbrokes. This market could yield some big money given the propensity of both these teams to play very close games that require extra periods.

How significant is that propensity? There've been 10 overtime games in this year's playoffs, and the Capitals and Golden Knights have been involved in eight of them. Washington played in five of them (four in the first round) winning three while Vegas won two of the three it played in.

Neither played in any overtime games in their conference finals, but their meeting and the matchup of two very quality goalies suggests we could see two (5/2 odds), three (7/1 odds) or even four (18/1 odds) overtime games these Finals.

Each Team's Best Series Outcome Value Bet

Picking the Capitals in five games would be a solid and profitable bet for those who expect Washington to finally get over the hump and capture its first Stanley Cup. They may be underdogs, but they've overcome some major doubt and historical obstacles to make it this far and it's difficult to wager against Alex Ovechkin playing the way he has these playoffs.

Sportnation.bet offers +275 odds for the series to end in five games, +675 odds for the Caps to win in five and +215 for the Washington Game 1 win plus series win double. Betway offers 7/1 odds of the Capitals winning in five, while Ladbrokes and Betfair both offer that result at 13/2 odds.

Vegas in six games is the value pick should the Golden Knights shock the world and win the Cup in their first season of competition. Ladbrokes offers 21/5 odds of that happening, 888sport is slightly more profitable at 24/5, Betway and Betfair give it a 9/2 chance and Karamba offers +445 in American odds.

Note that both of these outcomes involve the Cup winner taking home the ultimate prize on the road. That's due to a belief that the theme of road teams having a large amount of success this postseason will continue in the final round.

Look no further than the last round when the Knights quieted one of the most imposing home crowds in recent memory in Winnipeg to win Game 5, and the Capitals defeated the top-seeded Lightning in Tampa decisively in Game 7.
---
Check out: PointsBet For Free Bets and Welcome Bonus.
---
Bonus: Conn Smythe Picks
Betfair's Conn Smythe Trophy market offers an individual player-based bet for those looking beyond the games themselves. The award is given to the player judged most valuable to his team during the entirety of the NHL playoffs.
If the Golden Knights win the Stanley Cup, goalie Marc-Andre Fleury is an absolute lock for the award. He and co-favourite Alex Ovechkin are given 15/8 odds of taking home that piece of hardware.
However, one name that could be a serious value selection is Evgeny Kuznetsov (12/1 odds). He leads the playoffs in points and if he follows that up with a solid showing in the Finals and Washington wins, it'd be very difficult not to give him the trophy.
Recommended Betting Sites

Secure

Trusted

Verified
Be first to get our exclusive sports offers!
Join today to stay up to date on your states gambling news and offers.
Betting Strategy Articles