Adam Caplan's Must Plays for NFL Daily Fantasy Week 5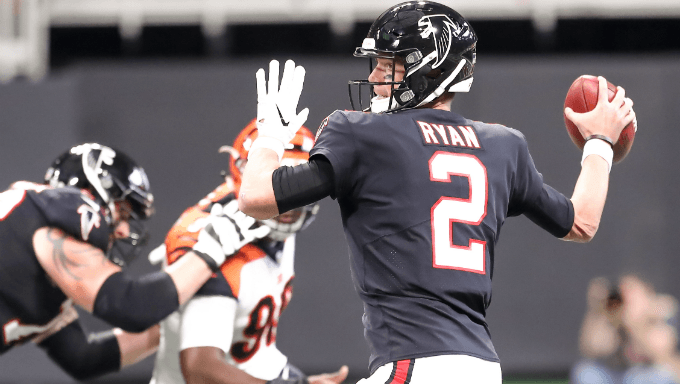 We're back once again as we enter the second quarter of the season.
Some of the trends that we're seeing in daily fantasy football are some offenses (Steelers, Falcons, Vikings in particular) are putting up better than expected numbers because they are having to play from behind due to the struggles of the team's defense.
So the fantasy owners who have taken notice of this trend are benefitting from it each week, and there doesn't seem to be an end in sight.
And with that still being the case, it's off to Week 5!
---
Week 5 Quarterback Best Bet
Matt Ryan = $8,300 at FanDuel
Matchup: Atlanta Falcons at Pittsburgh Steelers
Expectations weren't very high for Ryan owners after last season's dropoff in touchdown productivity, which helps to explain why he was mostly a 10th-round pick this season, but the 11th-year signal caller is off to a torrid start.
Ryan, who is off to one of the best starts of his career, is averaging 2.5 touchdown passes per game along with 329 yards in the air per game.
Because the Falcons defense is struggling so badly, that has forced the offense to play catch up each game, which would help to explain Ryan's strong numbers through four games.
Ryan faces a struggling Steelesr defense, which is giving up over 324 yards passing and four touchdowns per game to opposing quarterbacks, so he should have another strong game for fantasy owners this week.
---
Week 5 Running Back Best Bets
Melvin Gordon = $8,700 at FanDuel
Matchup: Los Angeles Chargers vs. Oakland Raiders
Once again, Gordon wound up getting the job for fantasy owners last week and finished with between 25-30 fantasy points depending on your scoring.
I can't recall a more underappreciated player nationally by fans and the media, yet his productivity is off the charts just about every week.
Gordon, who is averaging 19.5 touches per game, should be on a roll once again this week, as he'll face a struggling Raiders defense that gave up 176 yards and three rushing touchdowns to Browns running backs last week.
Dion Lewis = $5,700 at FanDuel
Matchup: Tennessee Titans at Buffalo Bills
The seventh-year running back is averaging just over 15 touches per game, which would put him on a career-high pace over the course of a season. Lewis, who splits time with RB Derrick Henry, is actually averaging more touches per game than the third-year back.
Lewis will face a Bills defense that is giving up nearly 12 yards per catch and over seven receptions per game to opposing running backs. They've also given up seven TDs to the running back position over four games.
Lewis's versatility should prove to be fruitful against a defense which is having to spend way too much time on the field due to its offense struggling to sustain drives, so look for Lewis to have plenty of touches in this game.
---
Week 5 Wide Receiver Best Bets
JuJu Smith-Schuster = $8,000 at FanDuel
Matchup: Pittsburgh Steelers vs. Atlanta Falcons
While veteran WR Antonio Brown's production is down this season, Smith-Schuster, a second-year pro, is seeing a major increase in productivity.
Smith-Schuster is averaging 7.75 receptions and an amazing 104 receiving yards per game after averaging just over four receptions and 65.5 yards per game last season.
While defenses are paying major attention to Brown, Smith-Schuster is getting open repeatedly each game and he's averaging over 12 pass targets per game.
Smith-Schuster will face a struggling Falcons secondary, which is without both starting safeties for the rest of the season. And it shows, as they're giving up over 43 fantasy points per game to opposing wide receivers.
---
Check Out: DraftKings Daily Fantasy For Sign Up Bonuses & Promotions.
---
Emmanuel Sanders = $6,700 at FanDuel
Matchup: Denver Broncos at New York Jets
The underappreciated ninth-year wide receiver is off to a really good start through four games and is not slowing down despite being over 30 years old.
Sanders, who is averaging a very solid six receptions per game, is also averaging 78.5 yards over his first four contests.
The versatile veteran pass catcher will face a Jets defense that is giving up over 40 fantasy points to opposing wide receivers per game (depending on your scoring). So, this should be a good week to start Sanders against a defense which gave up 260 yards to Jaguars receivers last week.
---
Week 5 Tight End Best Bet
Jared Cook = $5,900 at FanDuel
Matchup: Oakland Raiders at Los Angeles Chargers
I've had Cook in this space before and the 31-year old pass catcher has yet to slow down.
Cook, now in his 10th season as an NFL player, is off to the best start in his career, as he's averaging 6.5 receptions and a whopping 92.5 yards per game this season over his first four contests.
While he's unlikely to keep up this torrid pace, Cook, who has posted 35 pass targets so far, faces a Charger defense that is giving up nearly 15 yards per catch per catch to opposing tight ends.
He hasn't had a game this season with fewer than four catches and is coming off a two-touchdown game, so everything is pointing toward Cook, who is the #1-ranked fantasy tight end in most scoring systems, having another productive game for fantasy football owners.
---
Adam Caplan's NFL Week 5 FanDuel Lineup
| Position | Player | Matchup | FanDuel Price |
| --- | --- | --- | --- |
| QB | Matt Ryan | Falcons @ Steelers | $8,300 |
| RB | Melvin Gordon | Chargers vs. Raiders | $8,700 |
| RB | Dion Lewis | Titans @ Bills | $5,700 |
| WR | Emmanuel Sanders | Broncos @ Jets | $6,700 |
| WR | JuJu Smith-Schuster | Steelers vs. Falcons | $8,000 |
| WR | Kenny Stills | Dolphins @ Bengals | $6,300 |
| TE | Jared Cook | Raiders @ Chargers | $5,900 |
| FLEX | T.J. Yeldon | Jaguars @ Chiefs | $6,500 |
| D | Tennessee Titans | Titans @ Bills | $3,900 |
Play this lineup at FanDuel.
---
---
Daily NFL Fantasy

Secure

Trusted

Verified
Be first to get our exclusive offers!
Join today to stay up to date on your states gambling news and offers.
Daily Fantasy Strategy Articles