101 Greatest Ever Sporting Rivalries
Last Updated:
28 Sep 2022
© PA
In truth, we could write this article 101 times over and the majority of readers would still take issue with the inclusion, omission or position of certain rivalries, but that is precisely why this debate continues to engage sports fans the world over.
A lot of opinions on what is truly the best rivalry in sporting history are influenced by where you're from and the sports you grew up following. The answer, of course, is subjective, but we've trawled all continents to come up with what we believe to be the definitive list of sporting rivalries.
Whether it's a niche sport like badminton, the digital-age phenomenon of eSports, or an activity some wouldn't even consider a sport, such as darts, we have given it consideration. So sit back, prepare to get disgruntled, and scroll through Gambling.com's top 101 rivalries in sporting history.
---
---
Valentino Rossi vs Marc Marquez | MotoGP

The rivalry between Italy and Spain is very real. As is the one between those nations' most successful MotoGP riders – Valentino Rossi and Marc Marquez. The two have dominated the sport since the turn of the century, with Rossi claiming 7 MotoGP titles from 2001 to 2009 and Marquez picking up six between 2013 and 2019. Competition has bordered on crossing the line at times over the years. Scrapes and very near misses at dangerously high speeds have led to comments regarding the other ruining the sport and the two having no relationship.

Argentina vs Brazil | Football

It comes as no surprise that two football crazy nations that have produced legendary players like Pele, Messi and Maradona would have their share of heated clashes over the years. Red cards, crushing defeats and scandals are found all over the history of this rivalry. An infamous match in 1946 saw Argentina's captain have his leg broken by a tackle, resulting in police clashing with players on the pitch, followed by fans storming the field. As recently as the 2008 Olympics, trouble flared between the two sides, with Brazil having two players sent off during their 3-0 defeat.

Michael Phelps vs Milorad Cavic | Swimming

To date, Michael Phelps is the most successful Olympian of all time with a myriad of achievements and a whopping 28 Olympic medals. In 2008, in the 100-meter Butterfly, Michael Phelps was expected to dominate once again, and he wasn't alone in underestimating Milorad Cavic of Serbia. Cavic, who had talked himself up in the run-up the event, was seemingly confident of beating the all conquering American, saying: "I think it would be good for the sport and good for him." Cavic swam the race of his life and as the last 25-meters approached Cavic was still in front, as frantically both reached for the wall. It appeared to the naked eye that Cavic had won, but it emerged in the frenetic minutes after that Phelps had prevailed by 0.01 of a second.

Liverpool vs Manchester City | Football

Manchester City and Liverpool have battled it out on the final day of the Premier League season no less than three times. For perspective, Manchester United and Arsenal – arguably the most-famed Premier League rivalry in the division's history – have only ever went toe-to-toe on the final day once. Manchester City may be relative newcomers to the heavyweight stage in Premier League football, but they've come out on top of all three of those last day deciders with Liverpool. Their rivalry is by no means historic given City's lack of success prior to the investment of oil money from the UAE. Rather, it stems from ridiculously high standards on the field of play, set by managers Pep Guardiola (City) and Jurgen Klopp (Liverpool), with City and Liverpool breaking the 90-point barrier in the Premier League three times apiece since 2018. In the Champions League, Liverpool have had the better of City – dumping them out at the quarter-final stage in 2018 and reaching three finals between 2018 to 2022 – but City have been the dominant force domestically. Quite how sustainable this relentless rivalry is remains to be seen, with both sets of players asked to perform with high intensity by their much-heralded managers. Only time will tell if the rivalry will remain once either manager moves on.

Tyson Fury vs Deontay Wilder | Boxing

These two fighters have been largely credited with the rejuvenation of the heavyweight boxing division, and for good reason. For years the weight class lacked a competitive edge, and was dominated by one Wladimir Klitschko until Fury took his crown in 2015. In the meantime, Wilder built up a reputation as a knock-out artist. A war of words instigated by Fury ensued before their first bout, which ended as a draw as Fury hit the canvas twice in an otherwise dominant display. But the 'Gypsy King' entered the rematch as a different animal and in noticeably better shape. He made short work of the Bronze Bomber, dominating him until a 7th round TKO. Their trilogy fight awaits.

A.J. Foyt vs Mario Andretti | IndyCar

As two of motorsport's greatest ever drivers, with careers which – to a large degree – overlapped, A.J. Foyt and Mario Andretti had a long, storied rivalry. As is often the case in these rivalries, the pair were very different, though the way they drove was the inverse of the personalities. Foyt, the more fiery of the two, was a much more controlled driver, while Andretti, the quieter individual, was known for his swashbuckling, aggressive driving. Given the success each driver had in different disciplines of motor racing, it's tough to say who ultimately had the upper hand, but it was great to watch.

Arsenal vs Tottenham Hotspur | Football

This ancient rivalry stretches back to 1919 when Arsenal were dubiously promoted to the old First Division at the expense of Tottenham as the sport resumed following a four-year break due to the First World War. Then Arsenal chairman Sir Henry Norris – a well-connected politician – masterminded a victory in a vote on who should become the 22nd team in the top tier when football resumed. Tottenham, who had been relegated in the last season played, received just eight votes while Arsenal, who had only finished sixth in Division 2 last time around, won easily with 18 votes. It sparked a bitter rivalry among fans which is as strong as ever, with the two teams separated by just 6.4 kilometres in north London.

James Anderson vs Mitchell Johnson | Cricket

It's ideal when a sporting rivalry is played out across several years at the pinnacle of a sport such as an Ashes Series and that is what you get when you look at two of the premium fast bowlers of their generations for the England and Australian cricket teams – James 'Jimmy' Anderson (England) and Mitchell Johnson (Australia). The pair have been open about their dislike for each other – Johnson has suggested Anderson is one of the biggest "sledgers" in the game and Anderson, quiet and more subtle with the media, does his trash-talking on the pitch. Indeed, he has been overheard several times letting Johnson know exactly what he thinks – "why you chirping now mate?" remains one of the sport's most memorable sledges.

Tipperary vs Kilkenny | GAA Hurling

These two Irish counties are absolutely bonkers about hurling, Ireland's ancient national sport which is considered one of the fastest field sports in existence. The rivalry between Kilkenny of Leinster and Tipperary of Munster stretches all the way back to 1887 when they first met in an All-Ireland semi-final. To this day they remain the two most revered teams in hurling, often battling it out to be crowned National League winners and, more importantly, winners of the All-Ireland, also known as the Liam MacCarthy Cup. Few rivalries in GAA can match up to the quality of 'The Cats' vs 'Tipp' when the sides meet, whatever the tournament.

Michael van Gerwen vs Phil Taylor | Darts

Phil Taylor and Michael van Gerwen are two of the greatest darts players of all time and their rivalry was a classic case of the master vs the student. Almost three decades separate them in age and Dutchman van Gerwen was just 17 when he first played a veteran Taylor, pushing him hard in a 3-2 defeat. MVG eventually replaced Taylor as World No.1 in 2014 after winning his first PDC World Championship but Taylor was more than a match for him even in his advancing years, with their final head-to-head record reading 34 wins for Taylor, 26 for van Gerwen and two draws over 62 meetings.

Canelo Alvarez vs Gennady Golovkin | Boxing

Regarded as two of the best to ever grace the ring at middleweight, a bout between Gennady Golovkin and Saul 'Canelo' Alvarez was long touted and finally given the green light to go ahead in September 2017. GGG was unbeaten at the time with a perfect record, 37-0-0 with 33 KOs. Canelo, on the other hand, was still a rising star in the sport despite having suffered defeat at the hands of Floyd Mayweather. Controversy shrouded the first fight which ended a split draw despite Golovkin out-landing his Mexican foe in 10 of 12 rounds and was the deserving winner in the eyes of many. One year, and one failed drugs test for Canelo later, the rematch took place where Golovkin fell to his first defeat as Canelo cemented his position as boxing's poster boy.

Conor McGregor vs Khabib Nurmagomedov | MMA

While these two UFC superstars have only faced off once in the octagon, it's outside of the arena where this heated rivalry comes to the fore. The pair had previously held admiration for each other but that quickly turned sour, culminating in the infamous Brooklyn bus attack than landed McGregor in handcuffs. Months of back and forth between the two, including one of the most controversial press conferences in UFC history, ended with Khabib submitting 'The Notorious' in the fourth round. Dubliner McGregor has been vocal about his appetite for a revenge ever since, and the UFC will surely want to cash-in on these two at least once more, regardless of McGregor's supposed retirement. Read more about UFC Betting as it includes a complete guide

Garry Kasparov vs Deep Blue | Chess

In February 1989 Grandmaster Garry Kasparov easily dispatched Deep Thought, a chess computer developed by IBM. At the time Kasparov told IBM they forgot one key component - telling their computer 'when to quit'. Fast forward seven years and Deep Blue, a more intelligent version of the same machine, played and lost to Kasparov again. However, the following year, to huge public curiosity in New York City, the two played a series of six games for the final time - and Deep Blue won. The victory was monumental; a symbolic commentary on artificial intelligence levelling with human intelligence that created a real man vs. machine rivalry. Kasparov, shocked at his loss, made accusations that a real grandmaster was controlling the computer. He demanded another rematch but, after their incredible win, IBM programmers dismantled Deep Blue and refused to reconstruct it.

Deion Sanders vs Jerry Rice | NFL

NFL wide receiver Jerry Rice and cornerback Deion Sanders are widely regarded as the greatest players ever at their respective positions. What made it better was the fact that their positions meant they were often lined up directly in opposition when their teams faced off from 1989 through the early 90s. Jerry Rice has since described how each player would spend the night pacing back and forth, as the magnitude of the next day's challenge went through their head. Despite playing on the same 49ers team in 1994, the duo often had confrontations during practice, as one all-time great tried to out-do the other.

Dominique Maltais vs Lindsey Jacobellis | Snowboarding

The first major meeting between these two is likely the moment everyone is most familiar with. Lindsey Jacobellis found herself miles clear coming to the second last jump in the 2006 Olympic final. With just one competitor behind her (Dominique Maltais and another boarder had crashed out), she attempted a method grab in the air, leading to her crashing out and having to settle for silver. A similar fate awaited Jacobellis again at the 2014 games. Out in front in the semi-final, she crashed out, allowing Maltais to pick up the pieces and claim second, en route to an Olympic silver medal of her own.

Dublin vs Kerry | Gaelic Football

Some rivalries can define a sport and that's definitely the case when it comes to Dublin and Kerry in the Irish sport of Gaelic football. Since 1887 these two GAA goliaths have shared 66 All-Ireland Senior Football Championships between them, with Kerry taking 37 and Dublin 29. They have contested 15 finals against each other, with the first taking place in 1893 and the last taking place in 2019 when it took a replay to separate these great sides. In 2020 both counties appear to have the best set of players between them, so this rivalry will continue for a long time to come yet.

West Ham vs Millwall | Football

The violent hooliganism that has blemished West Ham and Millwall fixtures throughout the years is so notorious that it was dramatised in the 2005 film 'Green Street', which is awful it has to be said. Their games, known as Dockers derbies, are known as the most bitter in English football and have led to extreme brutality and even murder in the past. Unfortunately games between West Ham and Milwall are better known for clashes between the two clubs' hooligan firms than for anything that happens on the pitch. The conflict started in the early 20th century when fans of West Ham and Millwall were working for rival docks on either side of the River Thames. This business competition, coupled with their close proximity, saw the rivalry become more intense and violent over the years.

Michael Jordan vs Jerry Krause | NBA

The documentary-series The Last Dance was a massive hit worldwide as it chronicled the dynasty of the 1990s Chicago Bulls team with a fascinating subplot being the perpetual battle between Michael Jordan and the team's general manager Jerry Krause. This is a very odd rivalry in that both of these men should've been on the same side, after all it was Jerry Krause who signed MJ, hired Phil Jackson and built this revered Chicago Bulls team. However, issues with Scottie Pippen's contract, Jordan's complete lack of trust in Jerry Krause and the Chicago Bulls' dismantling of the brilliant team in 1998, at the behest of Krause, led to a continual desecration of their relationship.

FC St. Pauli vs F.C. Hansa Rostock | Football

In the lower divisions in Germany you can find one of the most bitter rivalries in world football, between FC St. Pauli and Hansa Rostock. Germany have given it an ominous nickname that translates as the "fear derby". These two clubs are not close in proximity, with 250km separating them, but a clash of ideologies has led to a fierce rivalry that has turned vicious on several occasions. St. Pauli are an anti-fascist club, well known for their very strong stance on progressive issues, while Rostock attract a large number of far-right supporters who vocally oppose immigration and social integration. This has been a major issue for the club and city since the fall of the Berlin wall - fan violence has been rife since. "You could hand out a €10 million fine," Hansa coach Peter Vollman said in 2011. "It changes nothing. It is hopeless."

T.J. Dillashaw vs Cody Garbrandt

If you were to look up the definition of bad blood, these two could easily feature in the synopsis. Former teammates, and even friends, there is 'No Love' lost between T.J. Dillashaw and Cody Garbrandt. The beef here stems from when Dillashaw left Team Alpha Male, where he and Cody rose to prominence, to join forces with prominent coach Duane Ludwig. Garbrandt was clearly irked by the move, and following months of verbal warfare, they stepped into the octagon. Dillashaw's move appears justified, however, as he not only won the first fight but took the second in impressive fashion. Ethical or not, a trilogy could be on the cards here once Dillashaw serves a two-year ban for doping.

Cuba vs Brazil | Women's Volleyball

While Cuba and Brazil were always strong competitors in the world of volleyball, it was a particular incident in 1996 that gave birth to one of the fiercest rivalries the sport has ever seen. After the Olympics in Atlanta, the Cubans and Brazilians had an 'adversarial' meeting in the locker rooms after their game. It's not entirely clear what happened, but it was linked to Cuban star Regla Torres and her on-pitch behaviour. Basically, the two sides had a huge fight! In every Cuba/Brazil game since there has been insults, provocations and even violence. While the rivalry is not as heated nowadays, it's still marred by the occasional insult and the games between the two are always fiesty affairs.

Michael Schumacher vs Mika Hakkinen | Formula 1

Although far from the bitterest rivalry in motorsport, Mika Hakkinen twice denied Michael Schumacher from ending the worst trophy drought in Ferrari's F1 history. Having won back-to-back Drivers' Championships with Benetton, Schumacher mainly joined Ferrari to end what would become a 21-year spell without the pinnacle title, but the pesky Hakkinen prolonged the wait by two years. Schumacher had already been beaten by Damon Hill (1996) and Jacque Villeneuve (1997) before McLaren re-emerged as a powerhouse with the classic MP4/13 livery. Hakkinen dominated Schuey in 1998, much to the German's frustration, while the Finn also took the title in 1999 when Schumacher missed six races with a broken leg. Finally, Schumacher ended both his and Ferrari's title drought in 2000, beating Hakkinen by 19 points.

Edmonton Oilers vs Calgary Flames | NHL

The Battle of Alberta, as it's known, is a bitter rivalry between the Edmonton Oilers and Calgary Flames in the NHL. The two Alberta teams were dominant forces in the NHL, particularly from 1983 to 1990, a period during which they won six Stanley Cups between them (the Oilers winning five of these). With NHL schedule changes over the years, the teams face off less often now than they did previously. That doesn't help the feeling between the two sides though. In 2020, we saw the first ever goalie fight in the Battle of Alberta, showing that the feud still rages on.

Venus Williams vs Serena Williams | Tennis

It might seem a little far-fetched to describe the Williams sisters' head-to-head duels as a rivalry, since they have won countless doubles titles as a tandem and clearly have a great relationship, but for a long period, they had a very healthy rivalry. From 1999 to 2009, the pair met in the final of 11 tournaments. Venus, the older sister, won the first of those encounters. Serena quickly established herself as the dominant sister though, winning eight of those 11 meetings, including five grand slam finals.

Floyd Mayweather vs Manny Pacquiao | Boxing

After years of back and forth between these two legendary fighters, the pair finally faced off in what was billed as the 'Battle For Greatness' back in May 2015. Their rivalry stemmed back years prior to their bout with issues such as the purse, steroid accusations and the fight location holding back the inevitable. Mayweather, the pound-for-pound No. 1 at the time, eventually came out on top in what turned out to be a dull affair, but talks of a rematch refuse to go away even now.

Ronnie O'Sullivan vs Mark Selby | Snooker

During the 2010s there was perhaps no bigger rivalry in snooker than Ronnie O'Sullivan and Mark Selby. Between 2010 and 2019 the two faced off in all three Triple Crown finals but the rivalry actually kicked off during the 2007 UK Championship semi-final where Selby made O'Sullivan sweat for the first time. O'Sullivan answered the pressure by producing a resounding performance, often argued to be the best of his career. While initially bitter, the contention between the two is now permeated by mutual respect, having faced off and beaten one another over the years. The style of play between both is polar opposite; O'Sullivan prefers gliding around the felt while Selby opts for a calmer approach, something that O'Sullivan was openly critical of in the past.

There's no doubt that Usain Bolt is the best sprinter of all time, as emphasised by his multiple world records and gold medals. In that sense, Justin Gatlin can feel hard done by considering Bolt was an ever-present force throughout his career. One of the most exhilarating events of any track meeting is the 100 metre sprint, and these two were the cream of the crop across multiple memorable tournaments. It was the Jamaican who earned most of the plaudits, but his American rival was never far behind. Gatlin finally got the better of the man who stood on the sprinting pedestal, beating Bolt in his final ever race in 2017. Having previously been banned for doping, twice, Gatlin's victory was a bitter pill for athletics fans to swallow in what had been built up as Bolt's final swan song. Gatlin lapped up such animosity.

Conor McGregor vs Nate Diaz | MMA

'Mystic Mac' had his fair share of rivalries throughout an illustrious career in the UFC. When he dispatched Jose Aldo to win the Featherweight Championship in 2016 most thought Conor McGregor to be an unstoppable force. So, when it was announced that Nate Diaz would step in with 13 days' notice to face him at UFC 197, many expected McGregor to claim an easy victory. That was not the case. Diaz locked in a rear naked choke in the second round forcing McGregor to submit his first ever UFC loss. Having mounted a fierce trash talk campaign during media appearances preceding the fight, it was a devastating loss for the Irishman. A rematch in July 2016 saw McGregor win by majority decision, but the rivalry continues to this day, with the occasional nasty Tweet or interview potshot fired off by both sides.

Peyton Manning vs Tom Brady | NFL

Peyton Manning and Tom Brady could barely have been further apart in terms of their draft capital, with Manning selected as the first overall pick back in 1998 by the Indianapolis Colts, and Brady at number 199 two years later to the New England Patriots. Both were standout players over the span of two decades, leading their teams to the promised land on multiple occasions, although Brady has the boasting rights in terms of Super Bowl rings. What's missing from this rivalry is the thought that these two guys dislike each other, which wasn't really the case. Instead, it was conjured by the media, a yearly comparison of statistics and achievements that was inevitable to be broadcasted about the two best players playing in the same position.

Lazio vs Roma | Football

When it comes to intra-city derbies the Derby della Capitale between Lazio and Roma is the most intense football rivalry in Italy. It stems from strong regionalism, local bitterness and in recent decades, political views. Both sets of fans also feel that their club should be the sole representative of Rome across the country. Relations between Lazio and Roma have never been positive and in the past there have been actions taken by FIFA against each club for racist and violent behaviour, often aimed at players on the pitch. The two sides' 'ultras' often cause trouble outside venues too. In particular, Lazio's notorious Irriducibile will sometimes openly display fascist banners and encourage the intimidation of other sets of fans.

Patrick Reed vs Fans | Golf

Despite having everything in the locker to be a top player on tour, Patrick Reed never seems to have gone the extra mile to make fans cheer. It likely started in 2014, when Reed said he regarded himself as a top-five golfer in the world after picking up his third tour win. Fast forward to 2016 and a reference was made by Reed regarding fans at The Barclays tournament being 'loud and obnoxious'. Boos have been known to follow Patrick Reed, both in PGA Tour events and in the Ryder Cup, and unless he makes the effort to endear himself to fans, that is unlikely to change any time soon.

WWE vs WCW | Pro-Wrestling

With WWE (then WWF) hosting Monday Night Raw at the same time as WCW's Monday Nitro, there was always a ratings war. Superstars jumped ship from one company to the other, not-so-subtle shots at the other company were taken on a regular basis, and spoilers were sometimes given on WCW's live show regarding WWF's pre-taped one. It was one of these spoilers – Mankind winning the WWF title – which inadvertently led to viewers switching over to the other channel to see it. This swung momentum hugely in WWF's favour and eventually resulted in them buying their competition out in 2001.

Roy Keane vs Patrick Vieira | Football

Two Premier League teams at the peak of their powers at the turn of the 21st century were Manchester Utd and Arsenal, led on the pitch by respective captains Roy Keane and Patrick Vieira. This rivalry soaked up tensions of club tribalism, the agony and ecstasy of winning and losing at the elite level and perhaps even the little guy against the big guy, such was their differing physical statures. The clash that will be most remembered between Keane and Vieira actually occurred off the pitch in the tunnel at Highbury in 2005, where the Irishman was restrained by referee Graham Poll after Vieira was alleged to have picked on Keane's teammate Gary Neville.

Nigel Benn vs Chris Eubank vs Steve Collins | Boxing

In what was a golden era for the middleweight and super-middleweight boxing divisions, three fighters defined a six-year period during which time Nigel Benn, Chris Eubank and Steve Collins all fought each other twice apiece between 1990 and 1996. While the rivalry between English foes Benn and Eubank captured the imagination of the British public, it was Irishman Steve Collins who earned the bragging rights – he fought both Benn and Eubank twice each and won all four bouts. The phrase 'you'll never beat the Irish' never rang so true. As for the Benn vs Eubank outcomes, a win for Eubank (1990) followed by a draw in the re-match (1993) has seriously bugged Benn ever since.

Veronica Campbell-Brown vs Allyson Felix | Athletics

American Allyson Felix and Jamaican Veronica Campbell-Brown battled it out for supremacy in the 200 metre sprint for the best part of a decade, beginning at the Olympics in Athens (2004) when Campbell-Brown upset the odds to beat Felix in the 200m final, the first of her three Olympic gold medals. The younger Felix responded with gold at the 2005 World Championships in Helsinki, where Campbell-Brown came fourth. That set the tone for a ding-dong battle between the two on the biggest stages in athletics, with Campbell-Brown defending her 200m Olympic gold in Beijing in 2008 as Felix was again second best. Finally, Felix was able to snatch that much-coveted 200m gold in London 2012, when an aging Campbell-Brown could only manage fourth.

Chuck Liddell vs Tito Ortiz | MMA

They may have been friends before becoming rivals, but MMA duo Chuck Liddell and Tito Ortiz certainly lay claim to having one of the most heated rivalries in the UFC's history. One, perhaps, which helped put UFC on the map. From their first meeting at UFC 47, where Liddell handed Ortiz his first knockout, to the rematch (a UD win for Liddell) at UFC 66 setting a PPV record for the company which would stand for almost two years, fans wanted to see them get it on. The war of words between the two continued when they were selected as opposing coaches for the Ultimate Fighter. A third UFC clash finally materialised in 2018, with Ortiz finally inflicting some revenge with a first-round knockout win. Read more about MMA Betting here as we have put together a complete guide.

USA vs Europe | Pool

Since its inception in 1994, the Mosconi Cup has grown and grown in popularity. So too has the rivalry between the two teams. Billed as the Ryder Cup of nine-ball pool, tensions between the US and European teams have been known to boil over. Given the usual hostile atmosphere and partisan crowds, it's no wonder we've seen flying cues and smack talk which can go beyond the line. With fiery characters like USA's Earl 'The Pearl' Strickland being a Mosconi Cup mainstay over the years, the potential for things to spill out of control has been as much a reason to watch as the pool.

Adrian Maguire vs Richard Dunwoody | Horse Racing

Throughout the early 1990s in the UK, national hunt jockeys Adrian Maguire and Richard Dunwoody were entrenched in a bitter rivalry. The all-conquering Richard Dunwoody rode 1874 winners, was a three-time champion jockey, while Adrian Maguire rode 1024 winners in the UK and has been described as "the greatest jump jockey never to end up as Champion Jockey". For years these two were competing to be the very best and there was absolutely no love loss between them. It all came to a head in 1994 when Richard Dunwoody was banned for 14 days when he intentionally and recklessly manoeuvred his mount to send Maguire and Mr Geneaology crashing into the course's plastic safety rail as Maguire was forced to swerve away from the second last hurdle.

AC Milan vs Inter Milan | Football

The Milan Derby, or the Derby della Madonnina as it is known in Italy, is the first fixture fans of Inter Milan and AC Milan look for when the new season schedule is released every year. Both clubs have ruled Europe on multiple occasions and, domestically, they can count themselves among Italy's most successful, although in recent years AC and Inter have each fallen a little short of the standard we once expected. Nonetheless, you can expect fireworks every time the two sides meet. In some cases that can be literal – the second leg of their 2005 Champions League tie was abandoned after 73 minutes as Inter fans set off a huge amount of fireworks inside the San Siro, one of which struck AC keeper Dida.

Alex Ovechkin vs Sidney Crosby | NHL

The media was largely responsible for the perceived rivalry between the two early in their careers, but by 2009, when Crosby's Penguins faced Ovechkin's Capitals in the playoffs, it was clear these were two generational talents. The pair each scored a hat-trick in the same game during that series, though the Penguins would prevail and go on to win the Stanley Cup. Fast forward to 2016 when the two faced off again in the playoffs, with Ovechkin's better individual numbers not enough to prevent the same fate. Another playoff defeat for the Caps in 2017 made their eventual Stanley Cup victory in 2018, and Ovechkin finally one-upping Crosby, all the sweeter.

Lewis Hamilton vs Nico Rosberg | F1

It's hard to believe that the Lewis Hamilton/Nico Rosberg Formula 1 rivalry isn't straight out of a movie. The two have known each other since they were teenagers, when they raced together for Mercedes Benz McClaren in Formula A. Hamilton became European Champion in 2000, with Rosberg just behind, setting the stage for years of professional dissension. While their rivalry played out for more than 15 years, it became most heated between 2013 and 2016 when the two competed on the same Mercedes team. During those three years there were many volatile moments on and off the track, culminating in a dramatic maiden World Championship for Rosberg, after which he retired from the sport.

Boston Bruins vs Montreal Canadiens | NHL

This one dates back to the 1924, when the Boston Bruins entered the National Hockey League. Fights are common in the NHL, but 1955 saw something which went far beyond the violence usually seen. After being high-sticked by a Bruins player, Maurice Richard could not be held back by officials and proceeded to break his stick over an opponent and punch a linesman. The rivalry was reignited in 2017 when Claude Julien was fired by the Bruins and became Canadiens head coach just a week later. The Canadiens have the upper hand historically, but since the 90s, this rivalry has been very much nip and tuck.

USA vs Japan | Women's Football

Two of the world's most successful female footballing nations have continuously clashed on the biggest stage at the Women's World Cup since the inaugural 1991 tournament. The rivalry peaked and is best demonstrated by two thrilling back-to-back World Cup finals with Japan securing glory on penalties in 2011 following a 2-2 draw before USA took revenge four years later in 2015, winning 5-2. The US also took the Gold Medal game at the 2012 Olympics against Japan, winning 2-1, and whilst women's football continues to take higher precedence in countries like Holland and England these two nations are still considered the biggest draw in international match-ups within the female game.

Kentucky vs Louisville | NCAAB

A lot of college sports fans have their allegiance split between their college team and the professional team from their state or city. There is no professional sports team in the state of Kentucky, which means support for these two local rivals can reach fever pitch, with glory and – just as importantly – bragging rights on the line. Since 1983, college basketball has seen an annual clash between the Kentucky Wildcats and University of Louisville Cardinals. The rivalry perhaps peaked in 2012, when they met in the Final Four of the NCAA Championships, with Kentucky running out victorious before claiming the title.

Germany vs England | Football

The Germany vs England football rivalry is a phenomenon that is embroiled in history, and not just for footballing reasons. However, on the pitch, these two nations have come face-to-face on a number of vital and memorable occasions. Both of these international sides are steeped in history, but results have firmly been in Germany's favour ever since England won the 1966 World Cup. Since then, Die Mannschaft knocked out England's 'golden generation' in Italia 90, and then again in Wembley at the 1996 European Championships where they went on to win on enemy soil. Germany's World Cup win in 2014 solidified their recent dominance, but England - now with a new crop of exciting talent at the helm - will look to regain some of the bragging rights they seemingly lost decades ago.

Jon Jones vs Daniel Cormier | MMA

Two of the most recognisable names in UFC history, Jon 'Bones' Jones and Daniel 'DC' Cormier have shared the Octagon twice in total, but their animosity goes further than the canvas. Jones was the dominant force in the light heavyweight division, but his career was somewhat marred by multiple drug test failures. Cormier was also unbeaten but didn't command the same superstar authority as his rival. After months, if not years, of back-and-forth they went toe-to-toe at UFC 182 where Jones emerged victorious via a decision, before winning the rematch in emphatic fashion two years later. That result, however, was overturned after Jones failed another drugs test, but a third fight could still happen.

Sebastian Coe vs Steve Ovett | Athletics

Two perfectly matched athletic rivals from opposite ends of the life spectrum, Sebastian Coe and Steve Ovett usually preferred to race apart from each other, choosing different countries, meets and races to run in and preserve their actual head to heads to Olympic finals or races of championship nature only, peaking at the 1980 Moscow Olympics. That certainly added to the hype and tension which lived around a consistent exchange of world records across the 800m, 1000m and the Mile distances. Whatever one did the other was close behind to snatch it back often within weeks, days and in some extraordinary cases only hours!

Besiktas vs Fenerbahce vs Galatasaray | Football

Known as the 'Big Three', this trio of Istanbul-based football clubs are the most successful in the Turkish Super Lig and represent some of the most hostile arenas in world football. But while tensions are high no matter which two sides meet, the sense of animosity between Besiktas and Galatasaray is most evident. Both have large fanbases, who share an international team alliance, and their home grounds are a sight to behold in full flow, boasting ear-piercing decibel levels. Football hooliganism is engrained into the culture of all three clubs, which presents a nightmare for local authorities given the potential for violence. While this certainly is a rivalry on the pitch, off-field antics invariably makes the headlines.

Alabama vs Auburn | NCAAF

A rivalry dating back over 100 years, the Alabama Crimson Tide and Auburn Tigers have some history, it's fair to say. The in-state rivals face off annually in a game known as the Iron Bowl, with the winning team earning bragging rights in the college football world in the state of Alabama. The game hasn't always taken place though. In 1908, the game could not go ahead, with some sources claiming the cancellation was due to violence at the game. After a 40-year gap, the Iron Bowl was reintroduced, and fans of each team passionately await the fixture every season.

Paul Nicholls vs Nicky Henderson | Horse Racing

Trainers Paul Nicholls and Nicky Henderson have dominated national hunt horse racing in the UK since the 1990s and their rivalry shows no sign of stopping any time soon. Paul Nicholls, based in his famous Ditcheat stables in Somerset, is famed for his ability to train an incredible amount of winners per season, while Nicky Henderson, based in Lambourn, is renowned for his handling of horses and getting them to peak on the big days. Both horse racing trainers will go down in history among the best of all time. These two have locked horns for the UK Champion Trainer title for years - between 2005 and 2020 no other trainer in the UK has won this top honour apart from Nicholls and Henderson, and this could continue to be the case for many years to come.

Jimmy White vs Stephen Hendry | Snooker

Heartbreakingly, Jimmy White lost six World Snooker Championship finals and failed to ever win the event, losing to Stephen Hendry in the decider a sickening four times. According to Cuetracker.net, Hendry beat White 60% of the time when the two met over the course of their careers, with the latter claiming a win percentage of 31.67% across their 60 meetings. While that may suggest that Hendry was far superior, the Scotsman truly excelled when pushed to his limits by the persistent White, winning six world titles in seven years at one point, and a record seven in total. Nonetheless, it was a rivalry which captured the imagination of snooker fans and White was very much the peoples' champion.

Although performance-enhancing drug use taints the careers of both Carl Lewis and Ben Johnson, their rivalry was so heightened that it likely contributed to Johnson's treachery of which he has admitted. Lewis, on the other hand, has always maintained his innocence, despite evidence of three failed drug tests at the 1988 Olympic trials – and the United States Olympic Committee accepted his claim of inadvertent use. Their rivalry on track peaked at the 1988 Men's 100m Final in Seoul - dubbed the dirtiest race in history - with Canadian Johnson the original victor, before being stripped of his medal handing second-placed American Lewis the gold.

Honduras vs El Salvador | Football

Very few sporting rivalries end in an actual war between two states, but that's exactly what happened in 1969. World Cup qualification was at stake and neither Honduras or El Salvador had ever managed to reach the competition before their three fateful clashes. Honduras won the first match 1-0, El Salvador won the second encounter 3-0 and in the final match, after extra-time, El Salvador clinched their World Cup place after a 3-2 win, with a late penalty sealing the victory. Each match was marred with crowd violence, but after the third encounter El Salvador were deliriously celebrating a massive achievement. Within three weeks the countries were at war. Already existing tensions between the two countries over land disputes had reached fever pitch and the "Football War" began, lasting several days and costing over 2000 lives.

Marco Antonio Barrera vs Erik Morales | Boxing

Admittedly, some of the boxing rivalries to make this list arrived out of trash talking and only one or two competitive bouts, but Mexican duo Marco Antonio Barrera and Erik Morales left it all in the ring with three exhilarating fights. Essentially kicking off a golden decade for smaller fighters, the first fight in February 2000 is probably the pick of the bunch, won by Morales via Split Decision. Barrera bounced back with a Unanimous Points win in the re-match in 2002, before taking the decider by Majority Decision in 2004. Three fights, three weights – Super Bantamweight, Featherweight and Super Featherweight respectively – three momentous occasions in boxing history. Check out this comprehensive guide from one of thebest online betting sites for boxing

Annika Sorenstam vs Karrie Webb | Golf

Two golfers with glittering LPGA careers, Annika Sorenstam and Karrie Webb went toe-to-toe on the links over a number of years and were role models for female golfers all over the world. Like many sporting rivalries, there was no obvious disdain for one another, but when two fabulous players are in the prime of their career at the same time and consistently battling for silverware, comparisons are always going to be made. The two combined for 113 LPGA Tour titles, and were well matched at the top of the LPGA Tour, battling it out for honours in a manner not too dissimilar to Jack Nicklaus and Arnold Palmer.

Brian Clough vs Don Revie | Football

In one of the most powerful pieces of sporting television ever recorded, Brian Clough and Don Revie – both exceptional English football managers – faced off thanks to Yorkshire TV. Remarkably, it took place on the very day Clough was sacked by Revie's old club Leeds after just 44 days in charge. Revie criticized everything Clough stood for, Clough went for the throat, Revie refused to bend and Clough refused to back down from incredible self-belief that he was right and everyone else was wrong. At this point he was yet to win the European Cup as a manager but time would ultimately prove Clough correct of course. It's five minutes of television and professional rivalry the sport of football can never recreate.

Coolmore vs Godolphin | Horse Racing

Nearly every week the royal blue of Godolphin and the navy of Coolmore come up against each other in the world's biggest Flat races. In Flats, there is no bigger names when it comes to the acquisition and breeding of thoroughbred racehorses than Coolmore, owned and run by the powerful Magnier family in Ireland, and Godolphin, owned and run by the United Arab Emirates Vice President, Prime Minister and Ruler of Dubai, H.H. Sheikh Mohammed bin Rashid Al Maktoum. After a major dispute, Sheikh Mohammed once ordered his operation to stop dealing with Coolmore, leading to a 12-year boycott of yearlings sired by stallions standing at John Magnier's Coolmore Stud. Coolmore, however, do boast the better stallions and after 12 years Godolphin conceded defeat and began purchasing Coolmore bred yearlings once again. Relations remain strained however, and this rivalry will remain constant for years to come.

Shaquille O'Neal vs Kobe Bryant | NBA

Despite winning three consecutive NBA Championships while both playing for the LA Lakers, Shaquille O'Neal and Kobe Bryant didn't share the same kind of relationship off the court as they did on it. From the very beginning, Shaq spoke of not wanting to "babysit" the rookie in his first season. Many speculate that tension between the two basketball legends reached the point where Bryant played a role in the Lakers' decision to trade O'Neal in 2004. Thankfully, the two reconciled after Shaq's retirement, with animosity being replaced by a mutual respect.

Baltimore Ravens vs Pittsburgh Steelers | NFL

Another heated divisional rivalry, when the Pittsburgh Steelers meet the Baltimore Ravens fireworks generally ensue. Historically, both sides boast some of the meanest, hard-hitting defences in the NFL and if there's one thing that's going to drum up some hatred, it's inflicting pain on your opposition. These two teams have generally battled it out for divisional glory after the NFL returned to Baltimore back in 1996.

Ireland vs England | Rugby Union

In essence, this rivalry extends to any sport taking place between representatives of Ireland and England, but with both these sides generally a mainstay in the world's top 10 national rugby union teams this is one is fought at the highest level on a consistent basis. Every year the two bitter foes face off in the Six Nations and it's often a decider in Europe's premier rugby union tournament. The rivalry reached its peak in 2007 when Ireland hosted England at Croke Park – the home of the GAA where British soldiers killed 14 Irish civilians during a Gaelic football match in 1920 – with Ireland running out 43-13 winners on the way to winning the triple crown.

Canada vs Russia | Olympic Ice Hockey

This rivalry extends back to 1956 when the Soviet Union went undefeated to win their first Olympic gold, leaving Canada to swallow the bronze in their wake. In 1972 the Soviet national team and Canada played in an eight-game tournament dubbed 'The Summit Series', the first four games of which were held in Canada and the last four in Moscow. Canada won the tournament at the last minute in game eight, fanning the flames of the deepening rivalry and making for poignant symbolism during the Cold War. From that point onwards, and more recently, Canada and Russia have played out some thrilling spectacles. Memorable moments during the rivalry include the 2006 Winter Olympics when the Canadians were dispatched by the Russians early on in the competition. Also of note is 2014, when the Canadians won gold on Russian soil, at Sochi.

FaZe Clan vs OpTic Gaming | eSports

FaZe Clan and OpTic Gaming are without a doubt the biggest competitors in eSports shooters. A rivalry that began with competitive Call of Duty: Modern Warfare 3 games in 2011 eventually transcended into competitive CS:GO and other gaming genres, as each clan did their best to outdo one another on the world stage. The rivalry was most heated in 2015. For the most part, OpTic were unbeatable in Call of Duty during that year. However, when they did lose, they lost to FaZe. This, and a lot of trash talk on social media, led to near-volatile atmospheres at live events. While both teams are more muted nowadays, FaZe and OpTic matches are still heated affairs and the two are still considered the biggest rivals in eSports.

North Carolina vs Duke | NCAAB

Since first meeting in 1922, the UNC Tar Heels and Duke Blue Devils have continued to have a storied rivalry. Separated by only 10 miles via Tobacco Road, there's more than just local bragging rights at stake when these teams clash. Both harbour championship aspirations year-on-year, making a defeat to the other an even more crushing blow. The intense rivalry has had its share of great moments and games, perhaps none more so than the 1974 meeting. Trailing by eight points with 17 seconds remaining, North Carolina fought back to send the game to overtime, with the tying score coming as time ran out. They went on to win 96-92 after overtime.

LA Dodgers vs San Francisco Giants | Baseball

Despite many changes, the LA Dodgers and San Francisco Giants' rivalry dates back to their first meeting in 1890. At the time, both baseball teams were based in New York, though a move cross-country to California for both franchises meant their local feud would continue. The Giants bossed the early days of the rivalry, while the Dodgers gained the upper hand from the 1940s, making it a much more even rivalry. In the 1990s, the teams faced off 140 times, with – remarkably – each side winning 70 times apiece.

Nancy Kerrigan vs Tonya Harding | Figure Skating

Nancy Kerrigan and Tonya Harding were rivals heading into the 1994 National Championships, with a place on that year's US Winter Olympic team at stake. In a bizarre twist, Kerrigan was attacked in the days before the event, when two hitmen attacked her using clubs to injure her legs. Harding went on to win gold, and guarantee her Winter Olympics place, but the squad took pity on Kerrigan's plight and she was picked also. Karma prevailed, as Kerrigan ended up taking silver in the 1994 Winter Olympics as Harding only finished 8th. After an FBI investigation, Harding's husband, Jeff Gillooly, was arrested after it was proven he had orchestrated the attack. Despite continually denying any involvement, and a huge amount of evidence against her - including her husband testifying against her - Harding finally pleaded guilty to the charge of 'conspiracy to hinder prosecution'. She received three years probation, had her National Championship win revoked and was given a $160k fine, but avoided jail.

Alex Ferguson vs Arsene Wenger | Football

Arsene Wenger and Alex Ferguson had, at best, a tumultuous relationship during their years of managing Arsenal and Manchester United respectively in the Premier League. The most heated period of their rivalry was 1996-2005. During that time Arsenal and United were the only teams to win the league and the two managers often clashed on the pitch (as did most of the players). Arsenal winning the league at Old Trafford in 2002 and United beating the Gunners in the 1999 FA Cup semi-final are notable examples of a memorable legacy left by the two managers. For years to come their rivalry will be remembered for incredibly effective styles of competitive football and a war of words played out in the media.

New Zealand vs Australia | Rugby Union

So bitter is Australia's dislike for the New Zealand rugby team, they refuse to call them the 'All Blacks' – the nickname the rest of the rugby world have come to know New Zealand by. By their nature, Australians are extremely competitive when it comes to sport, but with rugby union New Zealanders have the upper hand, and that really bugs the Wallabies. The All Blacks revel in this rivalry, but they haven't always had it their own way and no doubt Australia will rise again to reign supreme in the one sport they can't claim to upstage their neighbours in.

Nick Faldo vs Greg Norman | Golf

Right in between the rise of Tiger Woods and the latter stages of Jack Nicklaus' stellar career came Nick Faldo and Greg Norman, whose battles from tee to green provided a much-needed appetite for golf fans to tune in. During the 1980s and 1990s, Faldo cemented his name in golf folklore by winning six Majors including three Masters and another three British Opens. Norman himself had a glittering PGA career, but ultimately left a few tournaments out on the course, blowing leads on the big stage on multiple occasions. Nonetheless, he was considered one of the world's top golfers, and between the two they spent close to eight years at the summit of the world golf rankings.

Monica Seles vs Steffi Graf | Tennis

Between 1989 and 1999 two great tennis players dominated female sport. Steffi Graf, arguably a more cultured all-round player with a fierce forehand and classy sliced backhand was only really equalled by the left-handed, powerful baseline bully Monica Seles. In 15 matches across a decade the tightest match of all was a 6-2, 3-6, 10-8 victory for Seles at Roland Garos in the French Open in 1992. Horrendously, the rivalry was put on ice after a fan of Graf's stabbed Seles on court in 1993, forcing Seles to break from the sport until 1995. The head-to-head record at that point was 7-4 in favour of Graf but Seles would never reach previous heights and lost four of their next five meetings between 1995 and 1999. They traded the World No. 1 and No. 2 spots exclusively between themselves between 1989 and 1996.

Mike Tyson vs Evander Holyfield | Boxing

Mike Tyson is one of the most ferocious and feared boxers of all time, but Evander Holyfield proved a thorn in his side throughout his career. 'The Real Deal' first defeated Tyson to make the USA Olympics team in 1984, but Tyson turned pro and destroyed anything that got in his way towards becoming the youngest heavyweight world champion in near record time. They met as pros for the first time in 1996 and it would be a case of déjà vu for 'Iron Mike', with Holyfield winning via TKO in what is considered one of the great heavyweight upsets. The rematch famously saw Tyson take a bite from Holyfield's ear, and exchanges remained bitter for years to come. It was clear that Holyfield's edge over Tyson had antagonised the Brooklyn bruiser. In recent years, however, Tyson has turned a corner. He apologised for the heinous act, and the pair appear to have embraced one another.

USA vs Canada | Ice Hockey

It should come as no surprise to anybody that the biggest rivalry in Olympic Ice Hockey is between the United States of America and their neighbours, Canada. Ice Hockey is popular in many countries, but it reaches fever pitch in these two nations. These two juggernauts of the sport dominate proceedings in the Winter Olympics and generally it is a surprise if they are not fighting it out for gold every four years in both the women's and men's events. These are typically fierce and right affairs earmarked by team USA winning gold in the women's final in 2018 after a shootout was needed, 20 years after taking gold in the first ever women's Ice Hockey Olympic series. Canada had won four in a row before that, but lost out in a penalty shootout after a tense draw.

England vs Australia | Cricket

Since Australia first defeated England in the famous test match of 1882, The Ashes from the ceremoniously burnt wickets have been kept in a tiny urn and the resulting Ashes series has dominated the hearts and minds of cricket fans ever since - not just the Aussies and Poms but all that love the game of leather on willow. International test match bragging rights are on the line in the Ashes, as well as national pride between two nations who are rivals in various sports. Australia have, historically, had more success in the Ashes, but it hasn't been one-sided, as evidenced by England's victory over the Aussies in the 2010 T20 World Cup.

Ferrari vs McLaren | Formula 1

As the two oldest teams in F1, Ferrari and McLaren have been at each other's throats since McLaren established themselves as a major player by winning their first Constructors' Championship in 1972. That said, Ferrari were the more dominant team in the 70s before McLaren enjoyed their greatest heydays in the '80s and '90s. Despite the rivalry, many world champion drivers have raced for both teams down the years, such as Fernando Alonso, Kimi Raikkonen, Alain Prost, Nigel Mansell and Niki Lauda. However, in recent years the Ferrari v McLaren rivalry has faded into insignificance due to the emergence of Red Bull and Mercedes.

USA vs Europe | Golf

Regardless of what side of the Atlantic you're on, golf's biennial Ryder Cup is sure to set pulses racing. For a sport usually played in such good spirits, the atmosphere at the Ryder Cup is generally at fever pitch. Gradually expanded over time from USA v Great Britain to become USA v Europe as we know it today, USA's total domination of the event has become a thing of the past. Players like Ian Poulter, Patrick Reed and Colin Montgomerie have used the event to cement their legacy, clearly thriving on the high-pressure environment instead of folding under it like many others.

Jake LaMotta vs Sugar Ray Robinson | Boxing

If you can look beyond Jake LaMotta's murky dealings with the Mafia, he really was an outstanding competitor and arguably the toughest boxer ever to have lived. Technically, he wasn't as astute as some of his old foes and that is evident in the six-fight rivalry he developed with the great Sugar Ray Robinson. Across six fights in nine years, Robinson won five to LaMotta's one, but Sugar still proclaimed 'The Bronx Bull' to be his toughest ever opponent. Indeed, LaMotta was the first man to beat Robinson in their second meeting, but remarkably Sugar avenged the defeat just 21 days later. Their most famous encounter is known as The St. Valentine's Day Massacre, their final fight in which Robinson battered LaMotta but without putting him down, forcing the referee to intervene.

Bobby Fischer vs Boris Spassky | Chess

Bobby Fischer's win in 1972 ended 24 years of Soviet Union supremacy at the World Chess Championships. It was a significant moment, not only in the world of chess, but on a much grander scale. Fischer was the first American-born player to ever win the championship, and his win came during the Cold War at a time when relations between the United States and the Soviet Union were palpably tense. The game, dubbed 'The Match of the Century', ignited a rivalry not just between the players, but between the two superpowers that remains alive and well in international chess. After his win Fischer demanded that FIDE changed the rules of the World Championship for when he defended his title in 1974. He wanted the tournament to be played out in a 'first to reach 10 wins' format, with the prize money being split and the reigning champion retaining the title if there were a 9-9 draw. FIDE voted in favour first to reach 10 wins, but against the 9-9 draw and prize money split. In response to this Fischer refused to defend his title. Over 17 years later Fischer and Spassky played in an unofficial rematch of their World Championship game under the American's proposed rules. Fischer won again.

As England's two most successful football clubs, it's no surprise that there's a huge rivalry between Manchester United and Liverpool. United could only sit and watch as their rivals dominated the 70s and 80s. Liverpool then had to suffer through seeing United win 13 of the first 21 league titles in the Premier League era, in the process chasing down and passing the Merseyside club's total of 18. With so much on the line whenever the clubs face off, flare ups can be expected, as well as not-so-friendly banter between the fans. The rivalry can be summed up by then-United manager, Sir Alex Ferguson, who said – 'my greatest challenge was knocking Liverpool right off their f***ing perch'.

---
---
Larry Bird vs Magic Johnson | Basketball
You don't end up with a nickname like 'Larry Legend' or known by a single word nickname like 'Magic' without being really good at what you do. As superstars for their respective franchises in the 1980s, Larry Bird and Earvin 'Magic' Johnson would often be seen refusing to shake hands with one another after games and have spoken of a hate factor between them at the time. Each player ended their career with 12 NBA All-Star appearances and three NBA MVP titles. Johnson's edge in terms of NBA Finals MVP awards (3-2) and NBA Championships (5-3) probably just tips the scales in his favour.
Seabiscuit vs War Admiral | Horse Racing
War Admiral was a triple crown winner and the clear favourite against Seabiscuit in what was billed as 'the race of the century' in 1938. On all known form War Admiral looked certain to win as Seabiscuit's connections had to accept several unhelpful terms from the War Admiral owners to even get a chance of competing. By winning the Pimlico Racecourse showdown under such conditions Seabiscuit created racing and sporting folklore in front of a hugely oversubscribed crowd as well as millions via wireless and TV in what was a breath-taking moment for so many who loved the sport. It was a welcome distraction for the US public during a depression and prospect of war against with Nazi Germany. A film adaption of this rivalry ranks as one of the best gambling movies ever made.
Manny Pacquiao vs Juan Manuel Marquez | Boxing
As Juan Manuel Marquez hit the deck three times inside the opening round of their first bout, it would have been difficult to believe that he would go on to brawl for 42 rounds with Manny Pacquiao in an epic four-fight rivalry. Between 2004 and 2012 these two warriors produced a quartet of enthralling battles, ending with the great Pacquiao being sparked out and left flat-faced on the canvas. With the aid of bad judgement, Marquez recovered from that nightmare first round in 2004 and fought his way to a draw, but Pacquiao again floored him in the second fight (2008) to earn a split decision win. In the third fight (2011), Marquez appeared to be in control but ended up on the losing side of a controversial Majority Decision. In the fourth, Marquez let his renowned counter-punch decide the outcome, catching his old foe clean on the chin, leaving him out cold.
New Zealand vs South Africa | Rugby Union
The All Blacks verses the Springboks goes beyond the natives of each country and excites sports fans of all creeds, allegiances and codes. The mesmerizing haka, the hurtful political backdrop and most importantly the brilliant players that have graced both sides throughout the amateur and professional eras of rugby union. The first game between the two sides took place in 1921 and with three Rugby World Cups each and counting and over 100 tests already played between them across multiple tournaments – this is a battle for supremacy that may never be truly settled, such is their constant drive to be the best.
Cristiano Ronaldo vs Lionel Messi | Football
Since 2009 the two biggest behemoths in world football have been the subject of a much debated argument - who is better? Bolstered by the fact that their clubs were great rivals, Cristiano Ronaldo and Lionel Messi played at an elite level during their time in La Liga together, above any other football players on the planet. Their rivalry, somewhat muted off the pitch, was fierce on it. The two often clashed during El Clásico games (more on them later) and the Ballon D'Or, the most prestigious individual award in football, went to one or the other between 2008 and 2017. While Ronaldo sought pastures new at Juventus in 2018, Messi continued on at Barcelona. Their career rivalry still exists and the 'who is better?' questions will be asked for many years to come.
Fausto Coppi vs Gino Bartali | Cycling
The Fausto Coppi vs Gino Bartali rivalry is arguably the greatest in the long history of Grand Tour cycling. Two Italians, two polar opposite personalities, but each were able to resonate with their cycling-mad compatriots in their native northern (Coppi) and southern (Bartali) regions of the country. Their rivalry was so powerful it survived the Second World War and the two cyclists picked up where they left off after serving their country, peaking at the 1948 world championship when competing together for Italy. They defied team orders in search of personal glory, each earning a three-month suspension.
Bjorn Borg vs John McEnroe | Tennis
Two of the best tennis players from their era, but each with a very different mentality, the Bjorn Borg vs John McEnroe rivalry didn't last very long. But it didn't have to. Fourteen matches against one another on tour between 1978 and 1981 saw the record between the cool-headed Swede and the loud, fiery American split at 7-7. The head-to-head record suggests it was honours even, but it could be argued that McEnroe got the upper hand, with three of his seven wins being in Grand Slam finals, compared to just one for Borg.
Boca Juniors vs River Plate | Football
If one thing is certain about the people of Argentina, it's that they love their football, like many countries in South America. And for good reason too, as they have been blessed with some of the greatest players to have ever lived. Argentines are faithfully loyal to their local sides and none more so than Boca Juniors and River Plate who are located just 7km away from each other in Buenos Aires and have one of the fiercest rivalries in all of sport, not just football. Dating back to the early 1900s, the 'Superclasico' often features fireworks, confetti, flags, banners and two sets of fans who are the embodiment of passion. There's a good reason why attending one of these fixtures is featured heavily on sporting bucket-lists.
Tiger Woods vs Phil Mickelson | Golf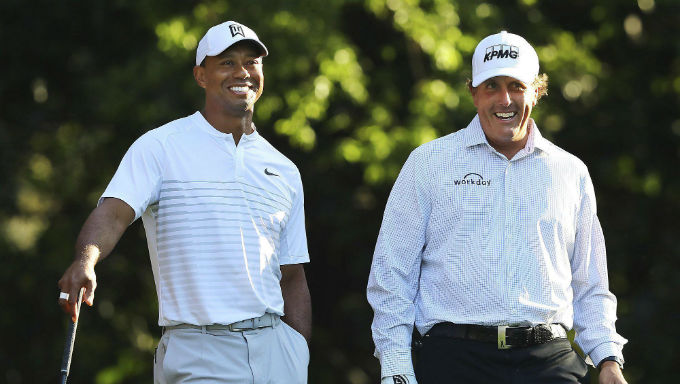 Tiger and Phil have been two of the best golfers on the planet for the past two decades, and Tiger's distaste for Phil has been well documented over the years. Mickelson was a thorn in Tiger's huge desire to dominate the links, with his interview antics and boisterous interviews clearly getting on the 14-time Major champion's nerves. However, while Tiger may have held a grudge against Mickelson for reasons off the course, the pair were miles apart when it came to on-course achievements. While Mickelson is no slouch in terms of trophies, his cabinet is largely dwarfed by the silverware Tiger has collected. Woods' personal and physical melt-down extinguished the conflictual flames, and later the two would face off in a head-to-head match dubbed 'The Match' where Phil would emerge victorious. All that said, the animosity appears to have cooled in recent years.
Lin Dan vs Li Chong Wei | Badminton
The greatest rivalry ever witnessed in the sport of badminton is, without any doubt, Lin Dan and Lee Chong Wei. Of all 40 meetings between the two, Dan won 28 and Chong Wei won 12. They met in finals 22 times including twice in the Olympic Games and World Championships. Most fans would regard Lin Dan and Lee Chong Wei as the finest badminton players of all time, becoming huge attractions in their respective home countries of China and Malaysia and abroad during major events. Their matches during the Olympics were so fierce that they were given the name 'The Lin-Lee War'. Chong Wei and Dan continued to play against each other until June 2019 when Chong Wei retired following a nose cancer diagnosis.
Arturo Gatti vs Micky Ward | Boxing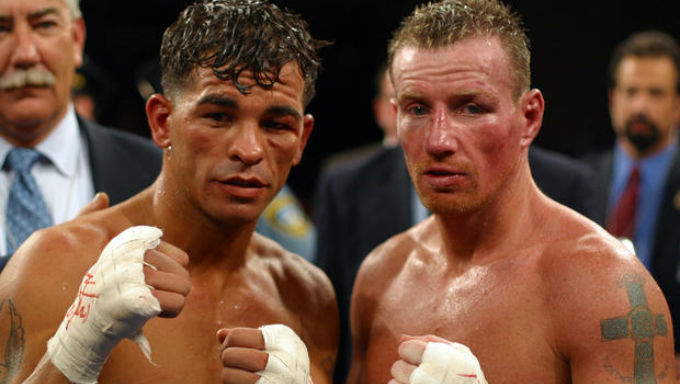 The Arturo Gatti verses Micky Ward trilogy is a classic tale of two fighters who were probably too tough for their own good. In the end, Gatti won two fights to Ward's one after losing the first fight, but all three bouts went the distance and both men hit the canvas at one stage or another. The fights all took place within 13 months of each other, with both the first and the third being named Ring Magazine Fight of the Year for 2002 and 2003 respectively. If ever the term 'styles make fights' carried merit, this is the rivalry to define it.
Margaret Court vs Billie Jean King | Tennis
Although their overall head-to-head record reads a little one sided on first glance – Margaret Court winning 22 to Billie Jean King's 10 from 32 encounters – these two golden girls of tennis served up a feisty rivalry in which enthralled fans in no fewer than five Grand Slam finals. The head-to-head in major finals doesn't read to well for King either – winning just one of those five – but their rivalry played a big part in popularising women's tennis, so much so that both players have iconic tennis arenas named after them – the Billie Jean King National Tennis Center in New York and the Margaret Court Arena in Melbourne.
Celtic vs Rangers | Football
When Celtic and Rangers play in the Scottish Premiership the games are marred by political, social and religious division. It is such a strong divide, in fact, that if a business wants to sponsor Celtic, they also tend to sponsor Rangers for fear of losing half their Glaswegian customers. Due to both clubs' formative origins, Celtic are associated with socialism and Irish Republicanism while Rangers are known to be conservative supporters of Northern Irish unionism. The two clubs are also fierce competitors who often make up the top two in the final league standings. As such, 'Old Firm' games are heated affairs, known for marks of violence and a whopping police presence in and around the grounds.
Roger Federer vs Rafael Nadal | Tennis
If you have been watching any major tennis tournament for the last two decades it would be impossible not to have witnessed either Roger Federer and Rafael Nadal enter the fray. For years these two dominated the court, and it was a constant battle for supremacy between two competitors who just happened to hit the peak of their powers at around the same time, swapping places at the peak of the ATP world rankings an abundance of times. Commonly known as the 'FEDAL' rivalry, it dates all the way back to their first meeting in 2004. Both dominated opponents on their respected favoured surfaces, reflective in their head-to-head results, but emanated in an ever-engaging debate over who was better between hardcore tennis enthusiasts and casual fans alike.
Kauto Star and Denman were both trained by the brilliant Paul Nicholls. These were two horses of a lifetime who gloriously came along at once. Kauto Star won five King George's, four Betfair Chases and two Cheltenham Gold Cups, while Denman was gallantly victorious in two Hennessey Gold Cups, a Lexus Chase, an Aon Chase and the Cheltenham Gold Cup. The major clashes between these two came in the biggest race of them all, the Cheltenham Gold Cup. In 2007 Kauto Star won with an element of ease, but Denman came along in 2008, and saw off his great rival in one of the most devastating Gold Cup performances in recent years. Kauto Star achieved history in 2009 when he regained the Gold Cup, in another breath-taking display. They clashed in two more Gold Cups, in 2010 and 2011, with Denman finishing ahead of his stablemate on both occasions.
Celtics vs Lakers | NBA
A rivalry which earned its own ESPN 30 for 30 documentary, Celtics vs Lakers in the 80s was arguably the highlight of the NBA. Each team had a player who is considered today as one of the greatest of all time – Larry Bird (Celtics) and Magic Johnson (Lakers). Bird once said that he would check Lakers scores just to see Jonhson's numbers, while the first games Johnson would look for on the schedule were the clashes with the Celtics. It culminated in the Celtics beating the Lakers in the finals to win the NBA Championship in 1984. Many consider the rivalry to have been the saving grace for a then-struggling NBA.
Chicago Bears vs Green Bay Packers | NFL
Divisional rivals tend to be spicy affairs across the NFL, but there is a deep-rooted bitterness and longevity between these two NFC North teams that make theirs stand out from the rest. They became the first two sides to play each other on 200 occasions, a feat that was accomplished during the NFL's centennial season. Being in the same division means going through Solider Field and Lambeau Field stands in the travelling sides way every year, and with over a century of showdowns to relive for fans, players and staff, there's bound to be some bad blood.
Jack Nicklaus vs Arnold Palmer | Golf
It's often argued that the Nicklaus/Palmer chapter of golf's storied history helped to accentuate the sport's mainstream popularity greatly during the 1960s and beyond. On the course, Palmer was mostly bested by Nicklaus, but off the course Palmer still held the love of the fans. At its height the rivalry was a contentious affair, defined by closely contested moments of greatness. Take the U.S. Open in 1962 when Nicklaus overcame a three-shot deficit to force Palmer into a playoff before beating him 74-71. Or when Palmer beat Nicklaus by six in the 1964 Masters. Or even take the final round of the 1970 Byron Nelson Open when the two thrashed it out over an incredible 37 holes. The list goes on. Despite many heated moments, Nicklaus and Palmer always maintained a deep respect for one another. When Palmer died in 2016 Nicklaus paid tribute to him on the Golf Channel, saying that "a part of my life went him".
Boston Red Sox vs New York Yankees | Baseball
Two baseball franchises who have been embroiled in a fiery conflict for the best part of a century, the New York Yankees and Boston Red Sox epitomise sporting rivalry. The Red Sox were the golden boys of baseball at the beginning of the 1900s, but suffered a barren spell after star player Babe Ruth was sold to their sworn enemies, which has famously been dubbed the 'Curse of the Bambino'. This saw the Yankees collect championship after championship until the Red Sox finally ended their drought in 2004. There is little love lost when they meet on the field, and games between the two garner huge media interest and both sets of rambunctious fans are not shy of exchanging unpleasantries.
India vs Pakistan | Cricket
The intense sporting rivalry between India and Pakistan is deep-rooted in sour diplomatic relations and decades of sectarian conflict between the two countries, which started with the partition of British-India in 1947. The two sides first played cricket against each other in 1952 and since then have met hundreds of times playing Test and ODIs. Players from both teams face an incredible amount of pressure to win and defeats often see extreme fan reactions from both sides. While India vs. Pakistan fixtures have been less punctuated by war and violence in recent years, the passionate support on both sides is more amplified than ever with the games widely available to view on TV and online.
Chris Evert vs Martina Navratilova | Tennis
There is an argument for Chris Evert vs Martina Navratilova being the greatest tennis rivalry of them all. With a mammoth 18 Grand Slam singles titles each – yes, each – they faced off a total of 80 times on the WTA tour, 60 of which were in tournament finals. Navratilova, the Prague-born Citizen of USA, shades the head-to-head match record with 43 (53.75%) wins to Florida native Evert's 37 (46.25%). But to judge who was the better player based on that would be cynical, with Evert particularly more successful on clay surfaces when facing Navratilova. Each had their own strengths and some weaknesses which chopped and changed over the course of their dual dominance throughout the 1980s and 1970s.
Real Madrid vs Barcelona | Football
Barcelona and Real Madrid have been dominant forces in La Liga for decades and by nature, this has translated into a heated and often crucial rivalry. El Clasico draws in hundreds of millions of viewers and can often swing the league title either way for these two sides, who not only compete for domestic honours but are usually in the mix for top European trophies too. This rivalry extends off the pitch, however, with their respective areas also clashing in terms of cultural identity. Barcelona is at the epicentre of the Catalan region, while Real Madrid is closely linked with the Spanish royal family and is an area populated, for the most part, by right-wing centralists - an ideology the Catalonian seek to oppress.
Muhammad Ali vs Joe Frazier | Boxing
Muhammad Ali and Joe Frazier fought three times between 1971 and 1975, with Ali winning two and Frazier winning one (1971). All-in-all, they fought 41 rounds against each other and each individual fight is distinguished by memorable names – The Fight of the Century (1971), Super Fight II (1974) and The Thrilla in Manila (1975). Smokin' Joe Frazier became the first man to beat Ali in their first fight, retaining the WBC and WBA belts by Unanimous Decision in what was the first heavyweight title fight to feature two unbeaten opponents. Ali won the re-match in 1973, also by Unanimous Decision but across 12 rounds rather than 15 as no title was on the line, and finally Ali nicked the decider in Manila by TKO after Frazier failed to emerge for round 15. The pair eventually put their differences aside and became friendly in retirement.
Ayrton Senna vs Alain Prost | F1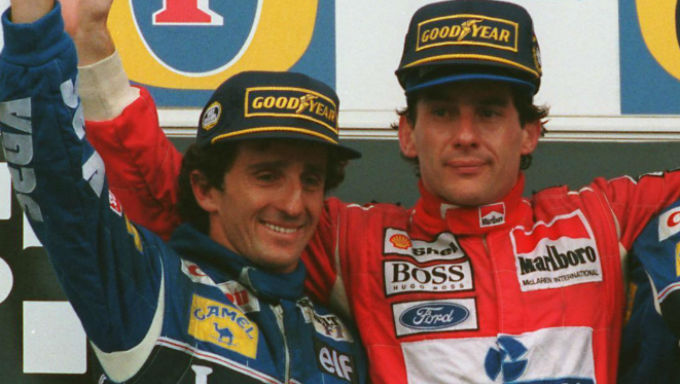 With seven Drivers' World Championships between them, the rivalry between Ayrton Senna and Alain Prost was so tense that the latter had a clause inserted into his contract with Williams prohibiting his Brazilian nemesis from becoming his team-mate. That was Prost's final season in F1 in 1993 but for much of the previous decade the duo had gone toe-to-toe, peaking between 1988 to 1989 when they were team-mates at McLaren. Sadly, these great rivals were denied the chance to become friends in retirement – as so often happens in sport – with Prost hanging up his helmet after the 1993 season before Senna was killed competing in the San Marino GP in 1994. This is our No.1 for so many reasons. The drama of so many closely-run races, the intensity of in-team feuding, the tragic loss of Senna whilst still hunting for a fourth title to match his old foe, the sustained period of success for both drivers at the pinnacle of motorsport. We could go on, but for us there is no more storied rivalry in sporting history than Senna vs Prost.

FAQ
At the top level, the rivalry between Real Madrid and Barcelona is widely considered the biggest in football. The rivalry dates back as far as 1902 but intensified during and after the Spanish Civil War, when a difference in political allegiance between the two sets of fans became apparent. Indeed, most football rivalries are politically charged, with Glasgow clubs Celtic and Rangers also considered one of the biggest football rivalries. Outside of Europe, Argentine clubs Boca Juniors and River Plate have a heated fan rivalry which stems from social class differences.
Liverpool and Manchester United are England's two most successful clubs and are geographically close in terms of their stadiums, making it arguably England's biggest football rivalry. Fans of other clubs may dispute such claims, though, with north London giants Arsenal and Tottenham also making a decent case for English football's biggest rivalry. Further down the pecking order, West Ham and Millwall have built up a genuine dislike of each other over a number of decades, buoyed by a series of well-documented clashes between opposing fans.
Boston Bruins and Montreal Canadiens is arguably the biggest rivalry in NHL history and, after almost a century of competing against one another, it makes a pretty compelling case. So far back does their rivalry go that no two teams have played each other more than the Bruins and the Habs. For geographical reasons, the Canadiens also enjoy a strong rivalry with Toronto Maple Leafs, but their heated relationship with the Bruins goes back further and the clashes are generally more intense.
A sporting rivalry can start in many different ways. It could be something as simple as two teams from the same city battling it out to be the top dogs in their hometown, as is the case between Manchester City and Manchester United. Alternatively, it could be politically charged, such is the case when it comes to India playing Pakistan in cricket, or Celtic and Rangers in the Glasgow Derby. In some cases, sporting rivalries can be ignited by one historic moment or occurrence, for example when the Boston Red Sox sold star player Babe Ruth to the New York Yankees. In other cases a rivalry naturally develops when the best constantly play the best, such as Roger Federer and Rafael Nadal.
Sport needs rivalries in order to thrive, engage an audience and stay relevant. When a sport lacks a notable rivalry, interest levels will drop and it therefore becomes less marketable and difficult to sustain. In the past, the likes of F1 has suffered from a decline in interest during periods of domination, such as Michael Schumacher's five-in-a-row (2000-2004), while Stephen Hendry's five world titles in a row (1992-1996) arguably brought an end to the snooker boom the sport had enjoyed in the 1980s. Domination is bad for a sport's popularity, which is why a competitive rivalry can help interest levels soar.
In sport, there are countless rivalries past and present, but there is a familiar pattern when it comes to naming the most famous rivalries. Boxers Muhammad Ali and Joe Frazier fought each other three times at the height of their careers and it's often regarded as the best sporting rivalry. Aryton Senna and Alain Prost battled each other despite being on the same F1 team, while Chris Evert and Martina Navratilova is the most famous rivalry in female sport. In American sport, baseball franchises Boston Red Sox and New York Yankees is among the most famous.
Stay In The Loop With Free Bets, Insider Tips & More!
Live Betting. Sports Promos. Sent Weekly.